Yogi Adityanath's Hindu Yuva Vahini thrashes couple in UP on suspicion of 'love jihad'
Hindu Yuva Vahini — founded by Uttar Pradesh Chief Minister Yogi Adityanath — is at it again.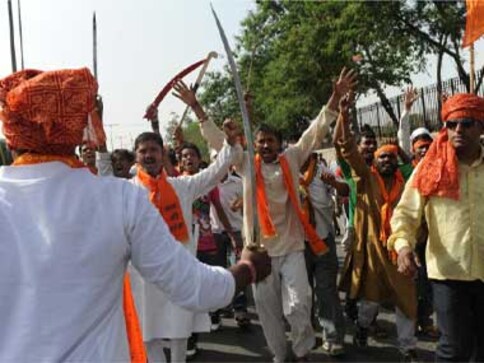 Hindu Yuva Vahini — founded by Uttar Pradesh Chief Minister Yogi Adityanath — is at it again.
The fringe group's members allegedly barged into a home in Meerut and thrashed a young couple on suspicion of 'love jihad', the term used for the baseless allegation that Muslim men were seducing Hindu women to convert them to Islam.
The boy has accused the group's members of moral policing, reported Zee News.
"I have asked the police to take strict action as the Muslim boy was romancing with a Hindu girl in the house. He wanted to convert her religion. I also insist on taking strict action against the landlords, who give rooms on rent without proper verification," ANI quoted Nagendra Singh Tomar, the head of Hindu Yuva Vahini, as saying.
However, according to the police, the couple was not beaten up and both the boy and the girl were Muslims and were released later, Hindustan Times reported.
On Friday, police in Maharajganj district had stopped a prayer at a church attended by over 100 people, including American tourists, after Hindu Yuva Vahini had alleged that forced conversions were being done there.
HYV had alleged that the prayer meeting was a 'cover' for forced conversions.
After the 'probe', however, the police found that the allegations were baseless and allowed the Americans to leave. This was also the first time such an allegation was being made against the British-era church in Maharajganj, which also happens to be a tourist hotspot.
India
On 8 September, Culture Minister Usha Thakur suggested that entry into Garba dance venues in the state during the Navratri festival should be allowed only after checking ID cards to prevent 'Love Jihad'
India
Highlighting that better connectivity is the vehicle of progress, Adityanath directed all the departments concerned to chalk out a comprehensive plan to fix the roads, especially in industrial and agricultural market areas.
India
At least five people were killed and around a dozen injured in an accident in the Kanpur district of Uttar Pradesh during the early hours of Sunday