Yogi Adityanath says BJP is 'real well-wisher' of Dalits, accuses Opposition parties of engaging in negative politics
Yogi Adityanath said it was only during BJP regime that sons from Dalit and OBC families became the prime minister and president
Gorakhpur: Uttar Pradesh Chief Minister Yogi Adityanath Thursday said the BJP was the "real well-wisher of Dalits" as it was only during its regime that sons from Dalit and OBC families became the prime minister and president.
He also hit out at the opposition parties for playing "negative politics" and creating a "poisonous" environment in the country.
"BJP is the real well-wisher of the Dalit community and only in the BJP regime, sons from Dalit and OBC families could become a President and Prime Minister. The other parties are limited to a person or family," the chief minister said during a meeting with party office-bearers.
"Those who are depressed, hopeless and rejected by people are taking up irrelevant issues and saying that the BJP is anti Dalit-OBC, which is absolutely wrong," he said.
The priest-turned-politician also asked the party office-bearers to reach out to the people in creative ways and make them aware about the state government's work.
He asked the party workers to use technology, organise slogan writing competitions and take the help of wall paintings to spread the word about the BJP government in the state.
"Use wall paintings, WhatsApp, Facebook and door-to-door contact to talk about the government schemes to people," he said.
Emphasising on the use of wall paintings, Adityanath said, "The Election Commission will not erase the wall paintings during elections as they carry only information about the government schemes, and not of any party. These wall paintings will remind people of the government's work".
The Uttar Pradesh chief minister also defended his government on the law and order front and other arenas.
"The law and order situation in the state has improved. The arrangements in hospitals have become better and people are getting continuous power supply. The BJP is fulfilling its promises.
"In the last 15 months in the state, investment has increased and on 29 July, the prime minister will kick start Rs 60,000 crore-projects from Lucknow," Adityanath added.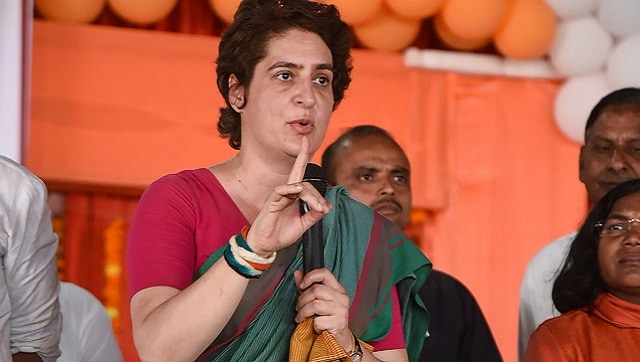 India
The Congress leader said if her party comes to power in Uttar Pradesh, then the entire loan of farmers will be waived and women will be given three gas cylinders free of cost in a year
Politics
The home minister addressing the Hindustan Times Leadership Summit on its final day emphasised that India was in a state of 'policy paralysis' before 2014, and it was changed by the present dispensation
India
The MLA demanded a thorough probe into the construction of the road and vowed to not leave the spot till the culprits were found and booked.