Yellow, white and red: New Karnataka flag featuring state emblem unveiled by Siddaramaiah, awaits MHA approval
Chief Minister Siddaramaiah on Thursday unveiled the new Karnataka State Flag- a yellow, white and red combination with the state emblem at the centre
Karnataka chief minister Siddaramaiah on Thursday unveiled the new Karnataka state flag — a yellow, white and red combination with the state emblem at the centre.
Siddaramaiah, who met a delegation of Kannada activists at his office on Thursday morning, displayed the red, white and yellow flag proposed to be used as the official state flag, The Indian Express reported.
The proposed flag will now be sent for approval to the Union home ministry. If accepted, Karnataka will be the second state to have an official state flag, the report added.
According to News18, the flag or 'Naada Dwaja' with red, white and yellow colours has the state emblem 'Ganda Bherunda', a two-headed mythical bird, in the middle.
According to The News Minute, the selected colours represented different things: Yellow symbolises forgiveness, white for peace and red for bravery. The emblem will the printed in black and white on the central white stripe.
The Siddaramaiah govternment's move marks a departure from the earlier state government's stand in 2012, when the then BJP government had told the Karnataka High Court that it had not accepted the suggestions to declare yellow and red Kannada flag as official, saying a separate flag would be against the unity and integrity of the country, DNA reported.
"Kannada flag is not unconstitutional. It is not barred by the Constitution. We will send the design to the Centre. Hope they approve it. There has been a long pending demand for it. I am happy that we finally have a Kannada Baavuta (Kannada Flag)," the chief minister told News 18.
Last year, the state government had constituted a nine-member committee to design the state flag. The order nominated the principal secretary of the Kannada and culture department as the chairperson of the committee.
The panel comprised secretaries to the departments of Personnel and Administrative Services, Home, Law and Parliamentary Affairs, as also president of Kannada Sahitya Parishat, chairman of Kannada Development Authority, and vice-chancellor of Kannada University, Hampi, as its members.
With inputs from PTI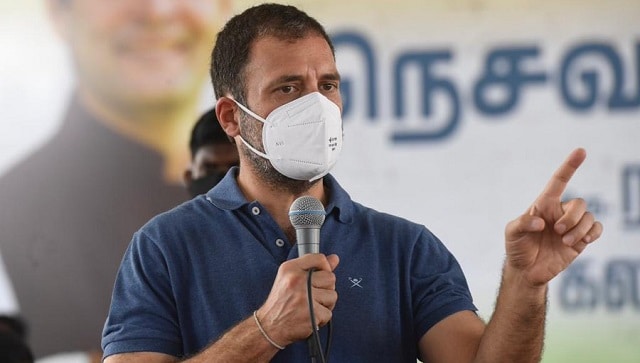 India
Congress leader Rahul Gandhi said there is a fight between two ideologies in the country
India
The Prime Minister said that the BJP-led government, after taking over in 2014, revived the spirit of innovation in India's youth
Politics
Speaking at an event, the BJP leader said he asked the people who came to him whether they know how much Rs 2,500 crore was and "where to keep it, in a room or a godown"