(Editor's note: Firstpost has chosen to not provide any social media links of the reference posts because the women in question have asked that the media not reveal their identities)
Blaming the victim in a sexual assault case or urging the victim to keep quiet about sexual harassment is unfortunately a common practice in our society.
But a group of 13 women in Kolkata set an example for the rest of the country when they identified and shamed a sexual predator who had been routinely harassing them on social media.
It all began when a woman posted a status on Facebook about how an undergraduate student from Jadavpur University called Ekalavya Chaudhuri molested her "on four different occasions" within her department in the campus.
She also alleged that even after she filed a complaint against Chaudhuri, the harassment did not stop. One of Chaudhuri's friends and a student from Presidency University, Janhabi Mukherjee, also kept bullying her "ever since Ekalavya's crimes".
"The molestation and the forcible pressing of penis against my crotch stopped. But I will tell you what did not stop. The glares and stares did not stop. Like I said, Ekalavya Chaudhuri is part of an exclusive intellectual squad," the woman said in her Facebook post.
She also said in her post that she was criticised by people for not reporting the molestation right after it happened.
She has also asked the media to refrain from continuously asking her for information and not to use her name in any news report.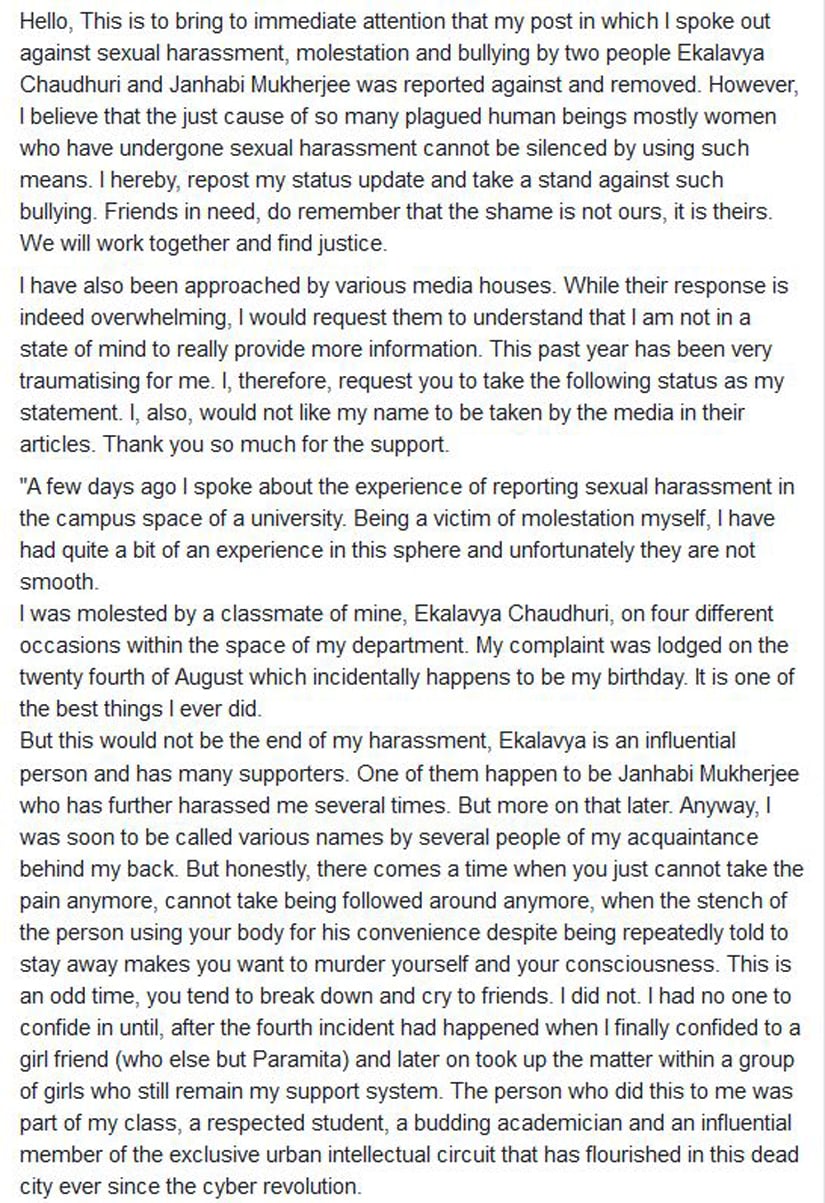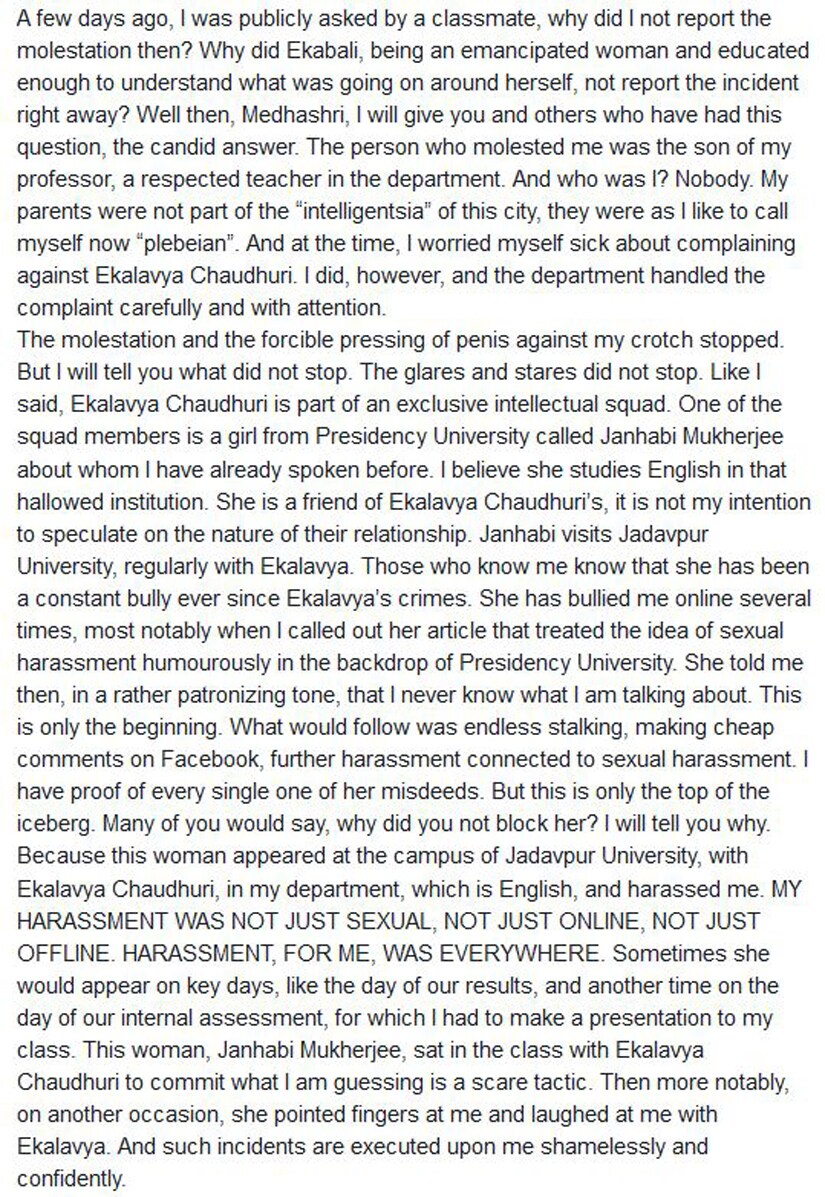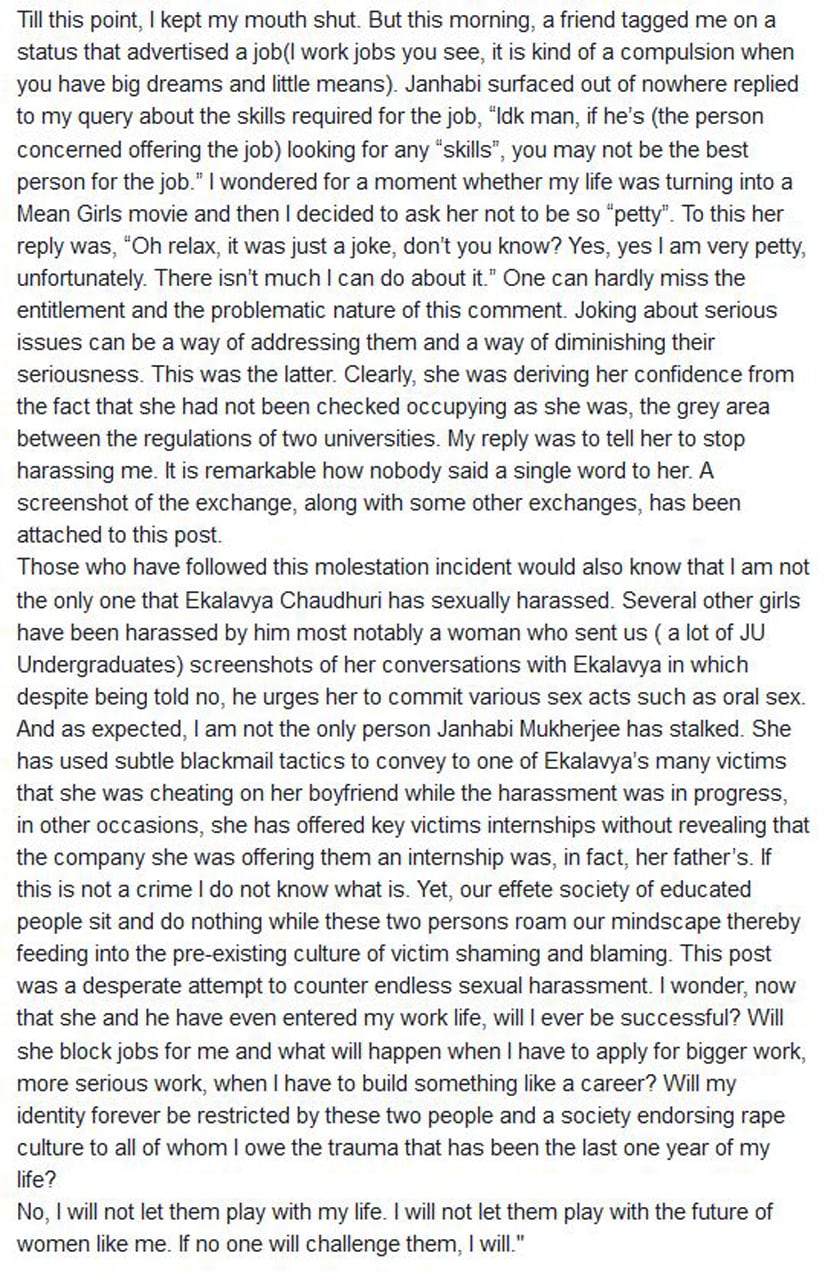 The woman also revealed that Ekalavya Chaudhuri had alleged harassed other women too.
In fact, another woman also put a post on Facebook, alleging that Chaudhuri had harassed her too.
"Ekalavya was that boy at whom everybody laughed at because he believed that a 'hi' followed with 'date me'. Over the years, Ekalavya has evolved and changed, and now his 'hi' follows with 'I will rub my musty cock over you'," she said in her Facebook post.
Even though Facebook deleted the original post against Chaudhuri because some people had reported against it, screenshots of the posts about the sexual harassment by Chaudhuri went viral on Facebook and people began sharing it and showing their support for the victims.
The 13 victims later released an official statement on Facebook:
"We are a group of (up till now, 13) women and girls who have been harassed, both online and in person, by Ekalavya Chaudhuri, son of Chandrayee Niyogi, (Professor, Department of English) who is also a student of Jadavpur University, Department of English. We have been touched without our consent. We have been objectified filthily. We have been made to feel like pieces of meat by a man who is utterly despicable. He believes that his actions will not yield any consequences. In many cases, he has been aided and abetted by his acquaintance, Janhabi Mukherjee of Presidency University, Department of English. She has harassed and intimidated us both in virtual spaces and in person.
Jointly, they have both used their privilege to try and keep us silent. Jointly, they have violated our bodies and our minds. Jointly, they have attempted to erase our own agency over our lives. Not anymore.
Today, we speak out as survivors of these vile, poisonous human beings. Today, we take a stand against crimes against women, patriarchy, elitism, entitlement, privilege, and bullying. We take this stand to retake our agency, to re-establish the narratives that were taken from us.
Ekalavya Chaudhuri, you are a molester. A sex offender. A sexual predator. Janhabi Mukherjee, you aided and abetted in his crimes, and are no less guilty.
We hope that our stand will encourage others to come forward with their own experiences which they have kept silent about for whatever reasons. It's time we all spoke up, it's time we ripped all their masks off. Thank you for your support."
Firstpost is now on WhatsApp. For the latest analysis, commentary and news updates, sign up for our WhatsApp services. Just go to Firstpost.com/Whatsapp and hit the Subscribe button.
Updated Date: Jul 26, 2016 18:59:44 IST