Will Vadragate turn out to be Sonia's Bofors?
Rajiv Gandhi lost the 1989 election as he could not shake off the perception that the Bofors kickbacks related to him. Can Sonia distance herself from Vadra's real estate capers?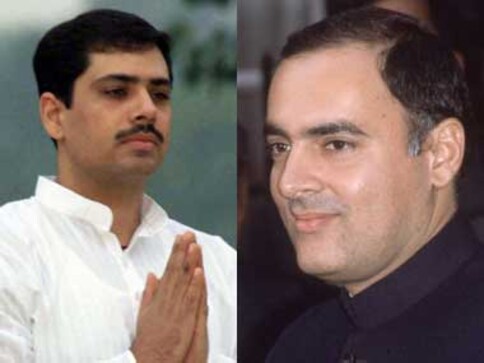 "Roti tawa par, janta party hawa main," was one of the slogans going around in the Lok Sabha elections that happened after the assassination of Indira Gandhi. Riding on the honest image of Rajiv Gandhi (Indira's son and a former Indian Airlines pilot) and a sympathy wave after the assassination of Indira Gandhi by her bodyguards, the Congress party won more than 400 seats in the lower house of Indian parliament.
This was an unprecedented majority for the Congress party, something it had not managed to achieve even under the leadership of Jawahar Lal Nehru, Rajiv's grandfather and India's first Prime Minister. Neither had it managed such a huge mandate from the people of India under the leadership of Indira Gandhi.
But Rajiv would soon squander away these gains. As Aarthi Ramachandran writes in Decoding Rahul Gandhi, "The Rajiv Gandhi government was bogged down by allegations of kickbacks to the tune of Rs 64 crore paid to middlemen in the purchase of Swedish Bofors guns. The government's 'stonewalling' of demands to bring the guilty to book in the Bofors case and other corruption scandals destroyed Rajiv's image as Mr Clean. Ramchandra Guha in India After Gandhi says the 'stonewalling prompted speculation that the middlemen were somehow linked to the prime minister himself'."
The impact of this on the Congress party was huge. It lost the 1989 election to an alliance of Janata Dal and the Bharatiya Janta Party (BJP). Rajiv Gandhi had to become the leader of the opposition. A party which had more than three-fourths of the seats in the Lok Sabha was thrown out of power.
It is often said that 'perception is reality'. Rajiv Gandhi losing the 1989 Lok Sabha election because people 'thought' he was involved in the Bofors scandal and may have received a part of the kickbacks. And this perception was formed after his government stonewalled all attempts at bringing the guilty to book.
A similar situation seems to be now brewing up in the Robert Vadra-DLF case. A string of lawyer ministers from the Congress have jumped into the ring in order to defend Robert Vadra and would like the world at large to believe that there is no truth in accusations being hurled at Vadra (and indirectly Sonia Gandhi) by Arvind Kejriwal and his associates.
Let us sample some of the statements that have been made by these lawyer ministers. Kapil Sibal, one the country's top practicing lawyers before he became a full-time politician and currently the Minister of Human Resource Development and Minister of Communications and Information Technology, recently came to the defence of Vadra. "Allegations are happening 24x7. It is a daily phenomena, just like 24x7 television news channels," he said.
On television, Vadra has been defended by Jayanthi Natrajan who, other than being the Union Minister for Environment and Forests, also happens to be a lawyer, having got her law degree from the Madras Law College. Vadra has also been defended by Manish Tewari, a Congress spokesperson, and a lawyer. Tewari felt that prima facie the charges made by Kejriwal and company were found to be 'untruth, innuendos and lies'.
HR Bhardwaj, currently the Governor of Karnataka, and a former law minister also came to the indirect defence of Robert Vadra. "Many allegations were levelled against the Gandhi family even in the past. Indira Gandhi was also attacked. But she had a towering personality and fought back. Morarji Bhai (late Prime Minister Morarji Desai) made so many cases against her but they fell like nine pins," he told reporters. And I thought governors were meant to be above politics and political parties.
Rashid Alvi, one of the spokespersons of the Congress Party, on one occasion brushed aside the accusations hurdled at Vadra as "part of a well-planned conspiracy not against an individual but against the Congress and its leadership." On another occasion on live television he dubbed Kejriwal's accusation as a publicity stunt and questioned the veracity of the documents put out by Kejriwal by saying "who will decide that the documents shown by Kejriwal are genuine or fake." The website of the Parliament of India lists his profession as an advocate in the Supreme Court.

P Chidambaram, the Union Finance Minister, who also happens to be a lawyer, said, "All I can say is at this moment these allegations pertain to transactions between two private persons or entities.... The individual (Vadra, son-in-law of Sonia Gandhi) has disclosed all these transactions in his income tax and other returns, and perhaps in the returns of the company."
Veerappa Moily, another lawyer and who is  the Union Minister for Corporate Affairs as well as Power, jumped to Vadra's defence by saying " I have already verified these allegations and no wrongdoings have been found in any of the six Robert Vadra-owned companies."
What is surprising is that so many Congress lawyers have jumped to the defence of a "supposedly" private individual, Robert Vadra, and ruled out any wrongdoing on the part of Sonia Gandhi's son-in-law. The only thing that this 'stonewalling' has done is that it has built the perception among people that something must be wrong otherwise why are so many lawyer ministers and Congressmen jumping to Vadra's defence.
In some cases the defence has looked very shaky. Let's look at Alvi's insinuation that the documents might be fake. And this comes from a man whose profession is listed as a Supreme Court lawyer. It is very easy to download balance-sheets of even unlisted companies these days. This writer spent the whole of last week doing just that by logging on to www.mca.gov.in and paying a Rs 50 charge for every Vadra company for which details were needed. So all one needs to know is the name of the company and it's possible to get the details of that company. And in Vadra's case it was pretty well known that he operated through Sky Light Hospitality Private Ltd, a company in which he owned 99.8 percent.
Also Alvi should remember that Kejriwal is being advised by Shanti and Prashant Bhushan, two of the best lawyers in the country. Shanti Bhushan was even the law minister of the country at a certain point of time. Other than this, Kejriwal himself must understand a thing or two about balance-sheets having been an Indian Revenue Service officer till a few years back. He is also an IIT, Kharagpur, passout from the pre-coaching schools era and that definitely means he is smart. And more than anything else why would anyone who is raising a serious banner of revolt against the incumbent government choose to do so on "fake" documents?
Moily jumped to Vadra's defence by saying that there was nothing wrong in any of Vadra's six companies. If he had read through the memorandum of association of Vadra's Sky Light Hospitality carefully enough he would have realised that the company claims that it will carry out the business as hotels, restaurants, lodges, ice-cream merchants, sweet meat merchants, milk manufactures, bakers, wine and spirit merchants, etc.
But instead of doing all that Sky Light Hospitality primarily seems to be in the business of real estate, having accumulated a slew of properties on the basis of a so-called Rs 50 crore advance it got for selling a plot of land to DLF. As has been repeatedly pointed out in Firstpost and other places in the media, the dealings between DLF and Vadra appear murky. (You can read about it completely here, here and here). Sky Light Hospitality owns a 50 percent stake in Saket Courtyard Hospitality Ltd through which it runs one hotel in Saket, New Delhi, in parternship with DLF.

Vadra's Sky Light Hospitality bought 3.5 acres of land some time in 2008-09 at Rs 15.38 crore. In the same period DLF bought this land from Vadra for Rs 58 crore. The question is how did the value of the land go up nearly 3.7 times in such a short period of time?
Against this sale DLF gave Vadra an advance of Rs 50 crore. An advance is typically given for the short term and needs to be returned within a year. But this advance was sitting on Vadra's balance-sheet even as on 31 March 2011. So the advance given by DLF to Vadra was with Vadra for a period of greater than two years. This doesn't sound like an advance at all. It seems more like an interest-free loan being passed off as an advance.
DLF also said in its 6 October statement that "we wish to categorically state that DLF has given no unsecured loans to Mr Vadra or any of his companies." The balance-sheet (dated 31 March 2010) of Real Earth Estates Pvt Ltd, another company owned by Vadra, shows a clear entry of Rs 5 crore as a loan from DLF.
Vadra used all these loans from DLF to go on a property buying spree. Estimates made now suggest that the value of this property now runs into hundreds of crores. He also benefited from parking this largely interest free money in fixed deposits and earning an interest from them.
The Congress Party's over defence of Vadra has not helped it at all. It has built the perception among people that there must be some hanky-panky involved in the entire business. That being the case no other response could have been expected from a party that doesn't really stand for anything except the Nehru-Gandhi family. Kejriwal has hit the Congress party where it hurts the most.
As Ramachandran writes in his book on Rahul Gandhi,  "the Nehru-Gandhi family remained relevant within the Congress. In fact, it became more powerful as it was the only centre around which the entire Congress edifice could hold together. It was now an amalgam of pressure groups which were interested in power, and their one-way ticket to it was through proximity to the Nehru-Gandhi family."
And it's in times like these Congress leaders have to go through their agni parkisha and show their loyalty to the Nehru-Gandhi family. That's precisely what they are doing. Their reactions are a clear case of Catch 22. They are dammed if they try to come to the defence of Vadra and they are dammed if they don't. However, in the process Vadragate may turn out to be Sonia Gandhi's Bofors.
Vivek Kaul is a writer. He can be reached at vivek.kaul@gmail.com
Opinion
The Gujarat model of development which has Narendra Modi's inimitable stamp written all over it has withstood the test of time and is a classic textbook case that shows one man's relentless pursuit of an aspirational India
Opinion
The story of Bhopal gas tragedy becomes more glaring and tragic in the absence of any environmental assessment, accountability, punishment or lessons learnt
Politics
Kharge asked state in-charges to submit a roadmap for movement on people's issues in the next 30 to 90 days