Will Pranab Boro's self-immolation spur Assam into land reforms?
Struggle for land is not new in Assam and so are the routine assurances given by the state government that these issues will be resolved.
Before leaving his house on Sunday evening to agitate in front of the Assam Secretariat in Dispur, a 45-year-old small-time carpenter Pranab Boro had told his wife that he would return with rights of the land where he had been living for years. Or, he said, he won't return home. Sadly, the latter was destined. In a shocking case of self-immolation, Boro, a resident of Guwahati's Gorchuk area, poured petrol and set himself on fire.
On Monday morning, even before the stunned crowd of security personnel, media fraternity and protesters could actually believe what they were seeing, Boro looked like a tree of fire running in frenzy as flames leapt up around him. He was rushed to the Gauhati Medical College but the doctors failed to save the hapless carpenter who had sustained 100 percent burns.
Boro was part of a Krishak Mukti Sangram Samiti (KMSS) organised protest that gathered to prevent Assam Chief Minister Tarun Gogoi from distributing land settlement papers to 500 families in Guwahati. KMSS has been spearheading the protest demanding land rights for landless members of the tribal community who are living in the hilly and forest areas of Guwahati.
Struggle for land is not new in Assam and so are the routine assurances from  the state government that these issues will be resolved. Boro gave up his life in a last ditch effort to get a piece of land in his own name, a roof for his family, an opportunity to feed them with dignity. The reality is Boro will soon be forgotten and the struggle will continue endlessly without any quick solution in sight.
"Guwahati always belonged to the Karbis and Boros. They are the original residents of Guwahati. Today they are forced to beg for a mass of land in their own place. It is a very tragic and unfortunate incident. We blame Tarun Gogoi for what happened today. Only Gogoi is responsible for Boro's death and he should be charged with murder. Why is the government going soft on corporate houses and big businessmen who are flouting land norms with disdain?" KMSS publicity secretary Kamal Medhi told Firstpost from Guwahati.
"We tried to discuss the land issue with the state government. But the chief minister is very adamant," Medhi said.
The KMSS publicity secretary also believed that the state government might take action against them. "We are already being slapped with so many legal cases by the government. Another one will be nothing new," he said. Today's protest was aimed against a government programme to distribute land ownership certificates by Chief Minister Tarun Gogoi at the Sankardeva Kalakshetra in Guwahati.
The KMSS denied that the organisation was aware of any such plan by Boro.
"Pranab Boro took the decision on his own. We had no idea about it. After the incident, we came to know 200 more were planning similar actions and so we called off the agitation immediately," Medhi said.
Being a land-starved state, politics on the issue of land has always been active in the state. Political reaction to this incident was on expected lines.
"The incident of self-immolation by a son of the soil is unfortunate and tragic. We condemn the state government for inaction and inability to take care of the indigenous people. Chief Minister Tarun Gogoi is responsible for overlooking the land rights of the indigenous people. With the Gogoi-led government busy rehabilitating illegal migrants from Bangladesh, it has chosen to ignore the indigenous people completely. It is really sad that there is no land policy of the state government," Bharatiya Janata Party president Assam unit Sarbananda Sonowal told Firstpost from Guwahati.
"What has pained us the most today is that the government failed to act in time despite having prior information that such an incident may occur," he said.
However, the Assam BJP chief was non-committal when specifically asked if the BJP will extend support to KMSS in its quest. "Till now KMSS chief Akhil Gogoi has not approached us," Sonowal said.
The Congress party also took a stand but to defend its state government.
"It is unfortunate that it happened on a day when the state government started to give land ownership rights to those who need. But people need to understand that the state alone cannot give land ownership rights to individuals when it concerns forests and wetlands. It is related to Central laws and needs a constitutional amendment," said Assam Congress chief spokesperson Mehdi Alam Bora.
Going into specifics, Bora said, "Land in Guwahati is scarce and are governed by laws that are in place for city areas. So an individual cannot have more than 1.5 katha (1 katha=720 square feet) of land to his or her name legally no matter how much land he or she has encroached upon. Today's land distribution by the chief minister was for 500 families living Below Poverty Line and the landless ones," he said.
Denying that either the Congress or the state government were to blamed for today's gruesome incident, Bora said, "We had a series of discussions with KMSS. But they are very adamant and so the discussions were not fruitful. There are many criteria for land distribution and these will change with time. Actually, we do not want to rule by killing someone. We are very liberal and we respect protests in the democratic form," Bora said.
The Congress spokesperson said that the Assam government may give some compensation to Boro's family but the formalities will have to be finalised by the government.
Chandan Kumar Sharma, professor of Sociology, Tezpur University, found flaws in the method of the Assam government for granting land ownership rights to 500 families on Monday.
"The Scheduled Tribes and Other Traditional Forest Dwellers (Recognition of Forest Rights) Act, 2006 clearly mentions that all tribal families living in forest areas up to 13 December 2005 are entitled to land ownership rights. For non-tribal forest dwelling communities, the criteria for getting land rights is that they have to live in the forest land for three generations or 75 years. The latter provision has been contested in Assam which has its own unique history of land use and land alienation among the non-tribal population. What the Assam government did by picking 500 families living in the forest areas up to 2001 for giving land rights on Monday appears extremely arbitrary," Sharma said.
He also felt that this action of the government might aim at dividing the movement for forest land with an eye on the ensuing Lok Sabha elections.
The professor also pointed out, "In many instances, the government itself has acted as encroachers. Powerful businessmen, politicians, government officials are encroaching massive amount of forest and wetland areas in and around the Guwahati city under the nose of the government. Could this have happened without the indulgence of the government? Contrarily, when poor, landless indigenous tribal people of the state ask for land rights, the government invoke legal compulsion."
It is to be mentioned that the land for agriculture in Assam is confined to the narrow Brahmaputra valley. However, there has been heavy pressure on the available agricultural land owing to the high population growth, recurring floods, erosion, sand casting of the agricultural land, etc. driving thousands of peasants out of their villages in search of land in distant places.
In the absence of any land rehabilitation policy, the forest areas have served as natural settlement of these displaced peasants. The conflict for land is getting serious and violent with every passing day. Unless the state addresses the issue in right earnest sooner than later the issue is bound to get beyond control.
Subscribe to Moneycontrol Pro at ₹499 for the first year. Use code PRO499. Limited period offer. *T&C apply
Politics
Rahul said that the Congress government under the leadership of former chief minister Tarun Gogoi had ended the era of violence in Assam
Politics
An analysis of the trend noted that the "most prominent reason seems to be that after working under politicians for many years, civil servants aspire to wield power rather than just take orders"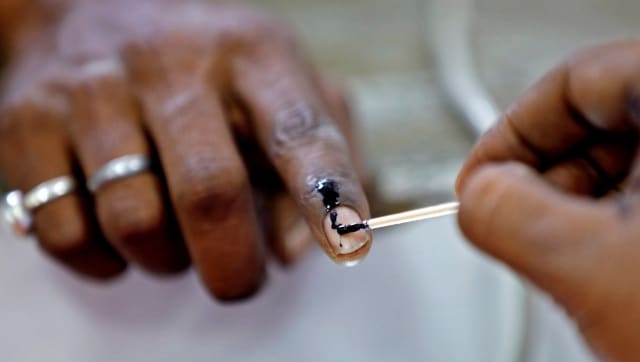 Politics
Kalaigaon Assembly election 2021: The Kalaigaon Assembly constituency under the Mangaldoi Lok Sabha segment is part of a district by the same name