Why Modi govt should ignore Pakistan to force it to mend its ways
The Modi government's new template on its Pakistan policy is to ignore Pakistan and talk to Pakistan for the sake of the talks and not go an extra mile with any initiative aimed at holding substantive talks. This strategy will serve multiple purposes.
The Narendra Modi government is going to toughen its stand on Pakistan in the coming days and weeks. However, the modus operandi of doing so will be novel and non-offensive.
Though an important trigger for this is the upcoming assembly elections in Jammu and Kashmir later this year, the Modi government's tough policy vis-a-vis Pakistan will continue well after the elections.
The Modi government's new template on its Pakistan policy is to ignore Pakistan and talk to Pakistan for the sake of the talks and not go an extra mile with any initiative aimed at holding substantive talks. This strategy will serve multiple purposes.
One, India won't be raising the expectations only for big hopes to be dashed soon. Moreover, history is witness to the fact that whenever India and Pakistan are on the verge of holding substantive talks and a breakthrough is widely expected, India is hit by a big ticket terror attack.
Two, it puts Pakistan in its place by not giving any attention to the troublesome neighbour. In the weeks and months to come, one will see fewer suo motu references to Pakistan by Prime Minister Narendra Modi and his ministers, bureaucrats and diplomats.
Of course references to Pakistan cannot be completely stopped but the effort of the Modi government will be to not mention the P-word to the extent possible. Whatever references and statements that are made, will be curt and full of sound and fury signifying nothing.
Three, keep the international community in good humour by not being adamant on no-truck-with-Pakistan kind of approach but at the same time the Modi government would not be taking any major initiative for bilateral meetings.
Four, this tactic can be taken forward next month in New York where despite the fuming statements from Indian ministers Modi may eventually meet his Pakistani counterpart if such a request is made from Islamabad.
Five, focus will be more on trade and people-to-people contacts rather than serious diplomacy. Those who may be left wondering how the two neighbours would interact with each other and where is the need for maintaining huge diplomatic missions in each other's country when serious diplomacy is out of the window in the India-Pakistan context then, they need to be reminded that a large chunk of the staff in these missions is meant for espionage and counter-espionage.
Six, much of India's take on Pakistan will be routed through the official spokesperson of the Ministry of External Affairs (unless the venue is parliament or some other forum) as diplomats are past masters in the art of making subtle statements couched in diplomatese.
Here is an elaboration on the last point. Pakistan High Commissioner in New Delhi, Abdul Basit, appeared at a meet-the-press programme at Foreign Correspondents' Club on Wednesday and made several points which obviously did not go down well with the MEA. This is what MEA spokesperson Syed Akbaruddin had to say about a couple of issues.
On the Pakistan High Commissioner saying that he met the Hurriyat because they are the representative of the people of Kashmir, and stakeholders in the issue of J&K?
I have already spoken about this. After 1972 and the signing of the Simla Agreement by the Prime Minister of India and Prime Minister of Pakistan, there are only two "stakeholders" on the issue of Jammu & Kashmir — the Union of India and the Islamic Republic of Pakistan. This is a principle which is the bedrock of our bilateral relations. This was reaffirmed in the Lahore Declaration of 1999 between PM Nawaz Sharif and PM Vajpayee.
So why did India permit meetings between Pakistan and the Hurriyat in the past?
We all know the answer to that question quite well. Pakistan assured us, at the highest level, that they were committed to a peaceful dialogue on the issue of Jammu and Kashmir and would not allow Pakistan or territories under its control to be used for terrorism against us.
We know now, particularly after the Mumbai terror attacks and the manner in which Pakistan has pursued subsequent investigations and trials, that this assurance had no meaning and that an approach that is different to the one laid down by the Simla Agreement and Lahore Declaration does not yield results.
Find latest and upcoming tech gadgets online on Tech2 Gadgets. Get technology news, gadgets reviews & ratings. Popular gadgets including laptop, tablet and mobile specifications, features, prices, comparison.
India
In a slight change in the original schedule, Modi is expected to visit the family of former Gujarat chief minister Keshubhai Patel, who passed away due to COVID-19 complications on Thursday
World
The New Zealand prime minister on Saturday won a second term in office in an election landslide of historic proportions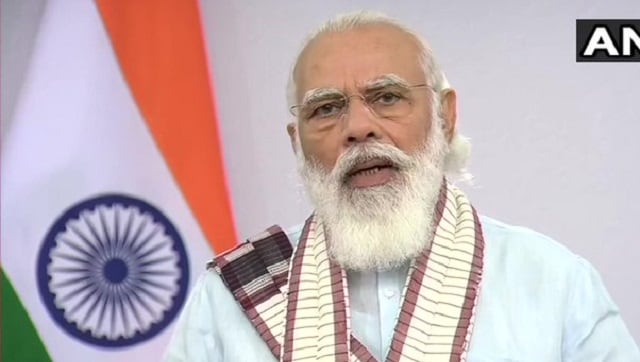 India
Acknowledging that the country has come a long way in the fight against the pandemic since the 'Janata Curfew' in March, Modi said that India has been more successful in saving the lives of its citizens than more prosperous countries.