Whether 'talks' or 'engagement', optimism over India-Pakistan ties will last only as long as military-jihadi complex allows
On Monday, Pakistan's new foreign minister spoke of a letter from Narendra Modi, in which the Indian PM expressed his desire for 'constructive and meaningful engagement'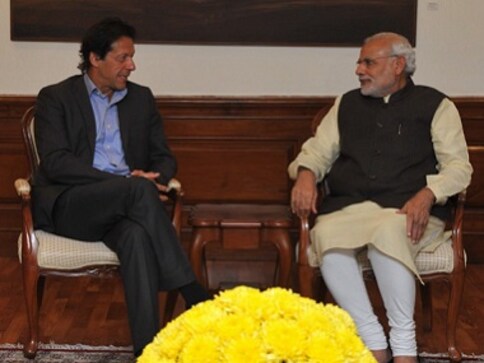 Imran Khan took oath as the 22nd Prime Minister of Pakistan on Saturday and kicked things off with an inauguration speech that spoke of, among other things, corruption, reforms in the judiciary, black money and the national debt. Of arguably greater interest to the rest of South Asia were the lines: "Our priority is to talk to our neighbours and restore peace in the region. Many leaders have phoned me. We will talk to them and discuss how we can restore peace in the region. We should have better relations with our neighbours."
On Monday, Pakistan's new foreign minister Shah Mahmood Qureshi alluded to a letter to Imran from Narendra Modi, in which the Indian prime minister reportedly expressed his desire for 'constructive and meaningful engagement with Pakistan', as also the need to work for a terror-free South Asia, they said. On his part, Qureshi was quoted by PTI as saying, "We need a continued uninterrupted dialogue. It is the only wise course for us." He added that the two South Asian neighbours cannot afford any "adventurism" and that the only option was "to engage with each other".
From the looks of things, both countries have expressed a desire to 'engage', however, appearances can be deceptive.
For starters, while Modi's letter followed up the desire to engage with a word on terrorism, Qureshi's call for engagement was suffixed with, "Whether we wish or not, Kashmir is an issue and both countries have recognised it. In my opinion, there is no option other than talks to resolve it." It becomes at once apparent that these twin offers of engagement are already somewhat conditional: India wants to talk terrorism — something that is inextricably linked with Pakistan; Islamabad refers to the 'recognition' of Kashmir as an issue, knowing full well that Delhi has a very different view of the issue as an issue. While Pakistan views it as a 'dispute', India has always seen it as just an 'issue'
Let's sidestep the fact that the term 'engage' is fairly insipid and non-committal. But what these communiqués do, inadvertently or otherwise, are to send out the message from both parties that any sort of engagement is contingent on the other party stepping down from a deeply entrenched position. Until such a point, the atmosphere/climate/environment will remain "not conducive for talks".
But what of the warm exchanges between the two countries following Imran's election and swearing-in, you may well ask.
There are two aspects to examine here:
The first is a matter of protocol. It is a basic diplomatic protocol between nation-states that have diplomatic relations to write to the new governments of other countries congratulating them on coming to power. If relationships are warmer, then the letter is usually coupled with a telephone call. In terms of India and Pakistan, leaders on both sides have traditionally congratulated each other warmly and expressed a desire to set things right.
In the interest of brevity, let's look back at the past decade alone. In March 2008, then prime minister Manmohan Singh congratulated Yousuf Raza Gilani on his assumption of office with a letter that contained the line, "I hope very much that we can build upon the progress already achieved and work expeditiously, through the dialogue process, towards agreed solutions of pending issues. Five years later, Manmohan wrote to Nawaz Sharif to say, "I look forward to working with you and your government to chart a new course and pursue a new destiny in the relations between our countries."
A year later, Sharif went a step further and called Modi to congratulate him. In return, the Indian prime minister invited his Pakistani counterpart to attend his swearing-in ceremony. And now, we have Modi's letter to Imran, which was preceded by a telephone call on 30 July, the day election results were declared.
The second aspect to look at is the glimmer of hope.
Every new government assumes office believing it will be the one to bring peace to the region. This optimism translates into an initial outpouring of warmth, cautious optimism coupled with testing of waters.
Over the course of the past two decades at least, this has been par for the course. From Atal Bihari Vajpayee and Pervez Musharraf to Manmohan and Sharif, and onto Modi and Sharif, the initial warmth has been very much on display. Of course, this is swiftly followed by an incident (or worse provocation) on the LoC which throws bilateral relations into yet another freeze. The cyclical nature of warm and cold fronts would be almost comical if it wasn't so horribly tragic.
To bring it all together, discourse about whether or not India offered to have talks or Pakistan misinterpreted what was said becomes trivial when you put together the twin facts that this is all very par for the course and that each offer of engagement comes with red lines. How long this warm back-and-forth lasts this time around will depend largely on how long a leash Pakistan's military-jihadi complex is willing to give Imran.
India
The external affairs minister was speaking at a discussion on a book titled 'Modi@20: Dreams Meet Delivery', at the English and Foreign Languages University (EFLU) campus in Hyderabad
Sports
The felicitation program was attended most of the CWG-returned athletes, including the wrestlers, weightlifters, boxers, shuttlers and table-tennis players.
Opinion
Imran Khan still has considerable support despite recent setbacks. It will require considerable adroitness on the part of both the PDM leaders, the Army and the institutions to handle him