When money for other states is given to Delhi, it resembles the imperial seat of an empire
The Urban Development Ministry has been spending money, extracted as tax and revenue from other Indian states, disproportionately for projects in Delhi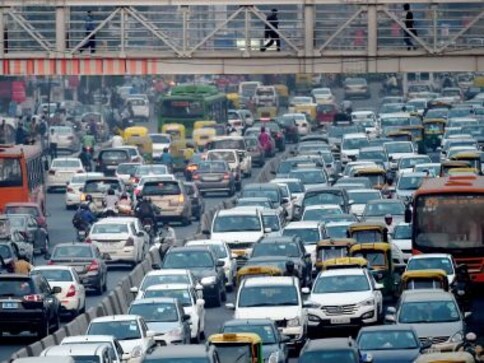 On paper, there exists in the union government, an entity called the Urban Development Ministry that is dedicated for the purpose of urban development all over India. In practice, this ministry, for quite some time, has been acting as its job was to use money extracted as tax and revenue from various states of Indian and spend it disproportionately for projects in and around Delhi.
In the 2016-2017 budget, the total allocation for the Urban Development Ministry headed by M Venkaiah Naidu was Rs 21,100 crores. Of this, more than 20 percent was allocated to a single project in Delhi — namely the Delhi Metro. This amount is more than what was allocated for metro projects in Mumbai, Bengaluru, Chennai, Kochi, Lucknow and Nagpur all combined. The real share of Delhi in the budget allocation is actually closer to 30 percent, when one considers the various other headings under which the ministry allocated more money to Delhi, including a separate National Capital Region sub-allocation. No such separate allocation for a specific urban area exists in the Urban Development Ministry budget and the amounts given to NCR through such methods are much higher than what is allocated to the next few mega-cities combined.
Recently, plans have been mooted for building another Parliament House in Delhi. As if this was not enough, a committee set up by the Urban Development Ministry has recommended that Delhi be given Rs 20,000 crore to "decongest" the city (which happens to have the greatest percentage of area as roads, compared to other similarly-populated urban zones), in addition to the obscenely huge over-funding it receives at the cost of all other cities already. One would think that Delhi is not a city in India, but the royal palace in a monarchy whose upkeep is undertaken at the cost of bleeding everything else.
But the Indian Union is a republic; a federal democratic republic at that. Which is why such a skewed amount of money that is being pumped into Delhi shows how broken, whimsical and vested interests drive the budgetary allocation of the Union government ministries, of course with a bias towards the crown jewel of the Hindi heartland. Recently, Shoaib Daniyal, sarcastically commented that the Union Urban Development Ministry should be renamed as the Delhi Urban Development Ministry to truly reflect its priorities and concerns.
The Standing Committee on Urban Development (of the Ministry of Urban Development) submitted a thick report on its 2015-2016 grants. The document mentions Delhi 96 times. It mentions Mumbai twice, Kolkata four times, Chennai eight times and Bengaluru just once. When sarcasm is closer to reality than official circulars, the rot in the system becomes clear. What is not clear is that why should the rest of India's citizens, whose own cities have huge needs of investment in infrastructure, continue to be looted for big-ticket projects in Delhi, conjured up by bureaucrats in Delhi and typically backed up by political support from so-called and predictably Delhi-headquartered national parties like Congress and BJP?
Such big ticket investments that are given preferentially to Delhi by extracting money from other states has been a long time tradition. Of course, to justify cross-subsidy for the already most subsidised city, one needs to invoke holy cows such as "national pride". The Asian Games of 1982 and the Commonwealth Games of 2011, both have been occasions that have served as smokescreens for diverting huge amounts of funds to build expensive infrastructure in and around Delhi.
Incidentally, it is also in and around Delhi, where sons and daughters of most "national party" politicians live and thrive. Such investments also boost up real estate prices in an area, and thus the powerful clique that has a foothold in Delhi — bureaucrats, contractors, academicians, traders, businessmen, top defence personnel, media gangs, think-tankers, pimps, high-spending cosmopolitan yuppies and other wheeler-dealers — exert their unholy influence on the subcontinent by building up their paradise at other states' expense.
Most of the Urban Development Ministry schemes either start with Delhi or happen only in Delhi. The union minister even doubles up as a Councillor of sorts by personally dealing with water problems in sub-areas of Delhi, holding area meetings.
Under the JNNURM scheme, 22,000 houses were allocated to Delhi, more than the next few cities combined. Venkaiah Naidu regularly takes interest in micro-projects of Delhi such as promotion of aesthetic designs. He recently gave Rs 3,250 crore for Delhi's "decongestion" even before the more recent Rs 20,000 crore proposal was floated. People from certain areas of Delhi have even marched to the minister's home to demand a Delhi Metro link to their area — an astonishing endorsement of the barb that the union ministry basically functions as a Delhi internal affair ministry.
The ministry is already engaged in talks about building another big cricket stadium in Delhi. The minister comments on Delhi's traffic rules of Delhi, sees clean parks in Berlin and gets inspired to replicate it in, where else but Delhi, addresses small-time RWAs of Delhi in meetings, flags off driver-less trains of Delhi Metro, gives long media interviews of his plans for Delhi (no such interviews exist for his specific plans for any other city) and so on.
If one observes what the Urban Development Ministry and its minister mostly engages in, it will be clear that the engagement with Delhi goes beyond the mere location of the ministry, which is just an incidental byproduct of New Delhi being the capital of India, although in this age of connectivity, its not clear why head offices of all government institutions need to be physically in Delhi. For example, a city without a coast in many hundred miles is the headquarters of the coast guard. Such examples are too numerous to even count. But this also shows that by building a completely subsidised economy of government employees, a situation of huge conflict of interest is created, when it comes to fund allocation decisions being made across cities by people who are more often than not likely to be living in Delhi.
This is due to the fact that the union government grabs most of the tax and revenue produced in states and then allocates them according to its own whim. This whim is the site of vested interests, where Delhi, with its power circuit and political brokers and pimps, exerts a huge influence. This is true for any field. The fact that a lot of knowledge sectors or tech-finance industries are situated around Delhi is not because Mirza Ghalib lived there, but because disproportionately high infrastructure investments have been made there, by cheating people living in other cities. Add to this the vast number of union government-funded universities, colleges, cultural centres, and others such trappings of "culture", and one realises how unsustainable this is without the deprivation of others, and how unjust. In fact, a Bengal-based commentator captured it perfectly when he referred to Delhi as a cat that has been pumped into a tiger.
It is not accidental that the present Urban Development Minister M Venkaiah Naidu is completely dependent on the central leadership for his ministerial berth as well as parliamentary seat. An Andhra-born and Andhra-nurtured Telugu, he was a Rajya Sabha member from Karnataka for 18 long years, during which he didn't learn Kannada and ignored Karnataka so much that this time around Kannadigas got together to launch a massively successful campaign to deny him renomination from their state.
Such ministers, without a mass base or constituency among people, are able to allocate funds disproportionately without any political cost to themselves, as they owe their power to keeping the Delhi high command happy, which is entrenched in Delhi anyway.
Centralisation is a disease that runs deep in India. When it is combined with a minister without a mass base, what we have are grand plans about making Delhi "world class" with the money produced by states, who will never gain from the money produced by their labour, production and resources. From that perspective, Delhi looks less like the capital of a federal democratic union and more like the imperial seat of an empire. That is unacceptable in a republic.
Delhi has to be cut down to size so that the Indian Union becomes just a union of equal stakeholders and not the captive bond between producers and parasites. Naidu recently said, "What Delhi can do today, others will follow tomorrow." He didn't mention how every city will get the disproportionate funding that has been allocated to Delhi. Do I, as a non-Delhi person, envy Delhi's urban development? Not really, as long as it doesn't happen by taking our money. Delhi should pay for Delhi.
also read
Explainers
The term 'comfort women' has been given to people that were forced to work as sex slaves by the Japanese Army during World War II. It comes from the Japanese word ianfu – which combines the Chinese characters 'comfort or solace' (i-an) and woman (fu)
Explainers
The trouble kicked off after armed miscreants forced people to shut their shops on Monday afternoon. A mob then torched two homes in Imphal, causing security forces to rush to the spot. Chief Minister Biren Singh has said the situation is now under control
Explainers
Scientists at Stanford University in a breakthrough successfully tested a soft, flexible patch of electronic skin as thick as a piece of paper on a rat. While this offers a ray of hope to amputees and those with skin damage, experts say much more research is required