'When I stand next to world leaders, I am not Modi but representative of 125 cr Indians': PM on his diplomacy skills, and India's growth
Ahead of his first visit to Davos for the World Economic Forum (WEF) annual meeting, Prime Minister Narendra Modi on Friday said the world wants to hear 'directly from the horse's mouth' about India's policies and growth potential.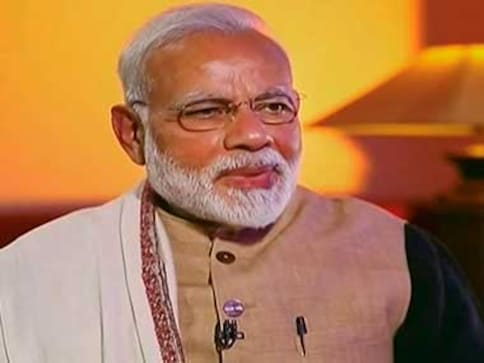 Ahead of his first visit to Davos for the World Economic Forum (WEF) annual meeting, Prime Minister Narendra Modi on Friday said the world wants to hear "directly from the horse's mouth" about India's policies and growth potential.
In an interview, Modi told Zee News that India has made a mark globally and there is a need to reap the benefits.
"The country is seeing the biggest jump in Foreign Direct Investment (FDI). It is natural that the world wants to talk directly to India and hear its development story directly from the horse's mouth. It matters if you hear it from the leader," Modi said.
While terming the Davos meet as the biggest congregation of businessmen, financial institutions and policymakers, the prime minister said he has not been able to go there so far.
Modi called India an "attraction" for the world.
"Everyone knows what was happening in India before 2014. After 30 years, a government with a clear mandate has come in India. This is something which has attracted attention of the world and changed the nature of interaction," the prime minister told Zee News.
The prime minister also praised India's progress rate. "When world sees that a country has entered top 100 rank of World Bank's ease of doing business, they know it is a big thing. The change is visible in their relation with the country."
The prime minister explained how his lack of understanding of standard "protocols" worked in his favour. "When I became the prime minister, there was criticism that Modi has no knowledge about the foreign land. It was right, because I had no experience. But that worked in my favour, I had no baggage. I would tell the world leaders that I have no understanding of protocol; I am a social man and I am going to behave as such. It turned out to be a plus and I could make friends world over," he said.
"Every time I stand next to the biggest leaders, I don't think that I am Modi. No matter who stands next to me, I only remember that I am the representative of 125 crore Indians and I empower myself with the strength of these 125 crore Indians and stand shoulder to shoulder with world leaders," he told Zee News.
On national politics, Modi said that criticism was good for the democracy, and everything good should be praised open-heartedly, while bad things should be denounced and criticised by all. But we have faced more allegations than criticism.
Modi spoke on the importance of being proactive. "The world was divided into two camps earlier. People had to choose sides. Today, its an open field. Today, everyone is friend with everyone and everyone differs with someone at some point," he said.
The prime minister then talked about his economic policies. He said that his government ensured construction of toilets in over a lakh schools, provided LPG connection to 3 crore 30 lakh families. He further mentioned the Centre's efforts in ensuring electricity reached villages and providing insurance to poor.
About the Goods and Services Tax (GST), Modi said that discussions began during the Atal Bihari Vajpayee government but the successive UPA governments failed to convince the states. "I would talk about Gujarat to them (UPA), but the Centre then would not listen to us. After we came to power, we addressed states' concerns. This is how GST was construed. We have, in true spirit, respected the federal structure."
Modi explained his conviction that "the country votes you to power" so that "you work for janata janardan, not to win another elections." He said, "Election should be a by-product, when a person doesn't think about polls, then its easier to take decisions."
The prime minister then raised the issue of elections being held throughout the year. "So much manpower and money is lost. Security forces leave the protection of common man and look after the elections. If Lok Sabha, Vidhan Sabha elections are held together, this loss can be avoided. In 30-50 days for 5 years, everything is done," he said.
He further stressed that the issues surrounding elections can be fixed if everybody intended to solve them. "This cannot be one man or one party's agenda. Everyone should debate and arrive at a solution," he said.
Modi also addressed the concerns regarding employment under his governance, an issue the Opposition has raised several times. He said, "This nation should be proud that 10 crore people have benefited from MUDRA yojana. The truth is, if someone opens a pakoda shop, and earns Rs 200, will you consider this employment? Three crore people took loan for the first time through the scheme. It is clear that these people have got employment."
Speaking on politics, Modi said, "It is unfortunate that we have been using religion and caste in our politics for the longest time. Politics should be based on integrity."
When asked if the upcoming Union Budget, being his government's last full Budget, would be any different from previous ones, he said that irrespective of Budgets or elections, "Modi and BJP has one mantra: development, development, development. Sabka sath sabka vikas."
With inputs from PTI
Politics
Lingayats are the followers of the 12th-century saint-philosopher Basavanna. It is the single-largest community in Karnataka and is dominant in close to 100 of the 224 Assembly seats in the state, making it a very important vote bloc
Politics
In the 243-member Bihar Assembly, the Nitish Kumar-led Janata Dal(United) has only 43 MLAs while the BJP has 74. To stake claim to form the government, a majority mark of 122 is required
Explainers
Why has BJP not able claim stake in Bihar? Tune in to find out