What does the plastic ban in UP really achieve, and who does it benefit?
 On the ground, we find that people know the right answers, but are still asking for the right solutions.
Rain deficit surveys and reports on collapses of buildings notwithstanding, the Chief Minister of Uttar Pradesh Yogi Adityanath took it upon himself to unearth an older demon plaguing his state, with an order on the ban of plastic use. The announcement was made on 6 July – "Hum logon ne 15 July se, poore pradesh ke andar plastic ko pratibandhit karne ke liye ek aadesh jaari kiya hai… Iske liye hum sabko milkar kaam karna chahiye (We have decided that, come July 15, there will be a prohibition of plastic usage throughout the state. I have issued a directive to this effect… We all need to come together to make this happen.)" – to be implemented 14 July onwards. Considering that similar directives have been passed under previous state governments to zero effect, 12-odd days post the Adityanath announcement, we can confidently report that this seems to be one government directive that's actually being executed on-ground.
And affecting those closest to it.
In the local bazar in Karwi block and kasbah, Chitrakoot, a district of Bundelkhand, UP, the Sub-Divisional Magistrate's (SDM's) recent recce saw, amidst much fanfare, the distribution of cloth and paper bags amongst the owners of small businesses, that included those with roofs above their heads and those on thelas. They were all given a lecture on pollution too. Ajay, proprietor of a store that sells plastic bags in all shapes, sizes, and colours, listened to it all, in all earnestness, "Rangeen vali thailiyaan bandh hone hai. Nuksaan deti hai. (The coloured bags have to stop, they're harmful)." Ajay runs a small but profitable business, and is now considering a change — he's prepping to be a carpet-seller soon. 
"That's all very well", says Abhilash sabzi vala, positively amused at the prospect, "But how will people buy vegetables in this? Kaagaz vale mein kaise ayegi? (Vegetables can't be bought in paper bags)." The corner-shop knick-knacks store owner Vrindavan Gupta is trying hard to be reasonable. "Is panni ke bajaay koi doosri paani aa jaaye toh theek rahega (If they can replace this poly bag with another poly bag, now that would be ideal). Otherwise, there's an issue for me and my customer." But Gupta is hopeful, "This happened a couple of times earlier too, but then it re-started. Let's hope it's the same with this sarkar also."
Meanwhile said sarkar's mukhiya has been on a roll. Literally. Days before we heard of his unique UP CM achievement — the first to have visited all 75 districts of the state in 16 months flat — we heard of his commitment to the ban, with declaration after declaration following suit. On 10 July, his government cleared a proposal of constituting a 'Maati Kala' board, in a bid to promote the use of terracotta and pottery items. Touted as a 'green' initiative and in resonance with similar schemes and plans in other BJP-ruled states such as Rajasthan, Madhya Pradesh and Haryana, among others, the CM is said to have directed officials to expedite the process of providing land on lease for extraction of clay used in pottery. The very next day, on 11 July, in a reiteration of the plastic ban, Adityanath is believed to have issued a statement to industrialists to "stop giving people poison… in the name of development", calling for more eco-friendly approaches. (In that vein, and especially if you're as committed a fan of irony as we are, do read this report on an unlicensed tyre factory in Faizabad and the serious health risk it poses).
Back in Chitrakoot, eco-friendly isn't on the priority list for either the trader or the consumer. People have other woes here, ranging from the real to the ridiculous. Consider Mithlesh, who runs her daily errands in the evening. She's demanding to know how many cloth bags she's supposed to carry, now that this ban is in place. "Also, what about my mobile phone and my money? I keep it all together in my bag, as I shop for my groceries. This will cause me great discomfort." Shiv Shankar Gupta though, another local panni-supplier, makes a pertinent point, "They should apply the ban on those corporations and businesses that manufacture these polythene bags in the first place. Apne aap ruk jayegi (It'll automatically stop then). Why start with us?" Indeed. Why is it that the ban isn't applied all across, is a sentiment with a million echoes in Bundelkhand, where the top trending question this past week has been around the packaging of popular FMCG products — 'How come nobody's banning Kurkure?' has appeared on one too many local WhatsApp groups lately.
In a modus operandi his party's most familiar with, strict action against all "plastic" offenders is a hard line being echoed through the state — a fine of upto Rs 1 lakh and six months prison time. And there are levels to this plan. Come 15 August, all plastics and thermocol products including cup and plates are in for a complete ban. And the last phase — slated as 2 October — will see all types of plastic and polythene disposals under the scanner.
But until then, we'll let Nazni, local KL reporter, holding a polythene for the duration of her PTC, have the last word. She's all tongue-in-cheek rhetoric when she asks, "What is this ban meant to even prove?"
Khabar Lahariya is a women-only network of rural reporters from Bundelkhand.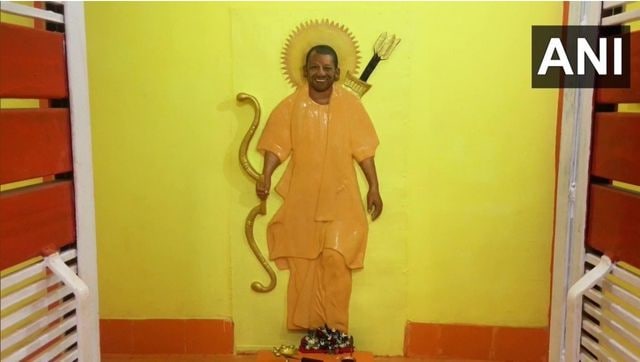 India
A relief statue of the Uttar Pradesh chief minister seems to emerge from a wall carrying a bow and quiver of arrows. Also, a halo sits behind the head of the idol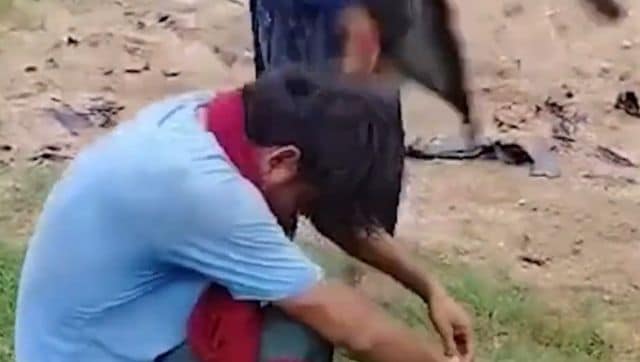 India
A video is going viral showing an angry woman hitting a man 40 times in 20 seconds over alleged molestation in Uttar Pradesh
India
Yogi Adityanath was addressing a function after flagging off modern prison vans for 56 districts under the Police Modernisation Scheme here.