The suicide of a Dalit student in Hyderabad has provided a god-given opportunity to our "secular" netas.
"The value of a man was reduced to his identity… to a vote, to a number, to a thing. Never was a man treated as a mind, as a glorious thing made of star dust in every field. In studies, on streets, in politics and in dying and living", wrote Rohith Vemula in a heart-wrenching suicide letter.
His eloquent words seem eerily prophetic now.
In less than the time it took for family members, friends and colleagues to process the news of his shocking death, the erudite science scholar has been stripped down, buck naked, to his Dalit identity. And as the vivacious student activist foresaw, through a well-oiled paradigm of reductive politics, his voice has been reduced to just a vote. One vote that could lead to many votes in the eyes of our congenitally opportunistic political handlers.
Like vultures excited by the smell of carrion, party leaders from all over India are now circling over Hyderabad, determined to peck every bit of flesh clean off the bone in an effort to secure their votebanks.
We learn from a Times of India report that PhD scholar Vemula got his admission to the University of Hyderabad on general merit quota. And although he declared himself as a member of a Scheduled Caste in his admission form, he never felt the need to furnish it.
Vemula wanted to be a writer of science "like Carl Sagan". He was well-read, meritorious, brilliant. He was spunky, a man of action and an inspiration to co-activists. He tore down posters of ABVP, organised movements in favour of the causes he espoused, inevitably resulting in clashes with students of different ideologies.
And from his experience, he was also aware of the structured alienation that Dalits face from society. In his final letter, a veritable treatise on each of his experiences as an individual or part of a collective, Vemula issued a clarion call against disrespect for merit in "in studies, on streets, in politics and in dying and living".
But look at what we have done.
Hardly a day has passed since his suicide that long, sharp knives are being twisted into his memory. All that he stood for stands nullified. Eager to pose with his family members and co-activists in a bid to exploit the sentiment — still raw and powerful — vote-hungry netas are busy trampling Vemula's dying wish under their foot.
Can't blame them, really. A tragedy not exploited is an opportunity lost.
Union minister Bandaru Dattatreya, acting on a request from the BJP's student wing, sent a letter to HRD ministry. He accused the student association at Hyderabad University bearing Ambedkar's name of "anti-nationalism". The Smriti Irani-headed ministry shot off four letters to the vice-chancellor. Vemula and four others were expelled and he eventually committed suicide. If the BJP had a death wish, it couldn't have executed the plan better. For the Opposition, it is an issued served on a platter to paint the ruling party as a reflexively anti-Dalit.
Hence, we find Arvind Kejriwal, who practices throwing secular arrows on the 'Narendra Modi Dartboard' when not playing the victim card, jump into the cauldron with alarming alacrity.
Calling it "not suicide, but murder" and demanding an apology from Modi, the 'mufflered mango man' who remained steadfastly silent during the violence in Malda — a district in Bengal, has since been burning in the fire of righteous indignation. The Trinamool Congress sent its emissary Derek O'Brien, the articulate spokesperson. He couldn't travel the distance from Kolkata to Malda — around 326 kilometres — when it was burning, but wasted no time in taking the first flight to Hyderabad.
Some causes are greater than others.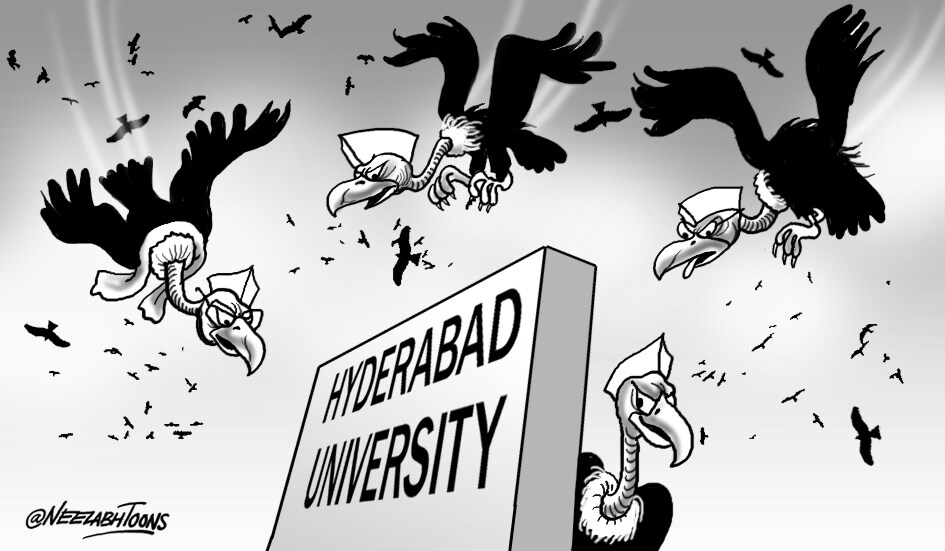 The early bird prize, though, went to Rahul Gandhi who came along with senior Congress leader Digvijay Singh. Amid folk songs and impromptu lyrics, the Gandhi scion spoke before an excited crowd on the campus. Some tried to capture selfies, while others called their parents at home, requesting them to switch on the TV because it was being covered live.
Seeing all this unfold, Mayawati, whose life and career is centred around Dalit identity politics, sent two emissaries on a fact-finding mission. Uttar Pradesh Assembly polls are not too far away.
As tragedy tourism went on in full swing and the recipe for another 'Mahagathbandhan' was being readied, we are reminded yet again of Vemula's immortal words: "The value of a man was reduced to his immediate identity".
The reductive principle at work behind the stripping down of Vemula to his Dalit identity is effectively the new caste system that the political parties are engaging in. And in this new paradigm, politics is no longer the sphere in which convictions crash or varied interests are shared. It is now just a battlefield for pitting one identity against the other. Dalit against Brahmins. Muslims against Hindus.
Vemula, the PhD scholar, is no longer a thinking individual who was convinced of his ideology and acted on basis of his conviction. That individual, tragically, is now dead. The multi-faceted scholar has been quickly ossified by politicians into a mere keeper of an identity, the very thing he warned us against in his final missive.
Henceforth, Vemula is just 'that Dalit student who committed suicide'.
Firstpost is now on WhatsApp. For the latest analysis, commentary and news updates, sign up for our WhatsApp services. Just go to Firstpost.com/Whatsapp and hit the Subscribe button.
Updated Date: Jan 21, 2016 07:31:46 IST