'We don't want Rs 8 crore, we want to know why Modi didn't speak for 5 days': Rohith Vemula's family
In a rebuff to Hyderabad Central University, the family members of Dalit scholar Rohith Vemula, who allegedly committed suicide in a hostel room, today rejected the ex-gratia offered to them, and criticised Prime Minister Narendra Modi and Union HRD Minister Smriti Irani, asking why it took them five days to respond.
Family members of Dalit scholar Rohith Vemula, who committed suicide at Hyderabad Central University last week, have rejected the ex-gratia offered to them, and criticised Prime Minister Narendra Modi and Union HRD Minister Smriti Irani for their 'delayed' reaction to Vemula's death.
Elsewhere in the city, the backlash after Rohith Vemula's death was clear to the BJP.
Angry residents in colonies dominated by Dalits chased away BJP candidates contesting the Greater Hyderabad Municipal Corporation (GHMC) elections, scheduled to be held on 2 February, reports The Indian Express.
Vemula's mother Radhika, sister Neelima and brother Raju, who visited the campus, demanded that "those responsible for his death" be brought to book. "Not Rs 8 lakh, we don't want even if you give Rs 8 crores…from HCU where he died," Neelima said.
The HCU had yesterday announced an ex gratia of Rs 8 lakh to the family. "Smriti Irani…she called up after five days. Why it took five days? You are also a woman…you are also a mother…it took five days (to call up the family and condole the death).
"I want to know why he died. You killed or he died? Why was he suspended? Those responsible should be arrested and punished. That's the only thing I want," Rohith's sister Neelima said.
Raju said, "The Prime Minister says he (Rohith) was a son of Mother India. I am not big enough to talk about him (PM) …Why he did not speak for five days?"
Rohith's sister said he was not a "timid" person and termed his suicide as a "murder". She demanded that punishment be given to Susheel Kumar, the ABVP leader who was allegedly assaulted by Rohith and four other students, and varsity's Vice Chancellor Appa Rao Podile.
"We want to know the reasons behind Rohith's death. It's not a suicide. His is not timid. He was prompted to commit suicide. Those responsible for that murder should be given punishment…first is Shusheel Kumar, second is the VC," she said. She also sought to know why the family was not informed of Rohith's suspension.
Breaking his silence on the matter, Prime Minister Narendra Modi had yesterday said: "When there is news that a youth of my country, Rohith, was compelled to commit suicide, what his family must have gone through. Mother India has lost a son. There will be reasons, there will be politics (surrounding it) but the fact remains that a mother has lost her son. I feel the pain very well." Irani had yesterday sought to reach out to the family and spoke to Vemula's mother over telephone. She had assured her that justice would be done on the basis of a judicial inquiry.
HCU Vice Chancellor breaks silence
In an interview to The Hindu, the embattled vice chancellor of Hyderabad Central University says that he was not VC when the decision was taken to expel five students, including Vemula, for a semester. "But when I took over, I felt the order was harsh since that would have meant a freeze on their scholarships, which is a lifeline for the students. I requested the Executive Council whether we could reconsider the decision to expel them from the hostels. Please also remember, it is for the first time that students have been expelled from the university," he told the newspaper.
Centre sets up judicial Commission, students continue strike
Even as Prime Minister Narendra Modi broke his silence and expressed his grief over the death of Rohith Vemula, seven students continued their indefinite hunger strike demanding removal of Union Ministers Smriti Irani and Bandaru Dattatreya and the Vice Chancellor.
HRD Minister Smriti Irani sought to reach out to the family of the deceased student by speaking to Rohith's mother over phone and assuring her that justice will be done on the basis of a judicial inquiry. On its part, the University sought to reach out to the agitating students when it announced an ex-gratia of Rs 8 lakh to Rohith's family.
The announcement came a day after university authorities revoked the suspension of four students - five counting Rohith in, for allegedly assaulting an ABVP leader in August last year. Based on the report by a fact-finding team, the HRD Ministry decided to set up a judicial commission to look into the sequence of events leading to the suicide of Rohith Vemula, a Dalit scholar at the Hyderabad Central University.
The commission will submit its report within three months, said a ministry statement. The two-member fact-finding committee comprising HRD officials, which visited the university, said in its report that there was a "lack of sensitivity" shown in some areas by the varsity authorities in dealing with events that led to the suicide. The committee submitted its report today.
The HRD ministry said in order to prevent such incidents in future, all VCs and senior administrators would be 'sensitised' to reach out to students and there will be "zero tolerance" for any acts of discrimination on campus. Rohith's body was found hanging in the varsity's hostel room on Sunday, which sparked massive protests across the country. The agitating students outright rejected the termination of suspension against the four research scholars, terming the HCU decision as an "illegitimate circular".
"At a time when the legitimacy of Prof Appa Rao to continue as the Vice Chancellor is in question, without attending to the protesting students, who are on indefinite hunger strike, the absconding VC and Executive Committee met today (not inside the campus) and issued a circular. "We outright reject this illegitimate circular since it came through a Committee headed by the VC, who in our opinion is not the legitimate VC anymore, but in fact a criminal on the run," the Joint Action Committee for Social Justice had alleged yesterday.
A group of seven students, who have been on indefinite hunger stike for the past three days, said the protests would continue till their demands–removal of Vice-Chancellor Prof. Appa Rao, Rs 50 lakh compensation to Rohit's family, employment to one of his family members, "unconditional" revocation of suspension of the four research scholars and withdrawal of "false cases" against them filed in connection the alleged assault on ABVP leader Susheel Kumar–are met.
The suicide has snowballed into a major political storm with parties demanding the ouster of Union Minister Bandaru Dattatreya and HRD Minister Smriti Irani. The Hyderabad University had suspended Rohith and four other students after they allegedly assaulted an ABVP leader. The suspension came after Dattatreya shot off a letter to the HRD ministry in August last year, asking it to look into the matter. Students have alleged that his suspension led to Rohith's depression and his eventual suicide.
With inputs from PTI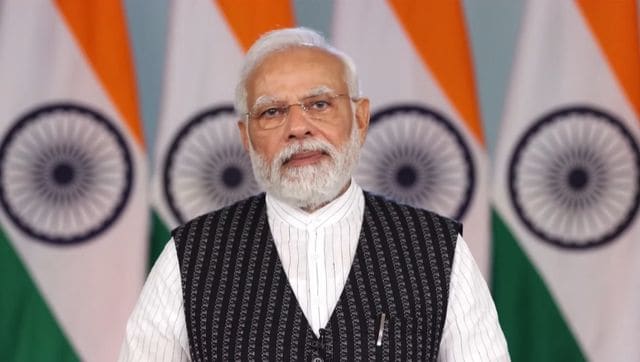 India
PM Modi revived a warm welcome in Mandya and people showered him with flowers during the roadshow.
India
PM Modi got a rousing welcome as BJP supporters and locals showered with flower petals and raised slogans during his roadshow.
Football
Locked 0-0 in the first leg, the reverse fixture also saw a goalless stalemate till 120 minutes of play, including regulation and extra time.