We couldn't invite Hamid Ansari on Yoga Day because PM Modi was already invited, says Ayush minister
Following the controversy where the Vice President Hamid Ansari's office said that he was not invited to the Yoga Day event in the capital, Shripad Yasso Naik, Minister for Yoga and Traditional Medicine on Monday clarified that the invitation was not sent due to the warrant of precedence.
Even though the world celebrated International Yoga Day with much fanfare and enthusiasm, BJP and RSS leader Ram Madhav stirred a controversy with his tweets where he questioned Vice President Hamid Ansari's absence at the event. The Vice President's office was quick to retort and in their reply said that Ansari was never invited for the event which was held on Sunday at the Rajpath.
Minister for Yoga and Traditional Medicine, Shripad Yasso Naik, spoke to CNN-IBN on Monday and clarified that the invitation was not sent due to the warrant of precedence. The Ayush minister said that since Prime Minister Narendra Modi was invited to the event, Ansari couldn't have been invited.
"There is a warrant of precedence. When we call the Prime Minister, we cannot call the Vice-President. They are above the Prime Minister, that's why we don't call them," he told CNN-IBN. When asked if such controversies should be avoided, Naik said that, "They have withdrawn, I heard. Must have happened by mistake. We invited everyone, all the minister, all the chief ministers, but according to the rule we couldn't send Ansari an invitation one. I have admitted my mistake. It must have been avoided. Mistakes are made, we are only humans," he added.
Madhav has since deleted a tweet questioning Ansari's absence and then apologised to him saying he later learnt that the Vice President was unwell.
But the Vice President's office in a quick reply that the information was incorrect. "Vice President was not sick. He was never invited for the yoga programme," it said, adding, "the Vice President only attends those programmes in which the Minister concerned invites him as per protocol".
Madhav also accused Rajya Sabha TV, the public service broadcaster run by Parliament's Upper House, of blacking out live telecast of the Yoga Day event "completely" despite being run on taxpayers money. As Rajya Sabha Chairman, Ansari is the controlling authority for the channel.
(With inputs from PTI)
Find latest and upcoming tech gadgets online on Tech2 Gadgets. Get technology news, gadgets reviews & ratings. Popular gadgets including laptop, tablet and mobile specifications, features, prices, comparison.
Politics
At a campaign meeting on Sunday in Gwalior's Dabra town, where the BJP has fielded Imarti Devi, Kamal Nath had said the Congress candidate was a "simple person" unlike his opponent who was an "item".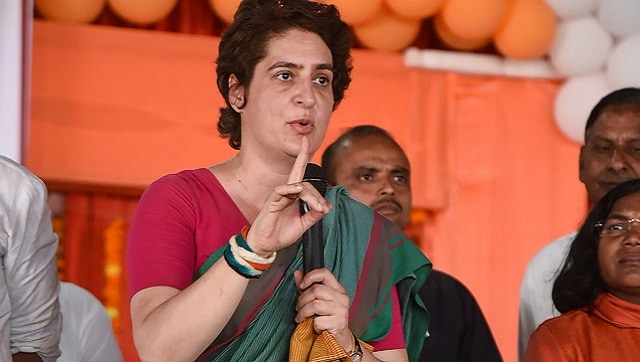 Politics
The Congress leaders made the comments in reference to reports of a BJP MLA and his son allegedly taking away a man accused of harassing a woman from police custody on Saturday
India
In an interview to Rahul Joshi, the Union home minister also said that India "will not bow down to anyone" and that it has the support of most countries