Gorakhpur hospital tragedy: As panic grips disillusioned and dejected parents, doctors wait and watch
Mohammad Sajjad, 30, is teary-eyed but emphatic. "I want to discharge my child from BRD Medical College. Please help me Sir, please," he says. "Mujhe meri beti se mila do. Doctor sahab mujhe usse milne nahi de rahe hai aur," he told Firstpost. "I won't ever forget this help."
Mohammad Sajjad, 30, is teary-eyed but emphatic.
"I want to discharge my child from BRD Medical College Hospital. Please help me sir. Help me see my daughter. The doctor isn't letting me see her," he pleads with Firstpost. "I won't ever forget this help."
Sajjad is not the only parent disillusioned with Baba Raghav Das Medical College, Gorakhpur. There has been complete panic since the news broke Thursday that several children died due to alleged non-supply of oxygen.
Most parents want to take their children home or to another hospital. Many told Firstpost they had lost confidence in the hospital and feel helpless. Some are ready to go to private hospitals, even if they can't afford the treatment.
Since 9 August, more than 70 children have died in BRD Medical College. However, the hospital is reportedly refusing to discharge any of the other 284 children. Sajjad is one of many parents who spent 10 August on their feet. Twenty-three children died that night.
"There was panic all around. Parents were shouting and weeping. Doctors were running around shouting there is no oxygen, the children will die," says Sajjad. "That night felt like a decade."
Sajjad, who wants his 10-day-old daughter discharged from BRD, is a resident of Padrauna in neighbouring Kushinagar district. The short, bearded man looks like he's been through the wringer. He says he doesn't even know if his daughter is still alive. Sajjad runs a small shop in Padrauna and farms on 12 biswa land he owns in Mishrauli village, 12 kilometres from his rented home in Padrauna. He earns around Rs 7,000 per month.
"She is my second born. My elder daughter is healthy and happy by the grace of God. Please help me get my child back," he pleads. "I brought my daughter to BRD on 5 August. She was burning up with fever. It took four hours to get her admitted. Registration took that long." But now he feels it wasn't worth the hassle.
Dr Chandra Prakash Dubey junior resident doctor, NICU,  says Sajjad's daughter is critical but could recover. "Only hospital staff is allowed entry to the neonatal intensive care unit (NICU) as the children are vulnerable to infections," he says. "The children are in great pain. Please try to understand."
On Sunday, Manju Devi Sharma, 40, of Golghar, Gorakhpur, unnerved by the rising death toll, insisted her daughter be discharged from hospital. "My daughter Pinky (7) is in lot of pain. We were here since Tuesday. Pinky's health deteriorated and the doctors' behaviour was atrocious. I did not want Pinky to die here," she told Firstpost.
Ram Ashish, a resident of Ram Kola in Kushinagar district, has been at BRD for the past 12 days. His five-month-old son Kush is down with Acute Encephalitis Syndrome (AES). The cycle mechanic says he wouldn't have brought his son to BRD if he had a choice. "The doctors treat us like animals," he says. "My mother and my wife have gone home to try to scrounge up some money. I want to take my son to another hospital."
Treatment at a private hospital can cost up to Rs 3 lakh, which is beyond the means of many.
Pagra Basantpur resident Pintu Kumar also wants to take his daughter, admitted in BRD for past six days, home.  "If death is the only option, why should I let her die in this hospital? I might as well take her home," the 34-year-old farmer says. "The hospital is not allowing me to take her home. I don't know if she's dead or alive."
Gorakhpur, famed for the Gorakhnath Temple, is Uttar Pradesh chief minister Yogi Adityanand's constituency. Opposition parties are calling the deaths of the children "murder".
However, for the parents, nothing seems to change. Not the intervention of the health ministry nor an assurance from Adityanath that things will return to normal and strict action will be taken against erring individuals.
Parmatma Prasad Gautam's month-old son Roshan was one of the 23 children who died on 10 August. Roshan was brought to the hospital on 9 August with "high fever that refused to break". Multiple organ failure was listed as the cause of death.
A resident of Bhatauli village in Siddharthnagar district, about 100 kilometres from Gorakhpur, Parmatma says he called up a family member to "dig a grave in the field" but not to tell his aged mother of her grandson's death.
"Don't tell mother. She's old. She won't be able to bear it," Parmatma says over the phone.
Dr Kafil Khan, former head of the Pediatrics Department, says the pressure on the staff is immense. The 900-bed BRD Medical College caters to nearly two crore people. It is the only such institute in this area.
"People from Bihar and Nepal also bring their children here. Most bring the child when he or she is critical," Khan says.
A team of 80 doctors are keeping an eye on the 284 children, according to college superintendent Dr RS Shukla.
The parents too, continue to wait and watch. And pray.
Saurabh Sharma is a Lucknow-based freelance writer and a member of 101Reporters, a pan-India network of grassroots reporters.
World
As Germany readies to elect its next Chancellor, the question that many analysts have is whether EU's most powerful economy will vote for change, or stick with Merkel's policies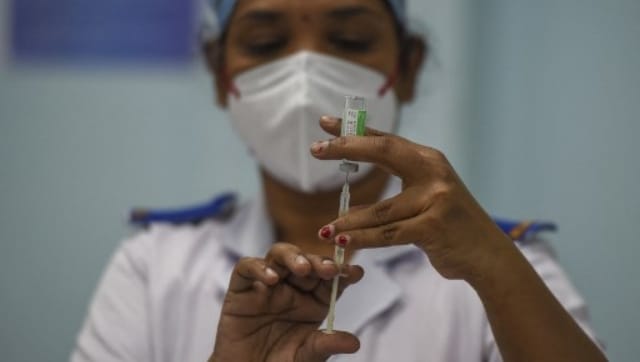 India
The women were administered the shots at a govt-run centre in Shamli. Amid demands for action against the medical staff, health centre in-charge Bijendra Singh said an inquiry will be conducted
India
Most of us assumed post-October and November that COVID-19 was gone or had reduced. This was a blunder because we let our guards drop