'Violating right to freedom': Greenpeace international member denied entry into India
Greenpeace India has claimed that a member of its international staff was denied entry into India despite having valid documents.
New Delhi: Months after one of its campaigners was 'offloaded from a flight, Greenpeace India on Monday claimed that a member of its international staff was denied entry into India despite having valid documents.
According to the NGO, Aaron Gray-Block, a member of Greenpeace International, had flown in from Sydney on Saturday to take part in a series of meetings with staff here. He was travelling on an Australian passport.
In a statement in Delhi on Monday, Greenpeace India claimed that no formal reason was given by immigration officials in Bangalore for the decision to turn back Gray-Block, who was not officially deported.
"Our colleague has a valid business visa, and yet he was prevented from entering India with no reason given. There is absolutely no reason why one of (Greenpeace International's) staff members should be treated in such an arbitrary way, and we expect the Ministry of Home Affairs to offer a full explanation," said Divya Raghunandan, Programme Director, Greenpeace India.
The NGO claimed that as Gray-Block was denied entry, his passport was seized and he was later put on a flight to Kuala Lumpur. His passport was returned to him after he landed in Kuala Lumpur, said Greenpeace, adding that Gray-Block is now back in Australia.
The NGO further claimed that "this is not the first time Greenpeace staff from other countries have been denied entry into India".
"Denying entry to a Greenpeace International employee with a valid visa is yet further proof of the extent to which the Indian government is prepared to go in violating Greenpeace's right to freedom of expression under international law and under India's Constitution," the NGO said.
Greenpeace India activist Priya Pillai was controversially offloaded from a flight to London in January. She was stopped at by immigration officers in New Delhi airport from boarding her flight to the UK capital, where she was to address British parliamentarians.
Delhi High Court later overturned the action by the Home Ministry and Pillai's "offload" passport stamp was formally expunged in May.
"The treatment of Gray-Block is just the latest in a series of attempts by the Indian government to obstruct the work of the environmental group," the NGO said.
The Centre had in April blocked Greenpeace India's bank accounts following which the environmental group had to seek interim relief from Delhi High Court.
PTI
Find latest and upcoming tech gadgets online on Tech2 Gadgets. Get technology news, gadgets reviews & ratings. Popular gadgets including laptop, tablet and mobile specifications, features, prices, comparison.
India
There have been suggestions that NGOs be brought under RTI to ensure transparency and accountability but the Joshi case proves there is too much animosity.
India
In a relief to Greenpeace India Society, the Madras High Court on Wednesday granted an interim stay for eight weeks on the cancellation of the NGO's registration under Foreign Contribution Regulations Act (FCRA).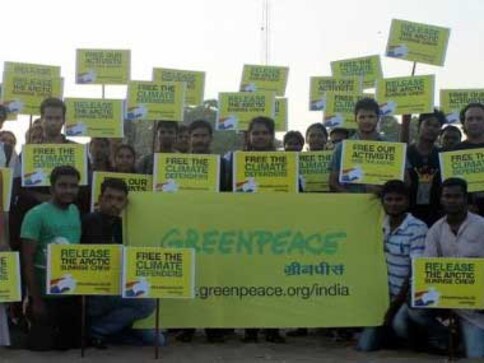 India
The home ministry had also rejected the NGO's clarification that it was working democratically saying that its activists were doing nothing meant for the environment "while hurting our national interest".