Vinod Rai's scoop: UPA scams began within 70 days of Manmohan becoming PM
UPA has been associated with scams towards the latter half of its tenure - 2G, CWG and Coalgate among them. But it faltered first with Praful Patel, who pushed Air India into financial ruin with his unwarranted board intervention
Vinod Rai, the former Comptroller and Auditor General (CAG) who made waves with his scathing reports on the 2G, coal blocks, and Commonwealth Games scams under UPA, has actually put his finger on what could be yet another scam – a scam that is less likely to be noticed in all the brouhaha over Manmohan Singh's quiet acquiescence in his ministers' wrongdoing.
This scam involves the sinking of Air India through the efforts of the then Civil Aviation Minister Praful Patel - as I have noted as far back as in 2011.
Among the things Rai told Times Now in an interview (read the full interview here) pertaining to his new book, Not Just an Accountant: The Diary of the Nation's Conscience-Keeper, was observations on Patel's role in Air India's rush towards insolvency and financial disaster.
Rai's book says that while the Air India board was keen to order 28 new planes from Boeing, Patel "nudged" the board at a meeting on 2 August 2004 to buy 40 more planes – 68 in all – and look at the "long-term perspective". This sent the total cost of the planes soaring to Rs 38,000 crore – most of it debt.
The interesting bits are what Rai said next: the minute he sought to put the word "nudged" in his draft report (sent to the government for comments), "all hell broke loose." He told Times Now: "Bureaucrats of all hues, serving and retired, including Air India officials, started approaching us to drop the word. The funny part is that just about everyone dispatched to plead with us against the usage of the word nudge…almost everyone acknowledged that the (2 August board) meeting was, in fact, the turning point where the minister nudged Air India."
The word "nudged" was removed from the final CAG report on Air India, but the fact is the minister's intervention at the Air India board meeting was more an order than just a nudge, as Jitendra Bhargava, former Executive Director of Air India, wrote in his book, The Descent of Air India. The fact that pressures were applied in this case too stood proven earlier this year, when Bloomsbury, the publishers of Bhargava's book, apologised to Patel and withdrew the book.
But the fact that Air India subsequently needed a bailout of Rs 30,000 crore to stay afloat proves that Patel was instrumental in pushing the airline towards financial ruin. Rai did not quite spell out the scam in Patel's interventions in Air India, but one can deduce he smelt a rat from his replies to Arnab Goswami, the channel's anchor: "We found it (the minister's intervention on buying more planes) strange because these proposals are always examined in the finance ministry and the finance ministry was not convinced about it. But the finance ministry wrote that this is a supply side, supply-driven proposal. Which means just because you have bought more aircraft doesn't mean that Air India is going to come out of the red but, the more damaging part of it was, 97 percent of this purchase amount was going to be debt. I don't think any airline can survive by such a huge debt. And then, on the other side, you were following (an) open skies policy wherein all private aircraft, private airlines were allowed to fly…". (Italics mine)
Four things are clear from Rai's replies and his forthcoming book's disclosures:
One, the decision to overload Air India with excessive debt at a time of high competition in the aviation sector was a death-blow. Patel was thus instrumental in bringing Air India to its knees, and as a businessman himself, he could not have been unaware of the damage his "nudge" would cause an already loss-making airline.
Two, the UPA was into scams almost from its inception and not just towards its later years. Remember, the Air India board meeting took place in August 2004 – barely two-and-a-half months after UPA-1 took over. It is more than likely that Patel's brazen decision to take his own decisions in his ministry, despite the concerns of the finance minister, set the stage for more brazen scams elsewhere. The Dayanidhi Maran and A Raja scams in telecom came much later. Patel was from the NCP, a smaller partner compared to the DMK in UPA. The DMK probably figured that it could run its own scam without the PM or FM being able to intervene.
Three, while the main thrust of Rai's arguments are that Manmohan Singh knew about all the scams that were brewing and failed to act – implying a gross dereliction of duty – it is equally clear that Finance Minister P Chidambaram also did little more than murmur about it. Both Manmohan Singh and Chidambaram knew something was wrong, but played along with the antics of their coalition partners.
Four, since it is no one's case that either Manmohan Singh or Chidambaram had any personal axe to grind in the Air India, 2G or Coalgate scams, one conclusion is inescapable: these scams had the explicit or implied sanction of the highest political authority in the Congress party – Sonia Gandhi. It is, of course, possible even for Sonia to plead ignorance, or for her partymen to claim that in a coalition the PM had limited powers to discipline partners who were vital to government formation. But the fact that an "honest" PM did not even see it fit to resign and a no-nonsense FM was willing to stand financial nonsense from a junior coalition partner, tells us how low accountability had sunk in UPA-1 right at the start of its life.
UPA had a wink-and-nod attitude to corruption and scams from birth, and this fact is difficult to deny anymore. Neither Sonia Gandhi, nor Manmohan Singh nor P Chidambaram can afford to claim innocence anymore.
Find latest and upcoming tech gadgets online on Tech2 Gadgets. Get technology news, gadgets reviews & ratings. Popular gadgets including laptop, tablet and mobile specifications, features, prices, comparison.
Entertainment
Tanhaji: The Unsung Warrior, Shubh Mangal Zyada Saavdhan, Malang, Kedarnath, Thappad and War will re-release in theatres after cinemas reopen on 15 October.
India
India's energy future is bright and secure, Modi said, adding access to energy should be affordable and reliable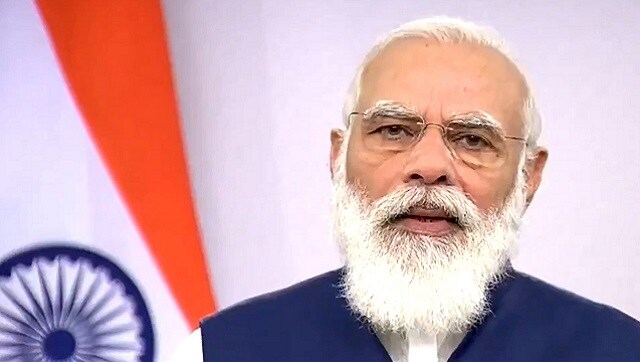 India
Durga Puja was the epitome of pluralism and reflected the collective strength of India, said Narendra Modi during a virtual address on Thursday