Veteran journalist Dileep Padgaonkar passes away in Pune: Former editor of TOI was 72
Veteran journalist Dileep Padgaonkar, a well-known author and former editor of <em>The Times Of India</em>, died at a private hospital in Pune on Friday morning, officials said.
Pune: Noted journalist Dileep Padgaonkar, who was a part of the three-member interlocutors group for Jammu and Kashmir in 2008, passed away in Pune on Friday after brief illness.
72-year-old Padgaonkar, a former editor of The Times of India, was unwell for past several weeks and died at a hospital in Pune, family sources said.
He passed away at a private hospital here where he was brought in a critical condition last week.
"Padgaonkar was brought to Ruby Hall Clinic here from Prayag Hospital in a critical condition on November 18. When he was brought here, he was on ventilator support and there was multi-organ failure. From the day of admission, he was on dialysis and ventilator support," Sanjay Pathare, Director, medical services, Ruby Hall Clinic said.
Pathare said a team of doctors tried to revive Padgaonkar, but he breathed his last on Friday. Born in Pune in 1944, Padgaonkar did his schooling from St Vincent's High School and later graduated from Fergusson College in political science.
He began his career in journalism at an early age and joined the Times of India as its Paris correspondent after receiving a doctorate in Humanities in 1968.
He served the paper in various capacities before he was appointed its editor in 1988, a post he held for six years. In between, from 1978 to 1986, he also worked with UNESCO in Bangkok and Paris.
Padgaonkar was appointed as one of the members of the three-member interlocutors group on Jammu and Kashmir, set up by the government after continuous unrest in the Valley in 2008. The veteran journalist had once said that he held the second most important job in the country after the Prime Minister.
Founder editor of the online news website The Wire Sidharth Vardarajan said it was a "terrible loss".
"Just heard that my friend and former editor, Dileep Padgaonkar, passed away in Pune. Terrible loss, feel gutted," he said on Twitter.
Senior journalist Rajdeep Sardesai said Padgaonkar was "a man of culture and intellect".
"My first editor Dileep Padgaonkar, a man of culture and intellect, someone who encouraged young talent, has passed away," he tweeted.
Railways Minister Suresh Prabhu tweeted, "Very saddened by passing away of dear friend, veteran journalist Dileep Padgaonkar. Condolences to the family."
He was 72. He was admitted to the Ruby Hospital on 18 November following a massive heart attack. Later, he suffered multiple organ failure and was on dialysis after his kidneys stopped functioning.
Born in Pune and educated at St Vincent High School and Fergusson College here, he went to France and studied for a doctorate at the University of Paris-Sorbonne. In 1978, he served with the Unesco at Bangkok and later in Paris in different capacities with its Information Section.
Earlier, he was the Paris correspondent of The Times of India and later, after coming to India, became its editor.
Senior journalists and veterans from the industry tweeted out their condolences for Padgaonkar.
My first editor Dileep Padgaonkar, a man of culture and intellect, someone who encouraged young talent, has passed away. RIP

— Rajdeep Sardesai (@sardesairajdeep) November 25, 2016
Just heard that my friend and former editor, Dileep Padgaonkar, passed away in Pune. Terrible loss, feel gutted.

— Siddharth (@svaradarajan) November 25, 2016
Padgaonkar helmed TOI at a crucial time, a man of great culture and wit, he strived to raise the intellectual level of Indian journalism

— Siddharth (@svaradarajan) November 25, 2016
Dilip Padgaonkar, an editor when it mattered what you read, how aware you were of the world, how rounded. Not judged by #followers and likes

— Namita Bhandare (@namitabhandare) November 25, 2016
RIP Dilip Padgaonkar. ???? I am on my way to @TimesLitFestDel where you interviewed me last year. Was to meet you in Pune in Dec. Very sad.

— Devdutt Pattanaik (@devduttmyth) November 25, 2016
Terribly saddened to hear that my first boss at @timesofindia and old friend Dileep Padgaonkar has passed away. RIP

— Sagarika Ghose (@sagarikaghose) November 25, 2016
I deeply mourn the untimely demise of veteran journalist Dilip Padgaonkar

— Nitin Gadkari (@nitin_gadkari) November 25, 2016
Thoughts and prayers with the family of Dileep Padgaonkar, Sir...from a school of journalism, when words meant more than noise #RIP

— Derek O'Brien (@quizderek) November 25, 2016
With inputs from IANS and PTI
India
Students appeared excited while entering the schools and meeting their friends, and teachers. Schools welcomed them with flowers and sanitisers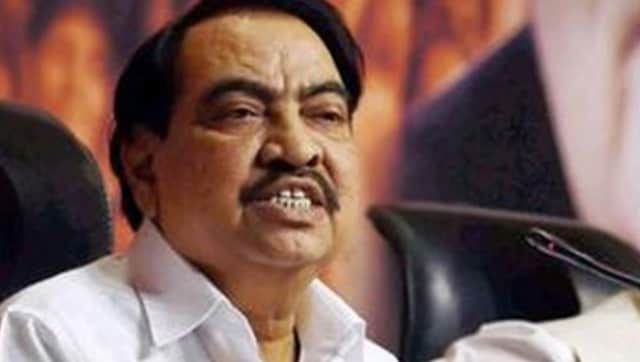 India
A single bench of Justice N W Sambre directed Mandakini Khadse to appear before the Enforcement Directorate (ED) every Tuesday and Friday from 17 October to 29 November
India
The elderly woman's story was shared by Shikha Rathi, founder of the clothing brand The ReUp Studio, who was walking on the streets of Pune with her friend