Venkaiah Naidu rubbishes claims that he was nominated for fear of contending for prime minister's post
NDA's vice-presidential candidate Venkaiah Naidu Saturday rubbished 'talk' that Prime Minister Narendra Modi and BJP chief Amit Shah named him for the top post as they feared that he would be a contender for the PM's post in 2019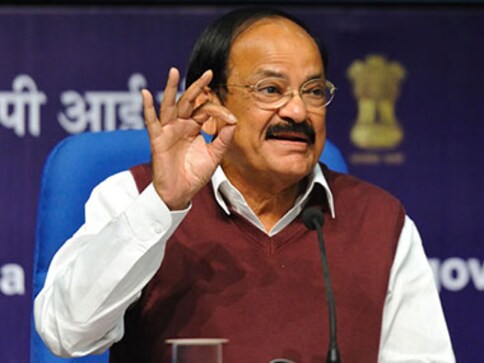 Amaravati: NDA's vice-presidential candidate Venkaiah Naidu Saturday rubbished "talk" that Prime Minister Narendra Modi and BJP chief Amit Shah named him for the top post as they feared that he would be a contender for the PM's post in 2019.
Dubbing these claims as mere "trash", Naidu heaped praise on Modi, saying he was "God's boon to the country" and that decisions were always taken collectively.
"This is trash. Modi, Shah and we all take decisions collectively. In fact they both used to consult me on all important matters," Naidu said at a 'meet-and-greet' programme here today.
"Since the President of India is from the north, prime minister from the west, Lok Sabha speaker from central India, Modi wanted the vice president from the south," he said. "He also wanted one from an agricultural family for the vice president's post. And, one who could run the Rajya Sabha effectively. Modi's thinking was rational," Naidu said.
The prime minister had clearly said there was no alternative (for the vice president's post) and so he was chosen, the former Union minister said. "Either out of their liking for me or disliking of others, some people started all this talk that I'm set to be a competitor (for Modi) in 2019 and hence they (Modi and Shah) tactfully removed me (from active politics) and nominated me for the vice president's post," he said.
"Some say Amit Shah conspired against me. Why should he do that? Shah, Modi and we all take decisions collectively," he added. "Modi is God's boon to the country. He has character, calibre and capacity and he has been tirelessly and dedicatedly working for the development of India. He is a leader par excellence," Naidu said.
Naidu, a former BJP chief, also praised Shah saying that with his political acumen and determination, he has been toiling to strengthen the BJP in all parts of the country. "The BJP once used to be known as a north Indian party but now almost the entire north east is under its fold. Even in Andaman and Nicobar Islands, the BJP has an MP, Zilla Parishad chairman and municipal chairman," he said.
State ministers, MPs and former MPs were among those who attended the event and felicitated Naidu for being chosen as the candidate for the high post.
Naidu is pitted against Gopalkrishna Gandhi who is the opposition's vice presidential candidate. Poll to the post will be held on 5 August.
India
The programme will unveil yearlong initiatives dedicated to Azadi Ka Amrit Mahotsav by the Brahma Kumaris, which include more than 30 campaigns and over 15,000 programmes and events
India
The interaction will take place via video conferencing as the Election Commission of India has suspended all physical rallies till 22 January due to the ongoing COVID-19 pandemic
India
This year marks the 74th Army Day of the nation and leaders from across the political spectrum took to social media to convey their greetings.