Vedic Education Board to become a reality soon? Ramdev makes fresh pitch to HRD ministry
The human resources development (HRD) ministry, under Smriti Irani in May 2016, was mulling a plan to set up a central board for Vedic and Sanskrit education which would be first of its kind in the country.
At a time, when Unesco's New Global Education Monitoring Report claims that India will be 50 years late in achieving global education commitments, popular yoga guru Ramdev is making a fresh pitch for a Vedic Education Board in the country. Speaking to Hindustan Times, Ramdev said that Prime Minister Narendra Modi and BJP chief Amit Shah have supported the idea.
"Prime minister Narendra Modi, BJP president Amit Shah and the NDA government are serious for such a Vedic Educational Board and we are hopeful we will soon get approval," Ramdev was quoted as saying by Hindustan Times.
The human resources development (HRD) ministry, under Smriti Irani in May 2016, was mulling over a plan to set up a central board for Vedic and Sanskrit education which would be first of its kind in the country. Earlier, a government-appointed panel headed by former chief election commissioner N Gopalaswami had in its report suggested that the Maharshi Sandipani Rashtriya Veda Vidya Pratishthan (MSRVVP) in Ujjain be made a Central Sanskrit and Vedic Studies Board for the benefit of Sanskrit 'pathshalas' across the country.
"The recommendations of the committee are under consideration of the ministry," a senior official had said in May. In a report submitted earlier this year, the panel had suggested that the HRD ministry establish a Central Board of Veda and Sanskrit Secondary Education that will affiliate, conduct exams and make available the grant-in-aid. The panel headed by Gopalaswami in its report said that there are Sanskrit pathashalas across the country.
"Their traditional education has neither recognition nor they are aware of recognition issue. It is very necessary to protect traditional learning and make the learning duly recognised by an authority," the panel said as it recommended a Central Board of Veda and Sanskrit Secondary Education.
The panel had also suggested that the proposed board will be an independent body under the ministry of human resource development with an appropriate authority.
Speaking to The Indian Express, the then Union HRD Minister and the current Union Textile Minister Smriti Irani said, "We are in the process of looking at some aspects containing Vedic education and challenges which are attached to it, because this sector not only has no proper structure but also a lot of our wealth in Vedic education is silently getting lost. Since it is in a process of consultation right now, it would be inappropriate to talk about it publicly."
Whose brainchild is the Vedic Education Board?
How much ever we all would like to believe that the BJP-led NDA government at the Centre is at the helm of setting up of this board, it is not. Speaking to Newslaundry, former secretary of MSRVVP Roop Kishore Shastri said that it was his idea. "There is a process for everything. If a new government comes into power, it doesn't mean that they have started something," he told Newslaundry. An autonomous organisation, MSRVVP was set up in 1987 in New Delhi by the then HRD minister PV Narsimha Rao. The headquarter was moved to Ujjain in May 1993. 450 pathshalas are affiliated to MSRVVP across the country and is headed by the Union HRD Minister.
According to government estimates, around 10,000 students are currently studying Ved Vidya in India. According to reports, the government expects an additional 40,000 students to join once the board is officially set up. Students spend seven years learning Vedas and studying Sanskrit, English, Maths and Social Science.
In this report published in June 2016, Newslaundry quoted Shastri who claimed that since Vedic students did not come from any recognised board, they had difficulty in getting admission in colleges. In a general body meeting in 2013, members approved the proposal to create an official board. The plan did not materialise till 2015 (the year when Shastri's term ended), a year after which Irani, during a meeting in Bengaluru on 17 January 2016 with a panel set up under Swami Govindadeva Giri, which recommended that a vedic education board was the need of the hour. The panel also recommended that the board should be set up on the lines of CBSE.
The current secretary of MSRVVP Devi Prasad Tripathi attributed the success of rolling the ball on the board formation talks to Irani. "The demand to form a board was raised from time to time and the issue was going on. But it could never really take off before this time," he said. If the board is formed, the MSRVP will need a funding of at least Rs 6 crore, excluding infrastructural expenses.
How is Ramdev involved in all this, you ask?
Well, the yoga guru has been trying to pitch the idea for a while now. In March 2016, Ramdev had suggested the idea to start a board which will only cater to Vedic students. The HRD ministry, however, was not convinced with the plan. According to reports, at a meeting chaired by the Prime Minister in April, the government slashed the idea on the grounds that consent for a "private board as this" would give room for similar requests from "other unrecognised school boards."
Centre has not given recognition to any other private board.
On 2 September, Ramdev's aide, Balkrishna, met HRD minister Prakash Javadekar and school education secretary SC Khuntia to pitch the idea again. Interestingly, Ramdev has revived his pitch two months after Cabinet reshuffle. Javadekar replaced Irani as the Union HRD Minister. This time along Ramdev seemed hopeful about the board formation since PM Modi also supports
Vedic education.
Javadekar did not say anything about the formation of the board after meeting Balkrishna. "Mujhse sabhi log mile rehte hain (a lot of people come and meet me)." Asked if the VEB proposal was discussed during the meeting, he added, "Meri tabiyat bigdi hai. Dava chahiye thi, isiliye bulaya tha unhe (I am unwell. I wanted him to prescribe some medicines)", Javadekar told The Indian Express. Balkrishna, on the other hand, sounded extremely "positive" after meeting the minister. "Javadekarji's response was very positive. He gave us a patient hearing. We are confident that this board will be set up soon. The ministry seems to be working on the proposal."
Ramdev plans to teach morning yoga lessons, give spiritual instructions, have hostels and libraries which are segregated on the basis of gender and train students in religious rites and rituals. According to Ramdev, the schools will follow the model established by Acharyakulam, a school he runs in Haridwar. PM Modi inaugurated it in April 2013. Ramdev's school has 425 students and claims it will produce "Vedic scholars" who can take up the leadership of "modern Bharata."
With inputs from agencies
India
Modi noted that on the coming 15 August, India will enter its 75th year of Independence and highlighted that Amrit Mahotsav is being celebrated throughout the country to mark that year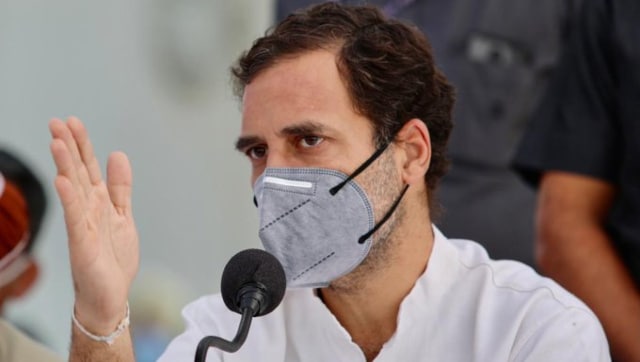 India
The former Congress president also shared a video on Twitter highlighting the alleged slow vaccination rate and media reports where people were not getting vaccines
India
Prime Minister Narendra Modi in his address to the nation on last Independence Day had announced that a new university would be established in Ladakh