Varanasi flyover collapse updates: 18 dead; Rajnath Singh offers condolences, takes stock of situation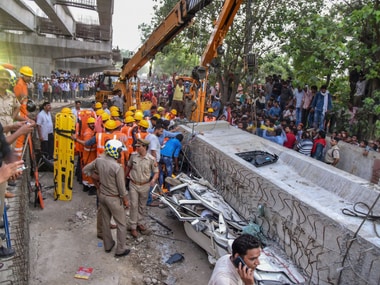 12:20 (IST)

Names of 15 killed in tragedy

Image courtesy: Amit Singh/Team 101Reporters

12:16 (IST)

Watch: Rs 300 demanded for each body after post-mortem

Jiten Kumar Rao, present outside the place where post mortem is being conducted, says that staff has been asking family members to pay Rs 300 per body. "There were four members of a family that were killed. After the post mortem, the group of people who came to claim the bodies was asked to pay Rs 300 per body. The pradhan of their village was also among the group," he said.

Inputs by Amit Singh/Team 101Reporters

12:08 (IST)

Two NDRF persons who were in a city bus have also been killed in the accident. - Input by Amit Singh/Team 101 Reporters

12:04 (IST)

Watch: Man who lost three family members hold government responsible

Kailash Ram from Bhajipur lost three family members to the tragedy. "I was watching TV when I came to know about the incident. My wife told me to confirm if our relatives who were supposed to return home were affected," he said. Ram's brother was travelling with two sons during the flyover collapse. "We blame the government. When a place is under construction, the SP and the DM are responsible for ensuring that there are no people around it.

Video courtesy: Amit Singh/Team 101Reporters

12:02 (IST)

District Magistrate says death toll is 11 based on the bodies recovered

​Speaking to reporters, District Magistrate Yogeshwar Ram Mishra claimed that the death toll was 11 and not 15 or 18, as reported earlier. He has ordered to register an FIR against unknown persons under section 304 (culpable homicide not amounting to murder) of the IPC.

Input by Amit Singh/Team 101Reporters

11:59 (IST)

Commissioner says named FIR will be filed after probe

Commissioner Deepak Agarwal has said that the order has been given to register an FIR against UP State Bridge Corporation and said that the named FIR will be filed after the probe is complete.


"After investigation it will be clear who is clearly responsible. The panel formed by the Uttar Pradesh government will also submit their report in 48 hours," he said.

Inputs by Amit Singh/Team 101Reporters

08:15 (IST)

UP state bridge corporation was told to pace up work to complete the flyover by October

While the state government has formed a panel to look into the flyover collapse which killed over 18 on Tuesday, an official of the UP State Bridge Corporation said that the body was set to pace up the work in order to complete the flyover by October. The piece of the flyover which fell was laid two months ago and interlocking work was being done, said K R Sudan, an official of UP State Bridge Corporation.

Input: Amit Singh/101 Reporters

07:56 (IST)

Watch: Yogi Adityanath says 11 dead at press conference; official record claims over 15 casualties

Speaking to reporters on Tuesday, Adityanath said that the state government sympathised with those who lost their family and loved ones in Tuesday's accident. However, while reports said over 18 died in the flyover accident, Adityanath, at the presser, said "11 people died".

Input: Amit Singh/101 Reporter

07:05 (IST)

Yogi Adityanath met victims at hospital on Tuesday night

Late on Tuesday, Chief Minister Yogi Adityanath met the victims receiving treatment at the Kabir Chaura hospital.

#UttarPradesh CM Yogi Adityanath meets the victims of Varanasi under-construction flyover collapse incident at Kabir Chaura Hospital pic.twitter.com/HVKuRMjBcB

— ANI UP (@ANINewsUP) May 15, 2018

07:00 (IST)

Four officials suspended, says reports

According to reports, four officers including Uttar Pradesh Bridge Corporation's chief project manager, have been suspended following the flyover collapse.

06:57 (IST)

State govt-formed panel at site to investigate incident

Raj Pratap Singh, member of the probe committee constituted by Uttar Pradesh government, is at the site of the incident. He refused to comment on the investigation. "Until we complete the investigation, talk to everyone and check all the records, it won't be right to say anything," he said. The panel has been given 2 days' time to submit a report.

I can't say anything at this moment. Until we complete the investigation, talk to everyone & check all the records, it won't be right to say anything: Raj Pratap Singh, member of the committee constituted by UP govt to probe Varanasi under-construction flyover collapse incident pic.twitter.com/yCwXEb6n9w

— ANI UP (@ANINewsUP) May 16, 2018

06:41 (IST)

Keshav Prasad Maurya to monitor relief work; panel constituted to probe incident

Addressing a press conference on the Varanasi flyover collapse, Chief Minister Yogi Adityanath said that he has asked Deputy Chief Minister Keshav Prasad Maurya and the concerned minister to personally monitor rescue and relief work. He said that a committee has also been constituted to probe the incident and submit a report in 48 hours.

"We have assured proper treatment for them. Maurya has taken preliminary action against responsible authorities," ANI quoted Adityanath as saying.

06:34 (IST)

Updates begin for 16 May, Wednesday

22:31 (IST)

Cannot tell reason of collapse till probe is done: KR Sudan, Project Manager

KR Sudan, Project Manager, says, "I cannot tell the reason of this incident till the investigation is done. Cranes are still coming, rescue operations are still underway."

22:11 (IST)

Home Minister Rajnath Singh takes stock of situation, offers condolences

Home Minister Rajnath Singh took stock of the situation in Varanasi where at least 18 people were killed when an under-construction bridge collapsed.

HM Shri @rajnathsingh has expressed his deep anguish over the death of several people due to collapse of an under construction bridge in Varanasi. He conveys his condolences to the families of the deceased and prays for the speedy recovery of the injured.

— HMO India (@HMOIndia) May 15, 2018

HM also spoke to the district magistrate of Varanasi who has apprised him of the incident. The @NDRFHQ teams have been rushed to the spot for rescue operations.

— HMO India (@HMOIndia) May 15, 2018

21:54 (IST)

Culprits will not be spared: Deputy CM Keshav Prasad Maurya

This is a very unfortunate incident & I'm deeply saddened by it. I'm going to meet the injured in the hospital. Culprits will not be spared. Will setup a committee to look into the matter: Keshav Prasad Maurya, Deputy CM on Varanasi under-construction flyover collapse incident pic.twitter.com/rHwDDDeHzx

— ANI UP (@ANINewsUP) May 15, 2018

21:51 (IST)

Death toll rises to 18, says NDRF personnel

All the 18 bodies have been taken out and the injured have been rushed to the hospital. Among them, two dead bodies have been identified as Sanjay Kumar and Rakesh Kumar. Meanwhile, Deputy chief minister KP Maurya has reached Varanasi and has told media that culprits will not be spared.- Input by Amit Singh

21:28 (IST)

Images of rescue operations from the site

Rescue & relief operations underway at the site of Varanasi under-construction flyover collapse incident. 16 bodies have been recovered till now, death toll expected to rise. 3 people rescued. pic.twitter.com/hsTq0F1Uob

— ANI UP (@ANINewsUP) May 15, 2018

21:25 (IST)

Press note from Chief Minister Yogi Adityanath's office

21:24 (IST)

325 NDRF workers are helping in rescue operations

Around 325 NDRF workers are helping in the rescue operations. NHAI workers have also reached for the rescue operation along with cranes. One injured, who was taken to the hospital, has succumbed to his injuries. - Input by Amit Singh

21:09 (IST)

ADG Crime UP, Shri Chandra Prakash, addressed media on flyover collapse

ADG Crime UP, Shri Chandra Prakash addressing media on recent Varanasi disaster due to collapse of under-construction flyover. #varanasi #uppolice pic.twitter.com/lNLpyiDemY

— UP POLICE (@Uppolice) May 15, 2018

21:04 (IST)

Six bodies recovered; none identified yet

Six dead bodies, including one of a woman, have been recovered from the spot. No one could be identified.- Input by Mridula Srivastava

20:59 (IST)

Akhilesh Yadav says govt has to answer whether the incident is an accident or a result of corruption

ये है देश की सर्वोच्च प्राथमिकता वाले संसदीय क्षेत्र में विकास की सच्चाई. ये हाल तब है जबकि प्रदेशीय मंत्री यहां लगातार तथाकथित निरीक्षण करने आते रहे हैं. ये हादसा एक ऐक्सिडेंट है या भ्रष्टाचार का परिणाम, आज प्रदेश की सरकार को ये जवाब वाराणसी की जनता को देना ही होगा.

— Akhilesh Yadav (@yadavakhilesh) May 15, 2018

20:49 (IST)

Rescue workers at work at the site

Video by Amit Singh

20:37 (IST)

Uttar Pradesh Police requests people to stay away from accident site

We request the citizens of #Varanasi to avoid going to the spot of the incident.The crowd not just acts as a hindrance in relief and rescue work but also poses danger for your own safety. #UPPolice

— UP POLICE (@Uppolice) May 15, 2018

20:37 (IST)

Varanasi District Administration may take help from the army for the rescue operation

The District Magistrate office said the Varanasi District Administration may take help from the army for the rescue operation. Inputs by Mridula Srivastava

20:31 (IST)

Former UP CM Akhilesh Yadav asks party members to reach the spot and help people

वाराणसी में पुल के हादसे में लोगों को बचाने के लिए मैं वहाँ के अपने सभी कार्यकर्ताओं से अपील करता हूँ कि वे बचाव दल के साथ पूरा सहयोग करें और सरकार से ये अपेक्षा करता हूँ कि वो केवल मुआवज़ा देकर अपनी ज़िम्मेदारी से नहीं भागेगी बल्कि पूरी ईमानदारी से जाँच करवायेगी.

— Akhilesh Yadav (@yadavakhilesh) May 15, 2018

20:24 (IST)

16 bodies recovered, 3 safely rescued: Relief commissioner

Relief Commissioner Sanjay Kumar says 16 bodies have been recovered while three people have been safely rescued.- ANI

20:12 (IST)

Five bodies recovered from the debris of collapsed flyover in Varanasi, says official

20:04 (IST)

Fallen piece has not yet been moved; people still trapped under it

The fallen piece could not be moved yet and people are still trapped under that. There are around 12 cranes at the spot but only 8 have been pressed into service. A few of the people injured in the accident have been taken to Cancer hospital but the hospital is not equipped to handle such trauma cases. Meanwhile, boys from the Banaras Hindu University have reached the spot to help people. - Input by Amit Singh

20:02 (IST)

People help in rescue operations at the site

19:58 (IST)

BHU trauma centre preparing to receive critically injured

Image courtesy: Amit Singh

19:57 (IST)

Girder flipped from crane while being adjusted: Eyewitness

According to an eyewitness, the girder flipped from the crane while being adjusted on the pillars. There was no diversion on the road and no arrangement of services like ambulance and safety at the site.According to an officer of UP State Bridge Corporation, the interlocking workwas underway when the accident happened arounbd 6 pm.- Input by Amit Singh

19:50 (IST)

Document of probe ordered by the Yogi Adityanath government - Saurabh Sharma, 101Reporters

19:42 (IST)

Yogi Adityanath sets up three-member committee to probe incident

Uttar Pradesh chief minister Yogi Adityanath sets up three-member committee to probe flyover collapse, says official- PTI

19:34 (IST)

Flyover was being built by UP State Bridge Corporation

This flyover was being constructed by Uttar Pradesh State Bridge Corporation and was supposed to be inaugurated last December. According to DM Yogeshwar Ram Mishra, five teams of NDRF have been deployed for the rescue.Police says one city bus, five cars, two auto rickshaws and many motorcycles are under the debris. The NDRF has rescued five critically injured people. (Inputs by Amit Singh)

19:32 (IST)

Yogi Adityanath announces compensation of Rs 5 lakh for kin of those dead, Rs 2 lakh for injured

I express grief over the incident, my condolence with the affected families. I have sent Dy CM & minister Neelkanth Tiwari to the spot. Formed committee to look into the incident, report to come in 48 hours: UP CM on under-construction flyover collapse in Varanasi's Cantt pic.twitter.com/8VPs13WpfP

— ANI UP (@ANINewsUP) May 15, 2018

5 teams of NDRF (250 jawans) with full equipment rushed to the spot of accident, in Varanasi. Compensation of Rs 5 lakh for kin of those dead and Rs 2 lakh for seriously injured in the incident: UP CM Yogi Adityanath pic.twitter.com/d5DHfEiq0a

— ANI UP (@ANINewsUP) May 15, 2018

19:25 (IST)

An image of a car trapped under the collapsed flyover- Image courtesy: Amit Singh

19:18 (IST)

Cantt hospital evacuated for the injured

Police force of 9 police stations are at the site and wards of Cantt hospital and district hospital have been evacuated for the injured. -Input by Amit Singh

19:16 (IST)

Narendra Modi offers condolences over loss of lives, says UP govt monitoring situation

I spoke to UP CM Yogi Adityanath Ji regarding the situation due to the collapse of an under-construction flyover in Varanasi. The UP Government is monitoring the situation very closely and is working on the ground to assist the affected.

— Narendra Modi (@narendramodi) May 15, 2018

Extremely saddened by the loss of lives due to the collapse of an under-construction flyover in Varanasi. I pray that the injured recover soon. Spoke to officials and asked them to ensure all possible support to those affected.

— Narendra Modi (@narendramodi) May 15, 2018

19:13 (IST)

Dozen cranes rushed for rescue operations

More than 15 people lost their lives after an under-construction flyover collapsed. The district administration has rushed to the spot for rescue operation and more than a dozen cranes have been pressed into service.- Image courtesy- Saurabh Sharma

18:55 (IST)

Rescue operations expedited

The priority is to rush the injured to hospitals and give them the required medical attention. Authorities believe once the collapsed chunk is lifted, it will be easier to make a head count of the injured.

18:50 (IST)

DGP OP Singh recalls Kolkata flyover collapse, says many trapped may be construction workers

DGP OP Singh says, "We are in the process of evacuating the 50 people trapped under the debris. A majority of the people trapped are suspected to be the construction workers." Singh also recalls the Kolkata flyover collapse and goes onto say that rescue operations are on in full swing. - CNN-News 18

18:46 (IST)

Deputy CM KP Maurya and Minister Neelkanth Tiwari have been directed by chief minister to go to Varanasi's Cantt area

Dy CM KP Maurya & Minister Neelkanth Tiwari have been directed by CM to go to Varanasi's Cantt area, where over 12 people died after portion of under construction flyover collapsed there. CM expressed grief & directed admn to speed up rescue operation: Sidharth Nath Singh, UP Min pic.twitter.com/uw1X2subYk

— ANI UP (@ANINewsUP) May 15, 2018

18:44 (IST)

More than 12 dead in Varanasi Cantonment area

More than 12 people dead, several feared trapped after a portion of an under-construction flyover collapsed in Varanasi's Cantonment's area. Around 50 are feared to be still trapped under the debris.NDRF has been rushed to the spot. - ANI
LIVE updates: A portion of an under-construction flyover collapsed near Cantt railway station in Varanasi on Tuesday. At least 16 people have died, according to media reports. Around 50 people are suspected to be trapped. Prime Minister Narendra Modi offers condolences, says Uttar Pradesh government is monitoring situation. Yogi Adityanath has set up a three-member committee to probe incident and Rs 5 lakh compensation for kin of dead. Home Minister Rajnath Singh took stock of the situation in Varanasi where at least 18 people were killed when an under-construction bridge collapsed.
SpotVisuals from #Varanasi: Portion of an under construction flyover collapses near Varanasi Cantt railway station, several feared trapped pic.twitter.com/126cWZhEbj

— ANI UP (@ANINewsUP) May 15, 2018
According to CNN News18, a girder of the flyover collapsed, trapping around 50 people, mostly labourers. A National Disaster Response Force (NDRF) team has reached the spot. GP OP Singh has said, "We are in the process of evacuating the 50 people trapped under the debris. A majority of the people trapped are suspected to be the construction workers." Singh also recalled the Kolkata flyover collapse and went onto say that rescue operations are on in full swing.
In 2016, around 24 people were killed 50 injured in a stampede on an overcrowded Rajghat bridge on the border of Varanasi and Chandauli.
In 2014, a flyover under construction in Kolkata collapsed crushing 22 people and injuring 78. Several people continue to be trapped under debris. The bridge collapsed at around 12.45 pm, on the congested road intersection in Burrabazar, in the city's northern section.
Firstpost is now on WhatsApp. For the latest analysis, commentary and news updates, sign up for our WhatsApp services. Just go to Firstpost.com/Whatsapp and hit the Subscribe button.
Updated Date: May 16, 2018 12:20 PM