Uttar Pradesh: Tension grips Kasganj as one dead, 12 injured in communal clashes over R-day celebration; section 144 imposed
Republic Day celebrations in Uttar Pradesh's Kasganj district were marred by a spurt of violence, as two communities clashed with each other, leading to the death of one person.
Republic Day celebrations in Uttar Pradesh's Kasganj district were marred by a spurt of violence, as two communities clashed, leading to the death of a 16-year-old boy, and leaving several people injured. Police said that over two dozen trouble makers from both communities have been detained and prohibitory orders under section 144 have been issued.
Additional police forces, including Provincial Armed Constabulary (PAC) are kept on stand-by as a precautionary measure.
The incident was reported on Friday afternoon, when one community objected to the Tiranga Yatra (flag march) by another community in their area. Around 36 volunteers of Vishwa Hindu Parishad (VHP) and Akhil Bhartiya Vidyarthi Parishad (ABVP) had taken out a bike rally with tricolours in their hands and were booed at while passing through a locality of another community. The group had reached the Mathura-Bareilly highway near the Bilram Gate area when some unidentified people hurled stones at them.
A verbal altercation followed, which soon turned violent. The angry mob went on a rampage, damaging more than 12 vehicles and property, a district official said. The agitated people also tried to set afire a place of religious worship and some religious texts.
There were reports of firing as well and sources told Firstpost that three people are critically injured, while one person was dead.
Meanwhile, the other side's version of the story was that a specific community was peacefully observing flag hoisting in their locality when a bunch of rowdy motorcycle riders came there with tricolours.  A resident of the area told Firstpost that several people from the community told the youngsters to not loiter around in the area or create ruckus and leave peacefully. The youth insisted on roaming the roads of the area and hurled religious abuse, after which the situation spiraled out of control.
Principal Secretary (Home) Arvind Kumar told IANS the district administration increased the security presence and the crowds have been dispersed. The district administration has also imposed Section 144 of CrPC in the trouble-hit area, District Magistrate RP Singh said.
"The situation is under control. It seems the incident was not pre-planned but was a spontaneous one. The district magistrate, superintendent of police, and Rapid Action Force and PAC personnel are reaching the spot," Additional DG (Law and Order) Anand Kumar said.
"The troublemakers are being identified, and stringent action will be initiated against them. The district administration has been able to control the situation so far, but additional forces will be called to ensure that the situation does not worsen," he said.
Although the mob has been contained, the situation remains tense in the city and a curfew-like situation prevails. Superintendent of Police, Sunil Kumar Singh told Firstpost that owing to the sensitivity of the situation, additional police forces have been called from adjacent police stations as a precautionary measure.
Police said three Scorpio SUVs, two Magic passenger transport vehicles and a truck were also targeted by the mob on the Mathura-Bareilly highway.
The unruly crowd also set afire a kiosk near a petrol pump and a waste dump. Fire tenders were rushed to douse the fire.
According to a report in Jagran, a regional newspaper, all traffic entering the city from Agra and Mathura is being diverted for the time being.
The District Magistrate (DM) and Superintendent of Police (SP) were patrolling the disturbed areas to ensure the violence does not spread further, a senior officer at the state police chief's headquarters said.
Suarabh Sharma from Lucknow contributed to this story. He is a member of 101Reporters.com, a pan-India network of grassroots reporters.) 
With inputs from agencies
India
Villagers said the temple was constructed five days ago by one Lokesh Kumar Srivastava with the help of donations from local residents
India
The next Lok Sabha polls could be announced sometime in March 2024, which could be held under Kumar's watch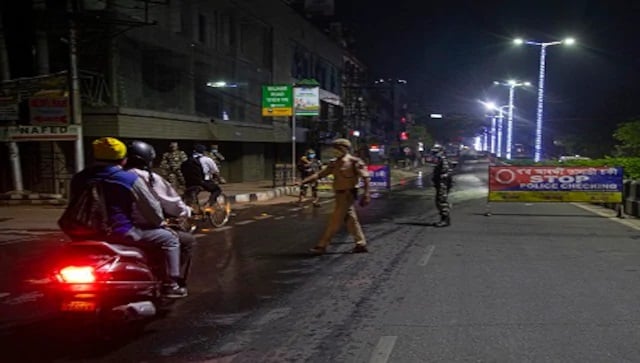 India
During marriages and other functions, a maximum of 50 people will be allowed at both open and closed venues. Only 50 people will be allowed in a religious place at a time.