After UP govt drops Taj Mahal from tourism booklet, minister says right to keep monument out of list of key attractions
A state minister in the Uttar Pradesh government said that the Taj Mahal had 'rightly been kept out' of the list of key attractions in the state.
The Uttar Pradesh government has provided yet another piece of evidence to suggest its sidelining of the Taj Mahal is no accident. A state minister said that the monument had "rightly been kept out and should instead be replaced with the Guru Gorakhnath peeth".
The minister in charge of religious affairs and culture, Laxmi Narayan Chaudhary, said on Monday that keeping out the Taj Mahal was necessary because the current government in Uttar Pradesh is "rashtravadi (nationalist)" and runs on "dharm niti (religious policy)", according to a report in The Times of India.
Speaking at an event in Hathras which was organised by the Akhil Bharatiya Vidyarthi Parishad (ABVP), Chaudhary said, "Taj Mahal is not the symbol of any religion and (it is) nobody's. It does not represent any religion.... On the other hand, Gorakhnath peeth represents people's faith."
This statement comes only days after media outlets reported that the Uttar Pradesh government had omitted the iconic Mughal monument from its list of key attractions.
The Times of India describes the booklet titled 'Uttar Pradesh Paryatan - Apaar Sambhavanaayein' (UP Tourism - Unlimited Possibilities) as a 32-page glossy booklet with the Ganga Aarti of Varanasi on its cover. It has ostensibly been printed to promote tourist spots in Uttar Pradesh, but misses out on the most famous one. It does however find place for Gorakhnath temple, where Chief Minister Yogi Adityanath is the presiding priest.
The booklet was released by the state's tourism minister Rita Bahuguna to mark six months of the Adityanath government, according to a report in NDTV.
But the government seemed to backtrack: Health minister Sidharth Nath Singh insisted that there was 'some miscommunication which has undermined the monument' while Joshi insisted that the Taj Mahal was a part of the state's cultural heritage and a key priority for the state government, according to the report.
In June, Adityanath — while speaking about souvenirs given to foreign dignitaries — had said that Taj Mahal and other minarets do not reflect Indian culture, according to a report in The Telegraph.
The monument also failed to find mention in the government's first budget in the special section 'Hamari Sanskritik Virasat' (Our Cultural Heritage) incorporated in the finance minister's 63-page budget speech. The exclusion had led to criticism of the government as academics and historians asked for promotion of the state's composite multi-faith culture.
Opposition criticises move
Congress vice-president Rahul Gandhi attacked Adityanath over the reported omission by invoking famous Hindi writer Bhartendu Harishchandra to describe the Uttar Pradesh government and Adityanath as "andher nagari, chaupat raja". The proverb roughly translates to "unjust regime of a mindless king".
Rahul tweeted in Hindi: "Sooraj ko deepak na dikhane se uski chamak nahi ghatti. Aise hi raj ke liye Bhartendu ne likha tha andher nagari, chaupat raja.(The brightness of the sun would not reduce if it is not shown a lamp. It is for such a government Bhartendu had written 'andher nagari, chaupat raja)."
Samajwadi Party president Akhilesh Yadav called the Taj Mahal an architectural marvel, a wonder of the world and a much visited monument that generates employment for a large number of people. While visiting the Taj Mahal with his wife and children to see the white marble mausoleum on the full moon night of Sharad Poornima, he said, "As far as we Samajwadis are concerned, all I can say is that Taj Mahal gives jobs and employment to a large number of people. Business also thrives," he said. Yadav was eloquent in his praise of the 17th century monument built by Mughal emperor Shahjahan to honour the memory of his wife Mumtaz Mahal.
Adityanath was also criticised in this Firstpost article which said that the Adityanath government's latest directive would achieve nothing except exposing its own biases. The Taj does not require any introduction to the world. It, unlike the Gorakhnath Mutt, does not require a hardsell from the government. For years it has drawn people who believe in love to India and to Agra. Those who think India's syncretic culture is synonymous with love will continue to visit the Taj.
Find latest and upcoming tech gadgets online on Tech2 Gadgets. Get technology news, gadgets reviews & ratings. Popular gadgets including laptop, tablet and mobile specifications, features, prices, comparison.
India
From the moment she steps out of her home till she reaches her Chepauk office, Aruna Devi requires assistance from passersby at multiple points. "That there is still no policy to cater to something as basic as transportation shows that there is no concern for us," says the Chennai revenue official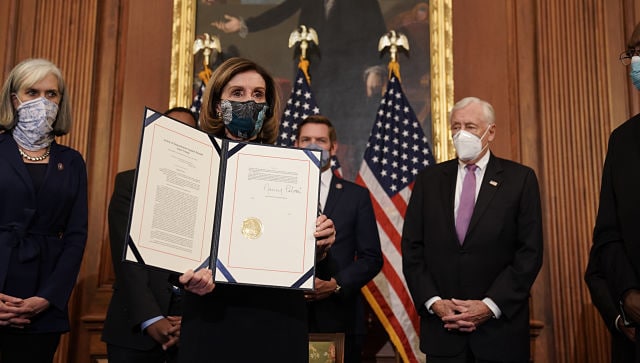 World
While the House moved with remarkable speed to impeach Trump, a Senate trial to determine whether to remove him cannot begin until 19 January, his final full day in office
India
Tapestry Pooling, the initiative developed by the team from Mumbai, is today a finalist in the Open Innovation Track of the $500,000 XPRIZE, a worldwide COVID-19 testing competition