Mumbai BJP slams Uddhav Thackeray for supporting Kanhaiya Kumar
BJP leader Ashish Shelar criticised Shiv Sena chief Uddhav Thackeray for slamming the Centre for branding JNUSU president Kanhaiya Kumar as 'anti-national'.
Mumbai: BJP Mumbai unit chief Ashish Shelar on Tuesday criticised Shiv Sena president Uddhav Thackeray who recently took on the Centre for branding JNU student leader Kanhaiya Kumar as "anti-national".
"How can Shiv Sena support Kanhaiya Kumar, who is being prosecuted for holding a programme to mourn on death anniversary of terrorist Afzal Guru?" Shelar asked.
Thackeray had recently said, "It is wrong to brand Kanhaiya as anti-national and slapping sedition case against him. He is not anti-national. Who gave birth to Kanhaiya, Hardik Patel and Rohith Vemula? The government should ponder over it."
To this, Shelar stressed that sedition charges against Kanhaiya are not for his criticism of the Centre, but for the alleged anti-national sloganeering in JNU at a programme organised on the death anniversary of Afzal Guru.
"Afzal was hanged for his involvement in the attack on the Parliament. How can Shiv Sena support someone who hails Afzal? What has caused this 360 degree ideological shift in the Shiv Sena's stand?" the BJP leader asked.
Meanwhile, in what is being seen as the beginning of a campaign for the Brihanmumbai Municipal Corporation elections next year, the city BJP has planned to celebrate Maharashtra Day, on 1 May, on a bigger scale this year.
"We have planned 2-3 programmes each in all the 227 municipal wards. The programmes include health camps, blood donation camps, road shows, and cultural programmes. The programmes would start early morning and would go on till late in night on 1 May."
"Party workers would be decorating over 200 traffic squares across the city and would convey (to people) the important decisions made by the Union and state government," Shelar said.
"BJP as a party has been celebrating statehood day for a long time. This year it is on a bit bigger scale," he said.
He said party workers would reach out to the people of the city with a slogan 'Our Aim Developed Mumbai'.
"All the MPs, MLAs and state-level leaders would participate in these ward level programmes," Shelar said.
The programmes on 1 May would be followed by a door-to-door communication drive where the party workers would try to reach out to every household across the city between 3 and 9 May, he added.
India
The first-time MP, with strong RSS roots and responsible for increasing the party's vote share in north Bengal, has replaced Dilip Ghosh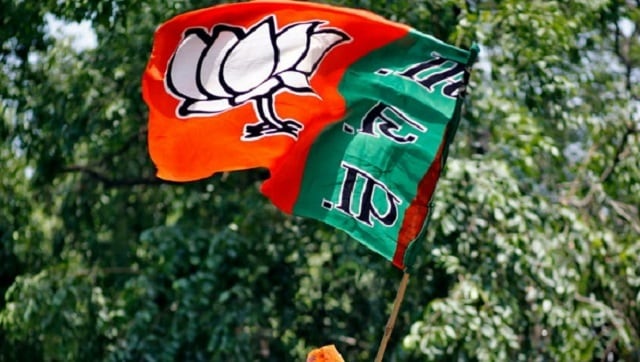 India
Dhurjoti Saha, the BJP candidate from Magrahat Paschim assembly seat in South 24 Parganas district who lost the April-May poll and was allegedly assaulted by TMC workers, died on Wednesday.
Photos
The 10-day festival will see muted celebrations owing to the COVID-19 pandemic