Two Telangana residents drown off Australia's Moonee Beach while trying to save kids; search on for third man feared dead
In an unfortunate incident that took place at Australia's Moonee beach on Monday, two Indian nationals drowned whereas another is still missing
Hyderabad: In an unfortunate incident that took place at Australia's Moonee beach on Monday, two Indian nationals drowned whereas another is still missing.
All the three deceased belonged to the same family and have been identified as residents of Telangana.
The accident occurred after the trio jumped into the water to rescue drowning the children (from family) but were caught in the currents. The children were saved by a rescue team and taken to the hospital.
Nazreen, sister of Junaid who is still missing, spoke to ANI over the phone saying: "My brother Mohammed Abdul Junaid, 28 years old, went to Australia in the year 2014 for completing his masters and since then he was staying in Sydney. On Monday, Junaid along with his father-in-law Mohammed Ghouse Uddin, his two daughters Easha (17), Ramsha (12), one son Mohammed Aaqib (15) and his cousin Rahat went to Moonee beach near Coffs Harbour for a holiday".
"Three children were playing near the seashore when they got troubled in the waves. On seeing this Junaid, along with his father-in-law Ghouse Uddin and cousin Rahat sprung into the water to save the children. All of them were facing difficulty in the water and were drowning when a rescue team reached the spot and saved the three children."
The rescue teams were also able to rescue Ghouse and Rahat from the sea but were unable to revive them.
Junaid, however, could not be found.
The search operation for him had started yesterday but was stopped due to low light. The search operation resumed in the morning.
The three children Easha, Mohammed Aaqib and Ramsha are currently undergoing treatment in Coffs Harbour hospital. (ANI)
Find latest and upcoming tech gadgets online on Tech2 Gadgets. Get technology news, gadgets reviews & ratings. Popular gadgets including laptop, tablet and mobile specifications, features, prices, comparison.
First Cricket News
Pujara, who made his Test debut against Australia in Bengaluru, had an impressive first outing as he scored 72 in the second innings in India's successful 207-run chase.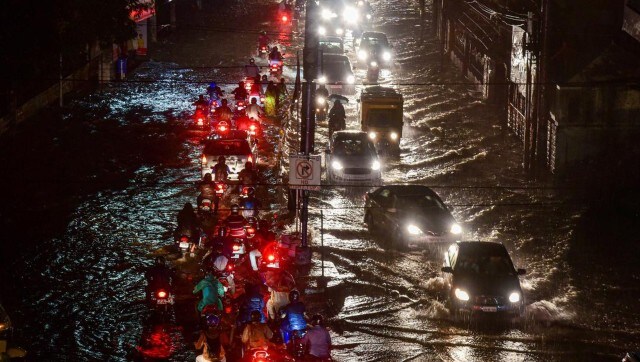 India
As per reports, for Sunday, the IMD has said Hyderabad will see a partly cloudy sky with one or two spells of rain or thundershowers
India
Telangana Chief Minister K Chandrasekhar Rao announced Rs 10,000 as immediate relief to each flood-hit household in Hyderabad. The state government also unveiled a door-to-door evacuation plan as more rains have been forecasted.