Two Islamic State men sentenced to seven years in jail by a Delhi court
A Delhi court on Friday awarded seven-year jail term to two members of the Islamic State (IS) terrorist group after their application for pleading guilty to charges against them was allowed.
New Delhi: A Delhi court on Friday awarded seven-year jail term to two members of the Islamic State (IS) terrorist group after their application for pleading guilty to charges against them was allowed.
Those convicted by District and Sessions Judge Amar Nath are Sheikh Azhar-ul-Islam alias Abdul Sattar Sheikh and Mohammed Farhan Shaikh alias Mohammed Rafiq Shaikh.
The National Investigation Agency (NIA) had arrested Sheikh Azhar, Mohammed Farhan and one Adnan Hassan alias Mohammad Hussain in January last year on charges of involvement in a conspiracy to identify, motivate, radicalise, recruit and train potential members for the international militant group.
While the first two have pleaded guilty, Adnan Hassan is currently in judicial custody and facing trial.
"They were members of terrorist organisation and got themselves associated with their activities. That may be their folly either on account of misguidance or lack of maturity of mind and circumstances," Judge Amar Nath said.
"This court needs to take into account positive aspect from their act of pleading guilty."
The court felt that the convicts had realised their mistakes and were willing to repent for their acts and deeds.
"In this case, the convicts should get an opportunity to reform themselves and be good citizens of this country," the judge observed.
"Keeping in view the facts and circumstances, I am of considered opinion that there is a necessity to show some leniency while imposing punishment on the convicts, but at the same time, a wrong message should not go to the society," the court said while awarding them the jail term.
The court also imposed a fine of Rs 12,000 on each of them.
The NIA submitted before the court that the accused had shown their repentance for their acts and requested the court to consider that the accused's action was a move towards re-connecting with society.
Sheikh Azhar's counsel had sought leniency for his client on the ground that he was young, unmarried and the sole bread winner of his family, while Mohammed Farhan's counsel sought leniency citing his poor family background and no previous criminal record.
Both the accused requested the court to take a lenient view of their acts, which could give them an opportunity to lead a normal life.
In their applications, both of them had pleaded that they were remorseful of their actions.
"We want to return to the mainstream and be productive for society and want to rehabilitate ourselves," they said, adding that their guilty plea was made without any pressure, threat, coercion or undue influence.
Sheikh Azhar hails from Jammu and Kashmir while Mohammed Farhan is from Maharashtra. Adnan Hassan is a resident of Karnataka.
The court observed that the accused were members of a terrorist gang, who entered into a criminal conspiracy and acted as a frontier group of the IS for inciting, motivating, inviting and facilitating people of different nationalities to leave their respective countries and travel to Syria to support its further activities.
The court also noted that they organised meetings of like-minded persons and also instigated people who disregarded national boundaries and motivated people of different nationalities to travel to Syria.
The court convicted them under Section 40 (raising funds for terrorist organisation) Section 39 (giving support to terrorist organisation), sections 38 (membership of terrorist organisation) and 20 (member of terror group), Section 18 (conspire to do a terrorist act) of the Unlawful Activities (Prevention) Act and 120B (criminal conspiracy) of the Indian Penal Code.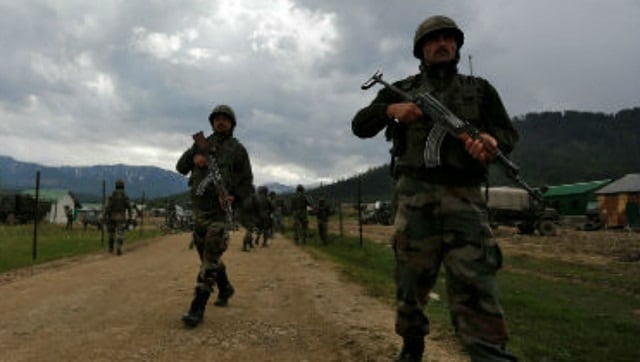 India
The police said that one of the militants, identified as Fayaz War, was involved in several attacks and killings of civilians and security personnel. He was the last perpetrator of violence in north Kashmir
India
An official statement said that a blinking red light was observed by the troops at a height of 200 metres but the object went back across the border after personnel fired at it
India
After the revival of the southwest Monsoon, on Sunday, several parts of the country have been experiencing heavy rains while some witnessed thunderstorms and lighting