Twipraland demand: IPFT withdraws highway, railway blockage following Centre's ultimatum
The Indigenous People's Front of Tripura (IPFT) withdrew its 11-day old blockade of railway lines and NH 8 to press for the creation of a separate tribal state following an ultimatum by the administration
Agartala: The Indigenous People's Front of Tripura (IPFT) on Thursday withdrew its 11-day old blockade of railway lines and NH 8 to press for the creation of a separate tribal state following an ultimatum by the administration.
West Tripura Superintendent of Police Abhijit Saptarshi said the district had announced that measures would be taken if the blockade was not withdrawn by 9 am this morning.
"The blockade was withdrawn within the time frame," he said, adding prohibitory order was promulgated in and around the place where it was being held at 5 am and security was beefed up.
District Magistrate, Milind Ramteke said "the blockade has been withdrawn peacefully at 9 am and agitators are going back home with proper security as the administration has arranged buses for them".
Addressing party workers before withdrawing the blockade, IPFT president NC Debbarma claimed that the Centre had in-principle accepted the tribal outfit's demand for creation of a separate Twipraland state.
"We hope the central government will soon convene a tripartite meeting to discuss the matter." he said
There was, however, no official confirmation regarding the Centre's acceptance of the separate state demand.
Governor Tathagata Roy had in a statement on Saturday requested the agitators to withdraw the movement and assured that their demands would be sent to the appropriate authority for necessary actions.
The Left Front government in Tripura had on several occasions requested IPFT to withdraw its movement considering the inconvenience caused to the people.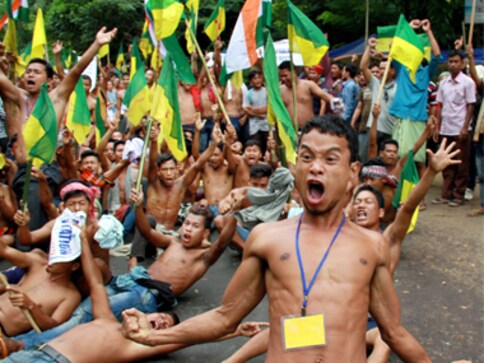 Politics
The ruling CPM and Opposition BJP both appealed to the Indigenous People's Front of Tripura (IPFT) to withdraw its indefinite blockade of the national highway and railway tracks in Tripura, which entered sixth day on Saturday
Politics
The by-election was necessitated as large number of panchayat samiti members resigned after the BJP-IPFT government assumed office on 3 March.
Politics
The BJP-IPFT government is facing a "huge financial burden" due to the previous dispensation's "failure" in proper planning, Tripura Deputy Chief Minister Jishnu Debbarma has said