Triple talaq verdict: Leaders across party lines, activists hail verdict as 'historic step' towards women empowerment
Soon after the five-judge Supreme Court bench struck down triple talaq among Muslims terming it 'void', 'illegal' and 'unconstitutional', a barrage of reactions from ministers, politicians, lawyers and common people poured out on social media and other platforms on the verdict.
Soon after a five-judge bench of the Supreme Court termed the practice of triple talaq among Muslims as "void", "illegal" and "unconstitutional," a number of people, including political leaders, came out to hail the verdict as a 'historic step' in the empowerment of women.
While most of the reactions to the verdict were positive, the All India Muslim Personal Law Board (AIMPLB) criticised it saying the judgment will have "wide ramifications" as it has affected the religious rights of minority groups.
The most-awaited reaction was from Prime Minister Narendra Modi who had earlier expressed hope that progressive Muslims will come forward and help "Muslim daughters" in fighting against triple talaq.
Soon after BJP chief Amit Shah welcomed the Supreme Court's decision, the prime minister hailed the verdict in a tweet.
Judgment of the Hon'ble SC on Triple Talaq is historic. It grants equality to Muslim women and is a powerful measure for women empowerment.

— Narendra Modi (@narendramodi) August 22, 2017
Shah, on the other hand, in a lengthy Facebook post, called the verdict a "victory of the right of equality of the Muslim women, and a win of the constitutional fundamental rights". He also said that the practice is not present in many Muslim majority nations of the world and by making it unconstitutional, the Supreme Court has given a right to live with equality and dignity to the crores of Muslim women of the country. Congress vice president Rahul Gandhi also welcomed the decision and congratulated the "women who fought for it".
Welcome the Supreme Court decision setting aside instant #TripleTalaq. I congratulate the women who fought for justice — Office of RG (@OfficeOfRG) August 22, 2017
Hailing the verdict, another senior Congress leader and former finance minister P Chidambaram said the practice was a "distortion of original Quranic legal principles".
Triple talaq was a distortion of original Quranic legal principles. Good it has been declared unconstitutional.

— P. Chidambaram (@PChidambaram_IN) August 22, 2017
The verdict on Tuesday morning was announced 3:2 by the five bench Constitution bench. While Chief Justice JS Khehar and Justice S Abdul Nazeer held triple talaq to be part of fundamental right to religion of Muslims and said it was not unconstitutional, Justices Kurian Joseph, RF Nariman and UU Lalit said triple talaq violated the fundamental right of Muslim women because they are subjected to arbitrary irrevocable divorce through this practice. Speaking to News18, the main petitioner in the case Shayara Bano said that she is "extremely happy" and that "today is a historic day for all Muslim women". "For years, all Muslim women have been exploited in the name of this practice which is not even validated by the Quran," she added. Bano also urged the government to ensure its implementation and bring in a strong law to end the practice. Indira Jaising, senior counsel and another petitioner in the case told News18, "It's a judgement that goes on to uphold the basic right to equality for all women. The minority judgement failed to understand what is religion and what is not religion," Jaisingh said. Congress leader and amicus curiae to the SC in the case, Salman Khurshid, also welcomed the verdict saying, "It's not just about gender justice, this judgement is for the upliftment of the society as a whole."  Madhya Pradesh chief minister Shivraj Singh Chouhan termed the verdict a step towards women empowerment.
हम माननीय उच्चतम न्यायालय के ऐतिहासिक फैसले का स्वागत करते हैं। महिला सशक्तिकरण की दिशा में यह एक बड़ा कदम है। #TripleTalaqVerdict — ShivrajSingh Chouhan (@ChouhanShivraj) August 22, 2017
Eminent historian Ramchandra Guha agreed with the verdict and called the practice of triple talaq "obnoxious".
The Supreme Court has done absolutely the right thing by declaring triple talaq illegal and unconstitutional. It is an obnoxious practice.

— Ramachandra Guha (@Ram_Guha) August 22, 2017
Bangladeshi writer Taslima Nasreen reacted to the verdict, saying while it was "definitely not women's freedom" there was need to go beyond by doing away with "1400 yrs old Quranic laws".
Abolishing #TripleTalaq may be a slap to Muslim Law Board but it is definitely not women's freedom. Women need to be educated & independent. — taslima nasreen (@taslimanasreen) August 22, 2017
Going a step further, Nasreen even demanded to abolish Sharia and other religious laws.
All religious laws should be abolished for the sake of humanity. Religions including religious laws and rituals are anti-women. Period.

— taslima nasreen (@taslimanasreen) August 22, 2017
Main Opposition party Congress in a press statement hailed the verdict calling it an affirmation of the rights of women.
#TripleTalaq verdict is an affirmation of the rights of women & gives relief to them against being subjected to discrimination.Our Statement pic.twitter.com/VJD3ZFBSIi — Randeep S Surjewala (@rssurjewala) August 22, 2017
From Kashmir, People's Democratic Party (PDP) leader and MLA Baramulla, Javid Beg, said that there should be no objection to the extension of Supreme Court verdict to Jammu and Kashmir on triple talaq.
He also said that the parties which are decrying that Islam has come in danger after the verdict are only doing so for vote bank politics, adding that India has only joined the other Muslim countries in scrapping the dirty practice of triple talaq.
A bit apprehensive about the verdict, former Jammu and Kashmir minister and National Conference leader, Mustafa Kamal, agreed that triple talaq has often been misused against the Muslim women, however, he said that the Supreme Court decision is an interference in religious matters of Muslims and the issue should have been addressed at the societal level.
India
The MP from Mangaldoi in Assam also cited a video purportedly showing Mizo people celebrating after the incident on Monday
India
The leaders voiced their support towards spreading awareness about the ongoing vaccination drive and provided their ideas and suggestions for preventing the third wave, as per the PMO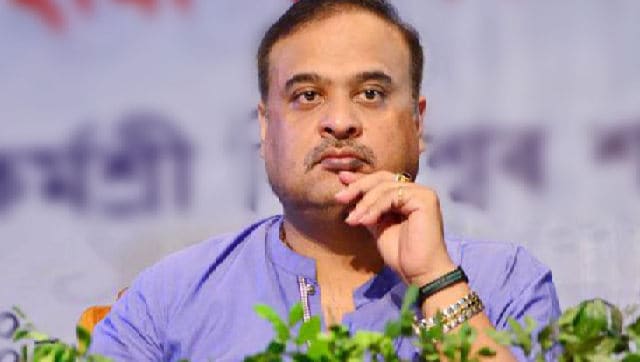 India
At least six persons were killed and 60 others, including an SP, injured in a bloody clash along the Assam-Mizoram border on Monday