Triple talaq is a gender issue, not a religious one, Centre tells Supreme Court: 'Not integral to Islam'
Triple talaq is neither integral to Islam nor a 'majority versus minority' issue but rather an 'intra-community tussle' between Muslim men and deprived women, the Centre on Wednesday told the Supreme Court.
New Delhi: Triple talaq is neither integral to Islam nor a "majority versus minority" issue but rather an "intra-community tussle" between Muslim men and deprived women, the Centre on Wednesday told the Supreme Court.
Attorney General Mukul Rohatgi, in his rebuttal to the arguments favouring the 1,400 year-old practice of triple talaq, made a strong pitch for judicial scrutiny on grounds including violation of fundamental rights like right to equality and gender justice and said that the apex court cannot shy away.
A five-judge Constitution bench headed by Chief Justice JS Khehar, asked the Centre as to why it did not legislate to regulate marriages and divorce among Muslims.
"You (Centre) said if court quashes triple talaq then you will make a law but why the government did not make a law for last 60 years?" the bench, also comprising justices Kurian Joseph, RF Nariman, UU Lalit and Abdul Nazeer, asked.
Rohatgi replied that the hallmark of a secular court was to reform without waiting for a legislation, when such matters come to it.
"I will do what I have to do but the question is what will you (court) do? I have given statement on instruction. I speak for the government and can't speak for parliament," he said reiterating that the top court was guardian of
fundamental rights and has to see whether there was any violation of such rights."
Earlier during the day, the bench asked the All India Muslim Personal Law Board (AIMPLB) whether a woman can be given an option of saying 'no' to triple talaq at the time of execution of 'nikahnama' (marriage contract).
"Can it be made possible to give an option to a wife that she can say that she was agreeable to or not agreeable to it
(triple talaq)? Is it possible to pass a resolution to all 'qazis' to include this condition (giving right to woman to say 'no' to triple talaq) in 'nikahnama'? Give an option to wife to say 'no' to triple talaq," the bench said.
Former Union minister and senior lawyer Kapil Sibal, representing the AIMPLB, said that he will respond to after talking to all the board members.
Rohatgi, responding to Sibal and a battery of senior lawyers favouring triple talaq, said even the core of religion has to be tested on the touchstone of fundamental rights.
Referring to the responses of the AIMPLB, he said that even they say that triple talaq was "undesirable", "sinful"
but yet valid and wondered "then how it can be said to be integral to religion".
He further said this time, Muslim women have questioned the centuries-old "hegemony suffered by them at the hands of their male counterparts" of the community.
"The prism through which you see the case is not like majority versus minority but this is a case where it is an
intra-community tussle between Muslim men and women. This time Muslim women have questioned the centuries-old hegemony suffered by them at the hands of their male counterparts," Rohatgi said, adding that the practice of triple talaq is a tussle between the "haves and have-nots" inside the community.
He said this fight is between men of Muslim community, who are more powerful, empowered and educated and women, not so powerful, not empowered and uneducated.
The court can fill up the void by judicial pronouncements if there is no law on a particular issue, Rohatgi said, adding
the guidelines on sexual harassment at work place were framed by it in the Vishakha case.
Rohatgi referred to practises 'sati', infanticide, 'devdasi' and untouchability among Hindus and said that they
have been done away with.
"Did courts do it? These were abolished by legislations," the bench asked.
"Then why do the court goes into issues like Vishaka. The court can't say that it is helpless and it cannot step in. It is the guardian of fundamental right," Rohatgi replied.
He said that India is "secular country with a secular constitution" which has kept core of all religions intact but
they are subject to fundamental rights.
"We had several religions after Partition. There were people from over 600 princely states and tribes practising
different faiths and religions. The core of every religion was kept but they were made subject to fundamental rights," he said.
He said under Article 25 (right to practice religion) of Constitution, even the core component of a religion can be tested on the grounds of fundamental rights.
"Rights given under Article 25 of Constitution cannot be considered as absolute", he said, adding the court has to look into these aspects as a community cannot decide what is their fundamental rights.
Comparing practices in Islamic countries, Rohatgi said that in 25 nations, religion continued to strive even after
abolishing triple talaq and hence, this cannot be termed as "integral part of Islam".
"What is optional cannot be under Article 25 and it cannot be considered as an essential part of religion. If it had been integral part of religion then the religion will not remain religion in its original form but if it is optional then even if it is taken out, the religion will remain the same," he said.
He said that if the right to religion went against the fundamental rights, then it is the Constitution which will prevail over practices like triple talaq.
Sibal, who started arguments on Wednesday, referred to a Delhi High Court judgement and said that it was wrong in holding that all schools of thought termed 'triple talaq' as "sinful".
The Supreme Court cannot be called upon to decide as to what was wrong or right with the practice and belief, he said.
Referring to a judgement, he went to the extent of saying that the personal law is a legitimate basis of discrimination.
AIMPLB also said that the court should not venture into the issue on its own as no one has approached it.
"Some persons have come to this court," the bench said.
Sibal said challenging the constitutional validity of triple talaq, being practised by a small portion of community,
may revive the practice which is dying.
He said if a secular court like the Supreme Court decides to undertake suo motu (on its own) scrutiny of the issue with the Centre seeking a ban then, the community may take a tough stand.
The Muslim community is like small birds on which golden eagle preys, he said, adding "the community's nests must have the Supreme Court protection."
Sibal said it is that faith with which the community is before the court Wednesday seeking protection of its personal law customs and practices.
"Our faith in this court for last 67 years is fundamental and with that faith we have come here," he said.
Wednesday was the fifth day of the hearing on a clutch of petitions challenging triple talaq, polygamy and 'nikah halala' which is going on before a bench comprising members of different religious communities including Sikh, Christian, Parsi, Hindu and Muslim.
Senior advocate Raju Ramachandran, appearing for Jamiat Ulama-I-Hind Maharashtra, said that issues raised in the petition were matters of legislative policy and ought not to be addressed by the court.
He referred to the Convention on the Elimination of All Forms of Discrimination Against Women (CEDAW) and said India had made an express reservation with regard to its policy of non-interference in the personal affairs of any community without its initiative and consent.
"The constitutional validity of personal law in our country cannot be tested on the oasis of enacted legislation of other countries," he said in his written submissions while questioning the arguments of the Centre and petitioners that triple talaq has been abolished in Islamic countries.
He said practice of triple talaq is considered a valid form of divorce by four out of the five Sunni schools.
"Even if this practice is undesirable, my school tells me to do this," Ramachandran said.
During the hearing, the bench asked Ramachandran, "By registering a marriage under the Special Marriage Act, a
Muslim man opts out of polygamy. Is that not un-Islamic?"
Responding to the query, he said, "To opt out of polygamy is not un-Islamic. It (polygamy) is only an option which is
available. This is not compulsory".
Senior advocate V Giri, representing Jamiat-ulama-I-Hind, said that Shariat was the law applicable to Muslims prior to the enactment of the Shariat Act.
"The Shariat has not been subsumed by the statute nor has the Shariat Act codified the Muslim personal law. The Shariat Act has only statutorily declared that the Muslim personal law as a set of rules would govern the Muslims in
India and that it is the Muslim personal law that would have overriding effect over any usage or custom to the contrary," he said in his written submission.
Giri, however, said that rights and duties of Muslims in India continue to be governed by the Muslim personal law and the Shariat Act has not substituted it nor has it provided for a different set of rights and obligations.
"The right under Article 25(1) to freely profess practice and propagate religion is a universal right that is guaranteed
to every citizen to act in affirmation of his own faith. This is the core of the secular nature of the Indian Constitution," he said.
The senior counsel also said it his written submission that it was "fallacious" for the petitioners to say or suggest that Talaq-i-Biddat does not have sanction of the holy Quran.
Meanwhile, one of the counsel opposing the practice of triple talaq said the matter pending before the court was about women rights and to ensure gender justice.
The counsel said that consequential aspect of divorce also relates to the economic right of women and the court would have the consider it also.
Senior advocate Indira Jaising, appearing for one of the petitioners, told the bench that there were no Sharia courts in India as it is a secular country.
"The impact of divorce is civil and not a religious impact. We are concerned with what the law is since 1950. We are not concerned about the past 1400 years," she said.
She also argued that once the state says this practice was discriminatory, "this brings it under the ambit of court".
Referring to Article 14 of the Constitution, she said it provides for equality before law and this right is binding on
even the "non-state actors".
"Sharia does not give equal protection of law to Muslim men and Muslim women," she said.
Jaising also questioned the arguments that the matter was not within the jurisdiction of the court to decide.
"If personal law is not outside the jurisdiction of the state, how it can be said that it is outside the jurisdiction of the court," she said, adding, "the matter was about supremacy of the Constitution."
She said personal laws of any community can be challenged on the ground of violation of fundamental rights and every such challenge has to be tested on Constitution.
Find latest and upcoming tech gadgets online on Tech2 Gadgets. Get technology news, gadgets reviews & ratings. Popular gadgets including laptop, tablet and mobile specifications, features, prices, comparison.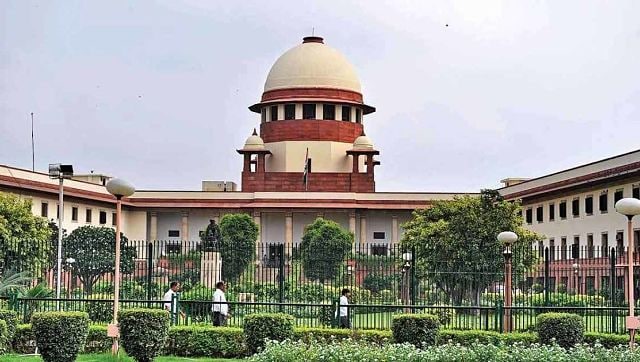 India
A bench of justices L Nageswara Rao, Hemant Gupta, Ajay Rastogi also directed Tamil Nadu govt to provide a police escort to AG Perarivalan during his visit to the hospital
India
The pleas alleged that Reddy not only wrote a letter to CJI SA Bobde, levelling allegations against the judiciary, but also held a press conference in which false statements were made
Sports
The Supreme Court in a 2017 order had appointed a Committee of Administrators to formulate the constitution of the AIFF in consonance with the Sports Code.