Triple talaq: India will remain failed state unless we ensure dignity of Muslim women
It seems incredible that Indians are still debating the merits and demerits of abolishing a regressive social custom such as triple talaq when several Islamic theocratic states have discontinued the practice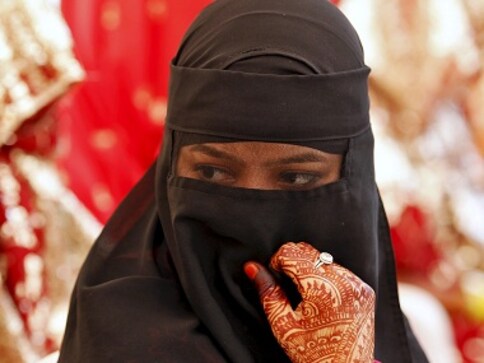 It seems incredible that Indians are still debating the merits and demerits of abolishing a regressive social custom such as triple talaq when several Islamic theocratic states have discontinued the practice. But that is what happens when social reforms fall prey to vote bank politics and party ideologies are sacrificed at the altar of naked opportunism.
There is no legal, moral, cultural or even religious justification behind continuing to let a few power-hungry patriarchs of All India Muslim Personal Law Board crush the Fundamental Rights of Muslim women. It is a question not only of gender justice.
As long as one of the most vulnerable sections of our society doesn't enjoy equality before law and continues to be denied the respect and dignity that is due to them, then despite its robust Constitution and democratic credentials, India will remain a failure of a state.
We have moved well beyond idle debates on this subject. Anecdotal evidence, empirical data, court observations and law commission findings suggest that there is little support for instant divorce among even the members of the community. Why then are we continuing with it? The answer isn't hard to find. The power-sharing arrangement between sundry Muslim organisations such as the AIMPLB and "secular" parties is such that both benefit from the status quo. While the empowered patriarchs act as self-appointed custodians of faith and interpret Sharia law in a way that extends their hegemony, political parties are loathe to upset their applecarts for perceived electoral benefits.
In this perverted 'win-win' bargain, the only ones to suffer are Muslim women who are now increasingly raising their voices against this systemic subjugation of their rights.
In their column for Firstpost, co-founders of Bharatiya Muslim Mahila Andolan (BMMA) Zakia Soman and Noorjehan Niaz, who are battling hard for the codification of Muslim personal law, write: "This situation has arisen thanks to the way the Muslim personal law is understood and practiced in India. The whole arena is mired in ambiguity, obfuscation and gross apathy owing to the stranglehold of conservative patriarchal elements who have hegemonised this space forever… Within several conservative sections the dominant belief seems to be that Muslim women need to live a life of subjugation within the four walls of a home. The hegemony of the patriarchal forces has continued post-1947 till date. The attempts by Muslim women such as Shayara Bano and several others is a cry for justice and for a halt to rampant violations of their rights in marriage and family."
As part of their pioneering study for which Soman and Niaz interviewed over 4,700 Muslim women across India between July and December 2013, some startling figures have emerged. While a staggering 88.3 percent of women seek a ban on triple talaq and want the divorce procedures to be spread over a period of 90 days in a bid to negotiate terms and conditions and avoid the arbitrariness of a divorce through email, text message or internet chat, another 83.3 percent of Muslim women feel that family disputes can be resolved if the law is codified, for which 89 percent want the government to step in. Other conclusions that Soman and Niaz mention in their piece, indicate that 95.5 percent of women have not heard of the AIMPLB while 91.7 percent want polygamy to end, saying Muslim men should not be allowed to have another wife during the subsistence of the first marriage.
These are fairly comprehensive conclusions that are seemingly corroborated by recent Law Commission findings.
In response to the Law Commission questionnaire issued in October 2016 to have an informed debate on the Uniform Civil Code, a majority of the respondents including many Muslim organisations have expressed their dissent against the practice of instantaneous divorce. While tabulation of the more than 40,000 responses are still on, law panel chairperson Justice BS Chauhan told The Indian Express that "one thing we have observed is that most people, even among the Muslims, have opposed the practice of spontaneous triple talaq. They have held that iddat period (three-month interval for reconciliation and arbitration) should be observed."
Let us take a look at what the courts have said. On 8 December, a single judge bench of Justice Suneet Kumar, in response to a petition, called the practice of triple talaq "unconstitutional", "cruel" and observed that "personal laws, of any community, cannot claim supremacy over the rights granted to the individuals by the Constitution".
"The instant divorce (triple talaq) though has been deprecated and (is) not followed by all sects of Muslim community in the country, however, is a cruel and the most demeaning form of divorce practised by the Muslim community at large. Women cannot remain at the mercy of the patriarchal setup held under the clutches of sundry clerics having their own interpretation of the holy Quoran. Personal laws, of any community, cannot claim supremacy over the rights granted to the individuals by the Constitution," said the court.
Eight days later on 16 December, Justice A Muhammed Mustaq of Kerala High Court raised more questions on the validity of triple talaq.
"The empirical finding establishes that triple talaq as practiced in India in almost all the case is not by following Qur'anic injunctions and such practices are allowed in the name of religion, without its backing. It is not possible for the State to curb such practices by invoking penal law alone for the Muslims in India. The only way out for the State is to find out the meaning of rationale of the personal law and to regulate divorce in accordance with the purpose of law."
While the polity and judiciary are providing the thrust, political parties must take it upon themselves to extend bipartisan support for this crucial social reform.
So far the signs have been predictably discouraging. While news agency PTI quoted JD(U) leader and senior politician Sharad Yadav on Friday saying the Law Commission has no authority to even initiate a debate on Uniform Civil Code (which also involves a debate on triple talaq), the Congress, Samajawadi Party and sundry other so-called secular parties have been deafeningly silent. The CPI has attacked Union law minister Ravi Shankar Prasad for suggesting that the government may make a move towards banning the controversial practice after ongoing Assembly polls, while Trinamool Congress leaders have rushed to share the dais with patriarchal heads of Muslim religious organisations and have threatened the Centre.
While progressive voices such as author Taslima Nasrin or Tufail Ahmad have batted in favour of the reform, Shahi Imams like Syed Mohammad Nurur Rahman Barkati, flanked by TMC netas, have warned Narendra Modi that his "party will be finished" if it moves to initiate such an action.
In the end, we get the country that we deserve. The fate of India as truly modern, secular nation or a repository of regressive customs that tramples on the rights of its citizens will rest with us.
In the prescient words of Justice Suneet Kumar of Allahabad High Court: "India is a nation in the making, geographical boundaries alone do not define a nation. It is to be adjudged, amongst others, on the parameter of overall human development and how the society treats its women; leaving such a large population to the whims and fancies of a personal law which perpetuates gender inequality and is regressive, is not in the interest of the society and the country. It impedes and drags India from becoming a nation."
Explainers
The rivalry between two student groups has resulted in crude bomb attacks in Prayagraj. The minors, mostly between 15 and 17 and from well-off families, have been engaging in criminal activities over the past year, a senior police officer said
Explainers
The Ernakulam-Angamaly Archdiocese Metropolitan Vicar Archbishop Mar Antony Kariyil and a section of priests are taking on Church head Cardinal George Alencherry, who has the Vatican's backing, over the most important form of worship in the Catholic Church
India
Congress MPs Manickam Tagore, TN Prathapan, Jothimani and Ramya Haridas, after a warning by Speaker Om Birla, were suspended from Lok Sabha for the rest of the session for displaying placards and disrupting proceedings