Triple talaq in one sitting is against Quran: Zafar Sareshwala
Giving 'triple talaq' in one sitting is against the principles of Quran, Zafar Sareshwala, a vocal supporter of Prime Minister Narendra Modi said
Hyderabad: Giving 'triple talaq' in one sitting is against the principles of Quran, Zafar Sareshwala, a vocal supporter of Prime Minister Narendra Modi said on Wednesday, adding that the issue as well as that of the Uniform Civil Code (UCC) can be resolved through dialogue.
"My way would be to sit and talk across the table. Even people from Muslim community can approach the government. When there is no communication, (wrong) perceptions tend to build up. Maybe if you sit (for talks), 70 per cent of things would vanish," Sareshwala, who is the Chancellor of Maulana Azad National Urdu University here, told PTI.
On triple talaq, he said according to the Holy Quran, talaq (divorce) is a process and nikah (marriage) is an agreement between man and woman.
"Quran has talked in detail about talaq. It is a process. Triple talaq in one sitting, on SMS or on telephone is against the principles of Quran. In fact, the Muslim Personal Law Board also says that," he said.
"Those who are agitating (for or against Centre's approach towards triple talaq), they do not know why they are doing so. Common people do not know what they are agitating for. These are not the issues that should be brought on to the streets. We should have a proper discussion," he said.
Replying to a query on UCC, he said opinions could be expressed only when there was a draft of the Code.
"It is preposterous to discuss this issue. Do we have a draft? Do we have permutations and combinations? What is that Civil Code? Let us have the draft (first)," he added.
On 7 October, the Centre opposed in the Supreme Court the practice of triple talaq, 'nikah halala' and polygamy among Muslims and favoured a relook on grounds like gender equality and secularism.
India
The prime minister has closely monitored the Kedarpuri reconstruction projects worth Rs 250 crore in Uttarakhand.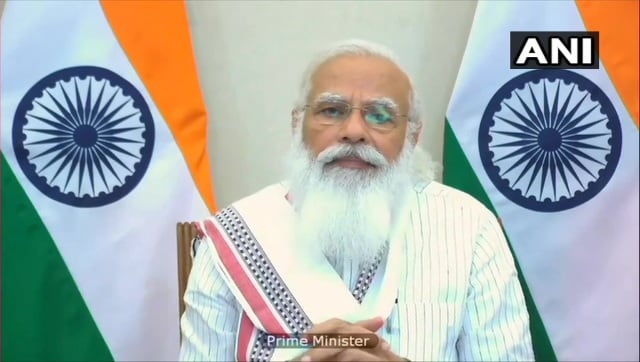 India
Modi cited the government's success in privatising loss-making public airline Air India to assert that this shows its commitment and seriousness.
India
Modi tweeted, "I pray for the good health and speedy recovery of Dr. Manmohan Singh Ji."