Triple talaq an internal Muslim issue, says RSS
The Rashtriya Swayamsevak Sangh (RSS) on Tuesday said the issue of triple talaq was an internal matter for Muslims but made it clear that the RSS was against gender bias
Hyderabad: The Rashtriya Swayamsevak Sangh (RSS) on Tuesday said the issue of triple talaq was an internal matter for Muslims but made it clear that the RSS was against gender bias.
RSS General Secretary Suresh Joshi said the Muslim community was discussing the issue of triple talaq.
Bhaiyyaji, as he is popularly known, was talking to reporters on the final day of a three-day all India executive council meeting here.
He pointed that it was the Muslim women who moved the court seeking justice.
"Any kind of gender based injustice is not good in this modern world. We wish they get justice. The courts must also consider this issue humanely," he said.
On Uniform Civil Code, he said the issue had been debated for long and the RSS had taken a clear stand that the law must stop any kind of discrimination.
"There can be issues of some traditions but if they are disturbing the cultural fabric of the society, then the law must interfere and end it," he said.
Denying that the issue of Ram Mandir was being raised for electoral gains in Uttar Pradesh, Bhaiyyaji said the Hindu community desired a grand Ram temple in Ayodhya.
"But to do this first all legal issues have to be cleared."
The RSS leader said that BJP President Amit Shah addressed the Sangh conclave.
Without making a direct comment on the functioning of the Modi government, he said the RSS as a responsible organization in a democratic set-up had a right to review the functioning of the government.
Calling for protection of Gourakshaks, Bhaiyyaji said cow protection was not just an emotional issue but related with the rural economy of the nation.
"Cow must be protected, Gourakshaks must get protection and specifically there must be efforts to protect and save local cow breeds," he added.
Asked about the ban on Pakistani artists in India, he said while the RSS believed that art had no boundaries, these were rare conditions and hence they welcome the ban.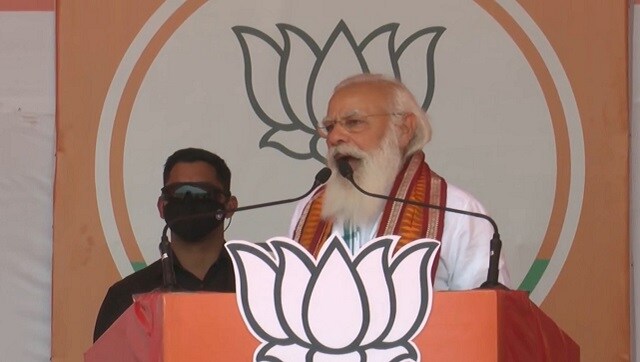 Politics
The voting for the fifth phase of elections in Bengal, in which 45 seats are up for grabs, will take place on 17 April
Politics
Shah, addressing a rally in Purba Bardhaman district, claimed that the TMC supremo will have to make an exit after losing the Nandigram seat to the BJP's Suvendu Adhikari
Politics
Assembly Election 2021 LIVE Updates: At stake are nine assembly constituencies in Howrah, eleven in South 24 Parganas, five in Alipurduar, nine in Coochbehar and ten in Hooghly.