Trans couple in Kerala set to welcome baby next month: How transgender men can get pregnant
Trans couple Ziya Paval and Zahad made news for announcing their pregnancy on Instagram. Zahad, who was assigned female at birth and now identifies as male, is carrying their baby after he stopped his transition procedure. Doctors explain that any person with ovaries and uterus can get pregnant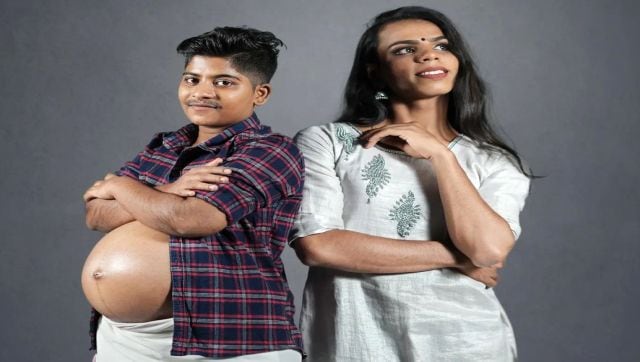 Amid the many trends and posts going viral on social media, one that is being talked about the most and is also being hailed as a sign of India's progress towards gender inclusivity is that of a transgender couple from Kozhikode announcing their pregnancy.
The pregnancy photoshoot of Ziya Paval (21) and her partner Zahad (23) has become a massive talking point with media outlets in India and even abroad carrying the report of their pregnancy.
View this post on Instagram
The couple hailing from Kerala's Kozhikode is expected to deliver their baby in early March, making them arguably the first transgender parents in the country.
Here's their story and also we explain how it's possible for transgender people to get pregnant.
Mother for nine months, father for life
Twenty-one year old Ziya was assigned male at birth and now identifies as female. Her partner Zahad was assigned female at birth and now identifies as male. He is currently pregnant, and the couple are expecting their baby on 8 March.
The two met three years ago and a year-and-a-half into their relationship, they decided they wanted to be parents. However, both of them were in different stages of their transition. It was then that Zahad, whose ovaries and uterus had not yet been removed, stopped the transition process to get pregnant and carry their baby to term.
Ziya speaking to Indian Express said, "Our journey to become a trans man and trans woman will continue. I am still continuing the hormone treatment to become a trans woman. Six months or a year after delivery, Zahad will also resume the treatment to become a trans man."
Also read: The story of India's first transgender pilot
Zahad is ecstatic about his pregnancy with The Quint quoting the 23-year-old as saying, "It is fascinating that I can be a mother and father. While it is a lot to take emotionally, I can't wait to complete this phase as a mother and then become a father."
Zahad, who works as an accountant, explained that his mother was vehemently against the pregnancy, but the news of a grandchild warmed her to the idea.
The transgender couple received medical support from the doctors at the Government Medical College Hospital in Kozhikode and said they would deliver their baby there too.
When asked about their photoshoot and the reactions they received, the couple said that it was a mixed bag — while many congratulated them, there were several comments trolling the couple.
And what about the child? Do they want a girl or a boy? The couple said that the gender doesn't matter to them. "Gender isn't defined by us or a reproductive organ. We are not going to label the child by gender, caste, or religion. The child has the freedom to choose the gender of his or her choice. All we will do is shower love and give freedom to the child," said Zahad to The Quint.
Also read: Scotland's transgender rights bill and UK's decision to block it
Transgender pregnancies
While Ziya and Zahad are breaking the internet with their pregnancy news, they aren't the first transgenders to get pregnant. In 2008, American Thomas Beatie made headlines when he went on the Oprah Winfrey show and announced that he was pregnant. The world was baffled, but it was soon revealed that Beatie was a transgender. Since the birth of his first child in 2008, Beatie went on to have two more children with his then-wife Nancy.
Since then, there have been reports of other trans men getting pregnant and carrying their babies to term. A 2019 news release from Rutger's University said their research suggested up to 30 per cent of transgender men have had unplanned pregnancies.
But how is it that 'men' can get pregnant? Firstly, one must understand that gender and biological sex are two different aspects. Gender does not determine who can become pregnant. As doctors put it, anyone who has a uterus and ovaries could become pregnant and give birth. That means people who identify as men can, and do, become pregnant and give birth, if they possess a uterus and ovaries.
Transgender men — people born with female anatomy who live and identify as men — can get pregnant in the same way anyone with reproductive organs can get pregnant, said Dr Juno Obedin-Maliver, assistant professor in the Department of Obstetrics and Gynaecology at Stanford University School of Medicine.
Dr Obedin-Maliver states that the biggest myth surrounding transgender men and pregnancy is that trans men on testosterone are unable to conceive. Though more studies need to be done on how testosterone influences ovulation in general, taking the hormone does not negate one's capacity to get pregnant.
Medical experts point out some who have taken testosterone may have difficulty getting pregnant at first, but it does not sterilise someone who takes it. Testosterone blocks ovulation if taken regularly, but it does not completely make it disappear, and if it is taken irregularly, one can actually get pregnant while they go through their transition.
Most trans men across the world have reported that more than the physical challenges, it's the social misconceptions that pose as bigger challenges to getting pregnant. They complain that they are excluded from the entire birthing process ¬and mainstream pregnancy care is most often hostile and tolerable at best.
At the end of the day, it's time we realise that gender does not determine who can become pregnant. And we should respect and accept all pregnant people.
With inputs from agencies
Read all the Latest News, Trending News, Cricket News, Bollywood News,
India News and Entertainment News here. Follow us on Facebook, Twitter and Instagram.