To counter China's OBOR, India inks UN pact to access transnational multi-modal connectivity
India on Monday joined the United Nations Transports Internationaux Routiers (TIR) Convention, the international customs transit system, to counter OBOR.
In the backdrop of China's planned initiatives to have better connectivity with the rest of the world – like the One Belt One Road (OBOR) project – India on Monday joined the United Nations Transports Internationaux Routiers (TIR) Convention, the international customs transit system, to position itself as a regional trading and transit hub.
The TIR system is the international customs transit system with the widest geographical coverage. India is the 71st member of the Convention.
The decision puts India at the centre of efforts to increase overland trade and regional integration across South Asia and beyond, fast-tracking the region's potential to become a strategic trade hub.
The accession is part of India's multi-modal transport strategy that aims to integrate the economy with global and regional production networks through better connectivity.
However, TIR Convention is more than a transport agreement and has a strong foreign policy element.
The decision will help facilitate India's trade with its eastern and western neighbours and comes against the backdrop of China's ambitious OBOR initiative aimed at connecting some 60 countries across Asia, Africa and Europe to boost trade and economic ties on the lines of the traditional maritime route, reported Livemint.
In March this year, Union Cabinet had given its approval to India's accession to TIR and for completion of necessary procedures for ratification, for its entry into force, reported Business Standard.
Welcoming India into the global transport arrangement, Umberto de Pretto, secretary general of IRU which manages the TIR Convention said, "I am delighted to welcome India into the TIR family of nations. This is an important step in harmonising standards and boosting transport, trade and development across South Asia."
"We look forward to working closely with the Indian government and business community as we turn our attention now to implementing the TIR system," he added.
One of the persistent problems for India's connectivity projects has been the disconnect between transport and customs systems with different countries.
Once the systems are integrated with global norms, India reckons it will become easier to service African and Asian markets when the DMIC (Delhi-Mumbai Industrial Corridor) comes online. It will breathe life into the International North-South Transport Corridor and the Chabahar project that India has been working on for some time, The Times of India reported.
The move will also help India to integrate with Myanmar and Thailand as well as Bangladesh, Bhutan and Nepal
Boris Blanche, Chief Operations Officer at IRU, explained, "India's decision to implement the TIR system will have far-reaching benefits for trade and will save significant time and money by streamlining procedures at borders, reducing administration and cutting border waiting times,"
The United Nations has confirmed that the TIR Convention will enter into force in India in six months and IRU will begin work with Indian partners on training, development and outreach efforts to facilitate prompt implementation.
China joined the TIR in 2016 when its giant inter-regional connectivity projects began to take off.
India
In an apparent reference to China which is flexing its military muscles in the Indo-Pacific, Modi also said that in order to strengthen the rules-based world order, the international community must speak in unison
World
Biden also said the United States would be prepared to use force 'if necessary' but that military power must be a 'tool of last resort'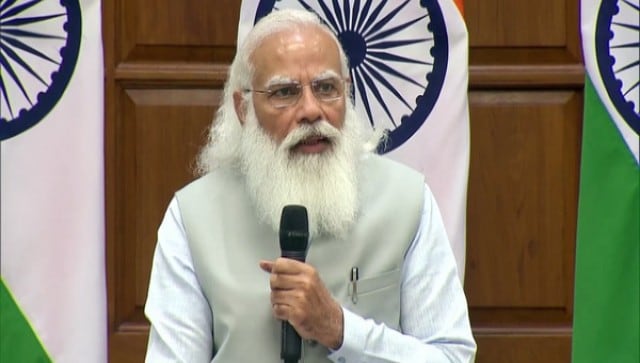 World
New strategic alignments and alliances are taking shape, even as old relationships suddenly seem to have regained their relevance