Three reasons why Mehbooba Mufti has adopted a new tough approach on Kashmir unrest
Mehbooba seems to have realized that the current nature of Kashmir unrest is very different from the earlier turbulences in its Islamist overtones and the way it has been continuing unabated over such a long period of time.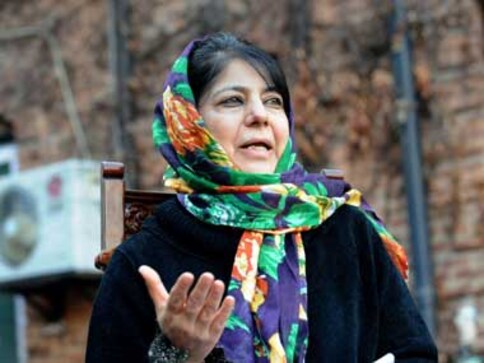 What explains Mehbooba Mufti's sudden change in stance? The Jammu and Kashmir Chief Minister whom we saw on Thursday bears little resemblance to the one who a month back seemed almost apologetic that Indian security forces had killed Burhan Wani.
Breaking her 20-day silence period following the Hizbul Mujaheedin commander's death (an unusual reticence for a chief minister whose state was in throes of a violent turmoil), the PDP chief had appeared before the media on 28 July, also a Thursday, and suggested that security forces were unaware of Wani's presence at the scene of the encounter.
This soft approach was consistent with similar statements of empathy from senior members of her party and was in direct contradiction to India's stated position that intelligence inputs led to the killing of the most-wanted terrorist in Kokernag area of Anantnag district.
"How can one know everything about every encounter? As far as I know, what I heard from the police and the army, who said they only knew that there were three militants inside the house but did not know who they were," she had said. "If they knew, perhaps we would not have (had) such a situation…"
In contrast, speaking to reporters yesterday during a joint news conference with Union home minister Rajnath Singh, Mufti called Wani a "militant" and found no fault with the government. She was piqued by a question on whether her position now is different from the one in 2010 when the Valley was similarly on fire and she was in the opposition.
"What happened in 2010 had a reason. There was a fake encounter in Machil where three civilians were killed. Then there were allegations of rape and murder in Shopian (in 2009), boys were killed while playing cricket. There was a reason for the people's anger. This time, an encounter happened, as has been happening, in which three militants were killed. What is the government's fault in that?" she said, according to Indian Express.
As curfew entered its 49th day, the death toll in Kashmir stands at 69 with injuries amounting to over a 1000 (including security forces). A visibly angry Mehbooba blamed the deaths of children and civilians on violent protestors using them as shields while attacking security installations and police posts. Her irascibility stood in marked contrast with her habitual calm demeanour.
"People came on streets, we imposed curfew. Did the children go to Army camps to buy toffees (candy)? Was the 15-year-old boy, who attacked the police station at Damhal Hanjipora (in south Kashmir), going there to get milk? These miscreants want to get our children killed or blinded."
She categorically stated that 95 per cent people want a peaceful resolution to the Kashmir problem and the remaining five per cent which is creating trouble will find themselves facing the full force of law because "stone-throwing won't bring peace".
There could be three reasons why PDP chief Mehbooba, whose party has historically been accused of indulging in soft-separatism, has adopted a tough, new, nationalist approach.
One, Omar Abdullah is slowly squeezing out her political space. Political parties love fishing in troubled waters and the ongoing unrest presents a great opportunity for the National Conference leader to come back into relevance. Ever since violence broke out, Omar has harped on the grievance narrative and frequently suggested that Mehbooba isn't in control of the situation. Leading a delegation to Delhi, Omar had sought a "political solution" to Kashmir problem and has suggested talks with the separatist leaders, militant organisations and even Pakistan.
He has not elaborated on what could be the "political solution" to tackle a problem where Kashmiri youngsters, in their daily attacks on armed security forces and police posts have shown a strategic depth and sophistry impossible without some sort of training. Despite all his fulminations about pellet guns, the NC chief has not explained how to deal with protestors who have no apparent fear of death and whose leaders — whether the Hurriyat or the various militant groups operating in Kashmir — want azaadi from India.
Simply put, Abdullah has usurped the 'soft-separatism' tag that was PDP's calling card, leaving Mehbooba with little choice.
Two, the Jammu and Kashmir Chief Minister understands that appearing at variance with Centre's stance on the problem is no longer an option. Prime Minister Narendra Modi has reiterated that any resolution of the dispute must be within the confines of the J&K Constitution which makes it clear that Kashmir is an integral part of India. It reduces Mehbooba's options of humouring Pakistan-sponsored separatist leaders.
The Centre may have also nudged Mehbooba into taking a more muscular approach to deal with a clearly deteriorating situation.
As Ajay Singh pointed out in a recent article in Firstpost, during a series of recent internal security meetings on Kashmir chaired by Rajnath Singh and attended by National Security Advisor Ajit Doval, home secretary, secretary Research and Analysis Wing (RAW), Director Intelligence Bureau (DIB) and officials responsible for coordinating and collating the data, there seemed to be a conclusion that Mufti was too mild-mannered to show the kind of firmness that Centre wants. There was even a buzz on President's Rule.
Finally, Mehbooba seems to have realized that the current nature of Kashmir unrest is very different from the earlier turbulences in its Islamist overtones and the way it has been continuing unabated over such a long period of time.
As the Chief Minister pointed out in the news conference, the victimhood narrative this time was unjustified since it did not stem from any instance of alleged excess by security force. It was triggered by the neutralizing of a dreaded terrorist who carried a bounty over his head. There have been ample evidences about how this round of violence was almost exclusively manufactured, funded and executed by Pakistan and also ISI-controlled non-state actors who have managed to stay behind the front of 'irate Kashmiri youth'.
Times of India, quoting a police officer, points out how scores of youth have joined the militants in Tral, where organized training camps are being run by top Lashkar-e-Taiba and Jaish-e-Mohammed commanders to turn out jihadis.
The situation is so grim in four south Kashmir districts of Pulwama, Shopian, Kulgam and Anantnag that only three police stations are active among 36. Amid absolute anarchy and daily azaadi rallies, cops have fled to nearby CRPF camps after coming under sustained attack from irate mobs. There have also been reports of youths bolting away with automatic and semi-automatic rifles.
In a reply in the Legislative Assembly, according to a report by DNA, Jammu and Kashmir government said in June this year that 4,587 Kashmiri youth crossed over to Pakistan and PoK for arms training. This excludes the foreign militants who have trained in Pakistan and were pushed into Jammu and Kashmir for carrying out terror and other subversive activities during the last 26 years.
This is obviously part of Pakistan's proxy war against India but the scaling up has been rapid since Wani's killing.
Indian Express, for instance, indicates that the National Investigation Agency (NIA) is probing financial transaction to the tune of Rs 38 crore from 17 accounts in four banks of south Kashmir for suspected links with militants or separatist groups. NIA sources have also told Times of India that if a direct link between ongoing protest and disbursal of funds emerges from a preliminary inquiry, related offences may be added to existing cases related to JKART (Jammu Kashmir Affectees Relief Trust), a Pakistan-based frontal outfit of Hizbul Mujahideen charged with funding terror activities in India.
The picture that surfaces punctures the false narrative of vociferousness in Kashmir unrest and also exposes Pakistan's machinations behind the unrest. These factors, taken together, may explain the Chief Minister's new aggressive approach.
India
His comments at the first meeting of the MultiAgency Maritime Security Group came amid growing concerns over China's increasing forays into the Indian Ocean, considered the backyard of the Indian Navy
India
Security forces launched an anti-militancy operation on Tuesday in the Mishipora area of Kulgam, following information of ultras in the area
India
'I think protest, raising voice is justified in a democracy but violence and vandalism will not be tolerated, the National Security Advisor added