The politics of clothes: What Priyanka's Amethi sari tells us
The `handloom sari' mindset governs how the Indian elite interfaces with the 'poor'.
By Sagarika Ghose
Clothes are not just clothes. Clothes are also politics. But sometimes power dressing can become a caricature, almost an insult to voters.
Priyanka Gandhi is hardly ever seen in a sari in Delhi. For the July 2008 trust vote in parliament, she, in fact, showed up in trendy dark trousers and a white shirt, an outfit both stunning and honest about who she is.
The stately young mother is often seen picking up her children from school in casual jeans and T-shirt. She attends charity functions in western wear, steps out for Delhi dinners in western wear, is seen at restaurants in western wear. Then why, oh why, must the gorgeous Priyanka Gandhi get into ethnic costume every time she visits Amethi?
Will the voters be so turned off  if, for example, she arrived in jeans and, say, a long kurta? Would such an outfit not be more honest, more real, more in tune with who she actually is, rather than staging a traditional masquerade in handloom? Sure, let's always respect local sentiments when we dress, but transforming oneself into a costumed actor to fit the stereotypes of Incredible India seems such a condescension to the good people of Amethi!
Recent pictures show Priyanka in colourful saris doing a sort of Passage To India routine of "mingling easily with the natives". Perhaps pant suits are not "suitable" for Amethi, but it does seem a little "off-to-meet-the-villagers-now-darling" to get into regulation handloom and chat with the rustics in the pursuit of feudal noblesse oblige.
Why does one's identity have to undergo such a transformation from city to village?  Priyanka's handloom sari "dressing down" seems deeply condescending, particularly given the fact that she is never seen in such clothes in Delhi or Mumbai. Isn't it an unthinking elitism to get into "typical ethnic" gear to go and meet one's voters, rather like the princess wearing ordinary clothes to keep the peasants happy? Indira Gandhi wore the same elegant cotton saris to Delhi soirees and to the Dalit village in Belchi.
Rahul Gandhi, too, to be fair to him, wears the same clothes everywhere. So does Sonia Gandhi. Madam's lovely saris are a joy to behold, beautifully draped and tied, changing from muted handloom to elegant silks, depending on the occasion.
Conversely, why does Priyanka not step out to a Delhi party in a classy handloom with a trendy blouse? Someone in her position can do so much to showcase India's beautiful  weaves and traditional fabrics to the world and be a role model for the urban mall rats mindlessly squeezing themselves into Zara or Mango.
Those who are passionate about the sari—as I am—know what a sophisticated, stylish and trendy garment it is. The sari is not just meant for road trips to the boondocks. The sari is not just a concession to the poor. The sari is not just about "dressing down." Priyanka can do a lot for the modernisation and popularisation of the sari, not just by wearing them to the dirt tracks of Amethi, but to nightclubs, fashion spots and hip restaurants. Why not?
In India power dressing for male politicians is always the aam aadmi attire of kurta pyjama or dhoti or even Chidambaram's trademark white dhoti and shirt. No male politician has yet experimented with shirt and trousers in the countryside, even as swathes of rural folk and every small town Bunty and Babli opts for jeans and T-shirt as their preferred dress of upward mobility. Hip at Delhi hotpots and traditional in political ground zero is the elitist mantra of the babalog netas. Would voters really hold back their votes if Jitin Prasada and RPN Singh campaigned honestly in the clothes they wear as "normal" urban people?
Women politicians are extremely modern in their politics of dress. Their outfits remain unchanged whether they're walking in dirt tracks or sitting in air-conditioned halls. Mayawati's only concession to manuwadi tastes is her silky pink salwar kameez matched with jewellery. Her salwar kameezes never change, only the colour does, alternating between uniform beige and bright fuschia. But she wears the same clothes from villages in Basti to addressing press conferences at the Taj Mansingh Hotel.
The same goes for Mamata Banerjee and Jayalalithaa. For the Ma Durga of West Bengal, its always the same crumpled white sari which is the dress of all occasions. Puratchi Thalaivi's flowing cape stays unchanged between constituency and five-star hotel, between the chambers of commerce and the bylanes of Salem. Mayawati, Mamata and Jayalalithaa make no concession to the social status of gatherings in their clothes. They remain true to themselves, true and honest to who they are.
Winston Churchill may have called Gandhi a 'half naked fakir' but the grand old man in a loin-cloth never changed his outfits to suit the demands of the audience. Nor did Nehru. Nor did Maulana Azad or Sardar Patel. The personal was always the political for them. One's personal stance and beliefs reflected one's outward appearance. Khadi was a political and personal statement.
But today's netas may be young in age but their minds are generations old. They are youth who represent old families. They are young, but they seem to have been born old. At the heart of their politics, there seems to be a deep hypocrisy, a deep double speak, a schizophrenia, and a lack of self belief.
India is changing fast; today's voters want honesty and transparency above all. They don't want prepared speeches about poverty alleviation from a line-up of costumed performers. They don't want the right notes of a lip-synched song to be sung by a dancing troupe of stage actors dressed in the feathers and grass skirts of local custom. They don't want a chorus line of painted faces, with artificial slogans and  pre-learnt dance moves, choreographed and dressed to "suit the occasion."
Wearing one's heart on one's sleeve, being who one honestly is, having the courage not to change costume with changing locales, these are the lessons to be learnt from the 40s generation.
My suggestion to Priyanka: wear trousers and a long shirt with a scarf to Amethi and wear the lovely handlooms to a Delhi party!
Sagarika Ghose is Deputy Editor, CNN-IBN
Subscribe to Moneycontrol Pro at ₹499 for the first year. Use code PRO499. Limited period offer. *T&C apply
India
The Congress leader, who was on a three-day tour of Tamil Nadu, participated in multiple events in Kanyakumari district ahead of the 6 April Assembly polls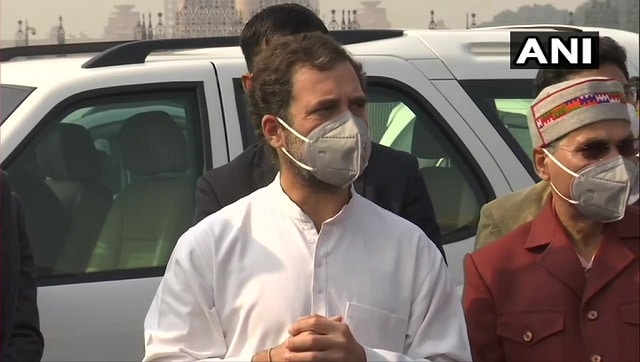 Politics
Expressing shock over Gandhi's statement last week that there was no 'dedicated' fisheries ministry, Narendra Modi had said that the NDA had made such a ministry in 2019
Politics
During his Kerala visit on Tuesday, Rahul Gandhi had said he was used to a "different type of politics" in north India and coming to the southern state was a "refreshing" change for him