An NGO that aims to 'reinstate divine kingdom': All you need to know about Sanatan Sanstha
On Monday, senior journalist Nikhil Wagle allegedly received a death threat from the Sanatan Sanstha. Here's what you should know about the group accused for this threat and other crimes in the past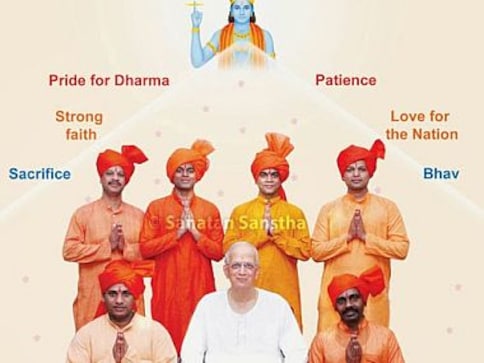 On Saturday, CBI arrested Hindu Janajagruti Samiti member Virendrasing Tawde in connection with the murder of noted rationalist Narendra Dabholkar in Pune in 2013, the first in the case by the agency. The Samiti is linked to Goa-based radical Hindu group Sanatan Sanstha.
Medha Pansare, daughter-in-law of Govind Pansare said, "Since the role of such extremist outfits has been exposed in Pansare and now in Dr Dabholkar's case, we demand that government should take stern action against such outfits."
In September 2015, senior journalist Nikhil Wagle had allegedly received a death threat from the Sanatan Sanstha. He had told PTI that he had received threats of this sort from the organisation in the past. "Four years ago, Abhay Vartak of Sanatan (Sanstha) walked out of a programme I hosted. Even as recently as last week, Sanatan Prabhat (a publication of the outfit) carried an article warning me," he had added.
In response, the Sanatan Sanstha's managing trustee Virendra Marathe had dismissed the notion, telling PTI that it was probably a 'stunt to get sympathy'. "He (Wagle) has always been projecting us as terrorists. We have ignored him. We have not threatened him," he had said.
On 16 September last year, the Special Investigation Team (SIT) probing the February murder of Communist leader and social activist Govind Pansare, made its first arrest in the case: Sangli-resident Samir Gaikwad. According to Inspector-General of Police Sanjay Kumar, who was quoted by The Hindu, "Gaikwad and his family are associated with the Sanatan Sanstha".
Marathe had responded the very same day with with a press release emphatically titled 'Police ploy to implicate innocent Samir Gaikwad!'. "Gaikwad… is a full-time seeker of Sanatan Sanstha and we are sure that he is innocent. The police have purposefully arrested him… due to pressure from the anti-Sanatan elements," read the statement.
So just what is this organisation?
The Sanatan Sanstha (in a sincere effort to avoid any associations with a very different right-wing outfit, we'll avoid abbreviating this to SS) is a registered non-government charitable trust that, as per its website, seeks to 'impart spiritual knowledge to the curious in the society, inculcate religious behaviour in the masses and providing personal guidance to seekers for their spiritual uplift(ment)'.
Established in 1990 by 'internationally renowned hypnotherapist' Dr Jayant Balaji Athavale, the raison d'être of the organisation is ultimately, the 'reinstatement of the divine kingdom'. It endeavours to achieve this goal through activities that include free-of-charge lectures and weekly satsangs, moral science classes for children (not clear if these are also free of charge), and through VCDs, DVDs and printed literature.
As Marathe told The Indian Express, "Our ultimate aim is to build one nation with one identity… We are confident that under Dr Athavale's guidance, we are ready to be a 'Hindu nation'." In addition, the report notes that in its monthly publication Sanatan Prabhat, the organisation also expounded on the strife of Nepalis trying to have their country declared a Hindu nation.
After Virendrasing Tawde's arrest, Sanatan Sanstha had criticised the BJP government. "Hindus continued to suffer in the country despite a Hindutvawadi government," Indian Express quoted one of the organisation leaders as saying. "We believe BJP follows Hindutva. But after coming to power, BJP has not worked to the expectations of Hindus in the country. Beef exports have increased by 15 per cent since BJP came to power. Not much has been done for rehabilitation of Kashmiri Pandits. Ram temple issue is still not resolved. There is no action against the Bangladeshi infiltrators. Innocent Hindus are being arrested on false charges. Government has not taken a strong stand on many such issues that matter for Hindus," the report further quoted the leader as saying.
Another Mid-Day report said that according to a highly-placed CBI source, Sanstha members had discussed building a force of 15,000 'sainiks' to counter "anti-Hindu activities" in India.
The Sanatan Sanstha's message that precariously straddles the line between Hindu supremacy and Hindu nationalism notwithstanding, more worrisome are the organisation's brushes with the law.
What sort of brushes with the law?
In 2008, Ramesh Hanumant Gadkari and Vikram Vinay Bhave, both of whom were allegedly associated with the Sanstha, carried out a blast at a Panvel cinema screening Jodhaa Akbar and another at a Thane auditorium staging the Marathi play Aamhi Pachpute. Low-intensity explosives were recovered from a Vashi auditorium that was also staging the same play. The duo was sentenced to 10 years' imprisonment in 2011, but was released on bail two years later.
In 2009, Sanatan Sanstha members Vinayak Talekar, Vinayak Ashtekar, Dilip Mangainkar, Dhananjay Ashtekar, Prashant Juvekar and Vinay Patil were arrested in connection with the 16 October blast behind Margao's Grace Church. As it turned out, the IED detonated accidentally, killing two persons — Sanstha members Malgonda Patil and Yogesh Naik who were ferrying the device. In December 2013, the six accused were acquitted by a special court.
In December 2011, a PIL was filed by a group of social activists from Raigad, in which the Sanstha was accused of indulging in terrorist activities, waging war against the nation and practicing Ericksonian Hypnosis. The third charge refers to a form of hypnosis where individuals as well as masses can 'lose (their) prudent wisdom and only (work) according to the directions of the hypnotist'.
Earlier that year, the Maharashtra government had submitted a 1,000-page dossier seeking a Central ban on the organisation under the Unlawful Activities Prevention Act. And while enacting, never mind enforcing, such a ban would have been difficult, the process never got off the ground. Then chief minister Prithviraj Chavan contended that Maharashtra and New Delhi exchanged 'a lot of correspondence' over the matter, while former Union Home Minister Sushil Kumar Shinde questioned Chavan's sincerity. "If he (Chavan) was serious about banning Sanatan Sanstha, then he could have called me up. We are both from the same state, it would have been done," Shinde told The Economic Times.
The Sanstha continues to maintain that it is a 'spiritual organisation' that doesn't kill.
Life lessons Sanstha-style
And before you are misled by 'self-styled liberals and progressive people' into thinking that the Sanatan Sanstha is some sort of evil and murderous propaganda machine, it's worth noting that the organisation's official website is actually chock-full of handy-dandy tips for a healthier life.
For instance, did you know that long hair symbolises fickleness in an average man — and can eventually lead to 'reduction in the sperm count', while 'at greater spiritual levels, the length of hair doesn't matter'? Or that an 'individual that wears clothes with variegated, predominantly black and bright colours… eventually turns into a ruffian'?
Food for thought indeed.
India
Pansare's daughter said that the transfer of investigating officer would adversely impact the line of investigation in the case.
India
The Special Investigation Team (SIT) probing the murder of Communist leader Govind Pansare is questioning the founder of Sanathan Sanstha in connection with the killing
India
Hindu radical organisation Sanathan Sanstha is in the eye of a storm for its alleged links to the murder of left-liberal thinker Govind Pansare in Kolhapur in February 2015