The misread 'fundamentalist': Many broken bridges in Hyderabad's old city
Community solidarity is deepening psychological schisms in Hyderabad.
Hyderabad: It was pouring heavily and we stopped at a corner inside the Saidabad colony in the old city part of Hyderabad and asked, "Maulana saheb kahaan rehthe hain?'' A man with the flowing white beard apparently on his way back after evening namaaz, stopped to answer. "Main hi Maulana hoon, aayiye us taraf.''
He took us to a non-descript two-storey house. I had been there before, in August 2008 when Maulana Naseeruddin was away in a Gujarat jail. At that time the house was full of people. I was taken on a tour around the house, thrown open to visitors, local leaders and mainly the media, to show the storm that had run riot in the house the previous night when Maulana's youngest son Jaber had been taken away by a posse of policemen in plainclothes. Everything was strewn around, from clothes, to CDs, books and a desktop. The mother was crying, saying that the police wanted to spare no one in her house, neither her husband nor her three sons.
This time all was quiet around the house. In a small garage-like shed in front of the house, sheltered from the rain, stood a Nano, curiously modified in many senses beyond recognition, slogans written all over, a small stairway and platform at the back of the car leading up to where the Maulana would stand to deliver his famous sermons in the localities around here.
We entered the house. After a formality of asking if I would like some tea, the 62-year-old Maulana pulled shut the door behind the cloth curtain hanging on the door leading to the room inside. The door hid all view of the inside of the house. That is usual in these parts. Outsiders get access to no more of the inside of any house. You cannot look around, more than what you are allowed access to, to get a feel of the place.
What do you want to know? Maulana Naseeruddin asked. The man I was sitting with was probably the most notorious firebrand Maulana in the Old City of Hyderabad. "I want to know if you are really the firebrand, terror-instigating cleric you are said to be. I want to know why all your sons are in jail and now your grandnephew too. Is it because they are all related to you or is there more?'' I asked with a straight face.
"What the police tell you and most of what the media say is a lie," declared Maulana. "And I will tell you why my 'poutra' Obaid was picked up. It is because he was with me all the time, like my bodyguard for the last few years. For several years, he visited me in jail in Gujarat and he has been with me ever since I got back."
Obaid-ur-Rehman is a 22-year-old arrested from Hyderabad over the weekend by the Karnataka police. He is alleged to have hatched a conspiracy to assassinate three city corporators, possibly during the coming festival season. "Those corporators, there is every reason for us to be angry. They would ring the bells at the temple by the side of the Charminar just when we are doing namaaz. That temple has no business being there… But Obaid is not quite made of that mettle. He was not capable of it,'' Maulana says dismissively. "After seeing the jail life I and my sons led, he cannot possibly want to go down that route.''
Listening to Maulana speak you cannot be blamed if you think that he must be instigating youth to stand up and fight. The Maulana knows it but he is not apologetic and does not care to couch his words carefully. "Targeting corporators is not going to help us. We have to plan and do something really big if we want to change attitudes towards us," he rues. 'Us' here refers to the Indian Muslims.
"2000 Muslims are killed in Assam and we do nothing about it. Here there are some CDs and just a talk of a conspiracy to kill some people and all the headlines are about it. That is why I need to go around 'awakening' the Indian Muslim, to say you need to wake up and stand up and fight for your rights. You can't continue to be a mute spectator."
Maulana's brother Mohd Rafi tries to explain, hoping I wouldn't conclude the worst. "There are a lot of social causes that Maulana saheb lends his voice to, like literacy, enterprise, so that the community does not remain backward.''
"Why do the police single out you and your family? You may ask,'' volunteers the Maulana, following up with his answer. "Because I speak out and see no reason to hide my views, whether on Kashmir, Gujarat or Assam. My speeches are all in the police records too. My phones are tapped. And those 'farishtas' (the police in plainclothes) are always around my house, 24x7, watching everything we do.''
It is the same watchful eyes that must have seen Obaid-ur-Rehman keep Moulana Naseeruddin's company day and night, almost like a shadow, whenever he was out among the people, delivering sermons. All the more after Obaid's father died of cancer in 2005 after being bedridden for three years. Maulana Naseeruddin was not just a family elder, his grandmother's younger brother, a man who supported Obaid's family socially and financially. He was an intellectual inspiration, someone Obaid looked up to in many ways. He had often accompanied family members when they went to visit Moulana in jail in Ahmedabad and later his sons, in jail in Ahmedabad and Indore.
"Having seen the hard life we suffered in jail, no young man is going to go down that road, specially when he is the eldest of six in the family, with no father," Moulana argues.
Obaid's grandmother tells us he is a quiet, gentle young man, pursuing B.Com degree in Anwar ul-uloom college. "He went that day to buy some Islamic books for me and didn't return home. We were so worried, thought there had been some accident or something. Only the second day, on Saturday night, a phone call came saying he has been taken to Bangalore by the police. Why, we still don't know. We never suspected this kind of trouble because he has never been involved in any controversial activity," says the grandmother.
I ask if the family knows of any friend or contact by the name Akram, someone from Nanded, to who the police says Obaid had provided shelter and helped in conducting some recce. "I know all of Obaid's friends. There is no one by that name," says his mother Kauser.
Did he have friends outside Hyderabad, did he speak to people in Pakistan or Saudi Arabia? "Yes, my brothers are in Saudi and so are many more cousins of Obaid. So he would speak often to them and then would pass the phone to me too. But is that a crime?'' she asks.
Obaid's brother-in-law is angry that a lot of information that is leaked to the media is baseless and mischievous. "They say Obaid had given shelter to Akram. Is it even possible in cultural settings like ours specially when the elder man of the house is no more, that an outsider will come and live in this three-room apartment? A leading English newspaper says a pistol was recovered and bullets and 'incriminating' evidence was found in the house. What are they talking about when a police team has not even come to Obaid's team? Not a single policeman has come here but they have painted Obaid a terrorist, repeatedly flashing his photo on television screens and attributing conspiracies to him."
The family confesses that till a few years ago, after any youth was taken away on suspicion of being a terrorist, the community would react with shock, avoid the family and there would be almost a social boycott. That has somehow changed after several instances where charges never got proved in court. The most famous being the arrests after the Mecca Masjid and twin blasts in Hyderabad. Several hundred youth were picked up. Cases of criminal conspiracy and other serious sections were slapped on the youth. And ultimately, indications now are that the wrongdoers did not belong to the community at all. That has added to the feeling that the community is being targeted, that they need to be there for each other, to fight against being victimised by a common enemy.
Obaid's grand uncle Mohd Rafi tells me that if Gujarat was the first laboratory for radical forces, it is now Madhya Pradesh and Karnataka. All BJP-ruled states, he points out.
But the damage it would seem is done. While one cannot find fault with the growing feelings of fraternity and community solidarity, what is certainly worrying is the deep psychological schisms that it is perpetuating and deepening. More and more political and social developments in recent days, weeks and months have only broken bridges, eroded trust, with a feeling gaining currency among the people of the community that they are alienated and can count only on themselves, only "their own people''. So the need to flock together, to only believe one among you.
As I move out of Obaid's home in Gulshan E Iqbal colony in Chandrayangutta area, I can see many eyes in the neighbourhood are watching. To see how this is reported and how ultimately the case turns out. Will the recent arrests and cases stand scrutiny in court? I am apprehensive. Because many of the signals from here are going to shape perceptions, attitudes and ideologies for a long time to come.
India is waiting and watching.
Find latest and upcoming tech gadgets online on Tech2 Gadgets. Get technology news, gadgets reviews & ratings. Popular gadgets including laptop, tablet and mobile specifications, features, prices, comparison.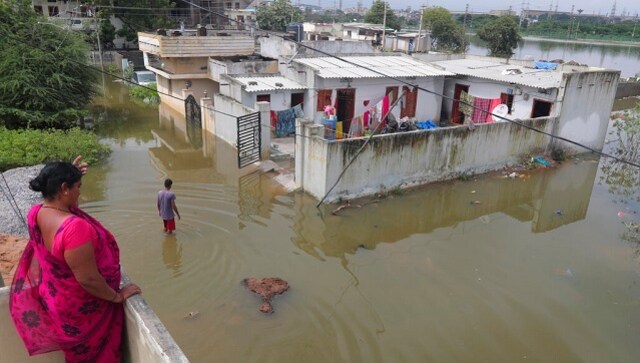 India
Chief Minister K Chandrasekhar Rao has written to Prime Minister Narendra Modi appealing for the immediate release of Rs 1,350 crore for relief and rehabilitation works
India
GHMC Commissioner DS Lokesh Kumar urged people to vacate dilapidated buildings and sheds while Bhadradri-Kothagudem district administration urged people not to venture out till water receded
India
Around 37,409 families in Hyderabad were affected as fresh spells of rains caused water bodies to overflow while in Karnataka, the Krishna and Bhima rivers remained in spate