The Kanwar Yatra: For this set of young Kanwariyas, Bum Bole is more important than mid-term exams
Kishan Ram, 14, is the youngest member of the Bolo Bum Bhole Yatra Samiti that has been making the Kanwar Yatra for the past two years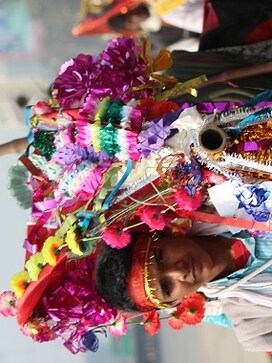 Kishan Ram is the youngest member of the Bolo Bum Bhole Yatra Samiti of Darri block in Jhansi district. The 14-year-old has been visiting Mahadeva, Barabanki for the past two years with his group — a bunch of 15 young boys between the ages of 14 and 18 years.
"This is the fourth year that I am taking part in the Kanwar Yatra; I was part of a different mandir samiti earlier, with which I used to travel to a place near Kanpur, but we soon formed our own committee that counted young boys like me among its members. Our samiti travels both during Mahashivratri and the month of Shravan. It is great fun to travel with friends," says Kishan. The group travels to Haridwar during Mahashivratri and also attends the Kanwar mela but for Shravan, they go to the Lodheshwara Temple in Mahadeva.
Kishan further explains that they collect money for travel through contributions from villagers and in return, bring back Gangajal. "In my village people who go on this yatra enjoy a great reputation, and that is what inspired me to be a part of it," he adds. Recalling one incident when he travelled from Jhansi to Haridwar via Delhi, he says, "I was 11 years old back then and was travelling with a much older cousin. He introduced me to desi (country liquor) and developed a liking for it since then."
Kishan says intoxication in all age groups is a common practice during the Kanwar Yatra since a large distance is covered every day. "The body starts aching, we have no other option but to divert our minds," he adds.
Most members of the group are school dropouts, but Kishan is in Class 7 and has skipped his mid-term test to be part of the yatra. "It nearly takes four days for us to reach here, then we stay here in the temple for two days and leave after the last aarti of Shravan," says Kishan, "We collect water from the Ganga in Kanpur and pour it on Lord Shiva," adds his friend Sameer.
All 15 boys in the group were intoxicated, had chillums and were carrying a packet each of bhaang (cannabis) comprising 30 tablets each. "Bhaang is prasad from Lord Shiva; we will consume this after we pour the Gangajal on our lord," says 17-year-old Kumar Ashish, who has been going to Mahadeva for the past eight years. Getting into brawls is highly likely since everyone is inebriated.
"We are young and sometimes quarrels between group members also turn into huge fights involving locals and onlookers," says Ashish while smoking weed on NH-28 ( Lucknow-Faizabad Highway). He adds, "Although we haven't looted anyone, we know groups who do so because of their lack of resources and their needs."
Almost everyone in the group has parents who were either construction labourers or small-land farmers, and the children are also involved in the same business. These will soon include Kishan, who plans to drop out of school this year and work.
Tracing the historical origins and the present day journey of the Kanwariyas
What began as a religious journey has morphed into an exercise in commercialisation
Entertainment
Farmani Naaz has nearly 4 million subscribers on her YouTube channel and her rendition of Lata Mangeshkar's Milo Na Tum To Hum Ghabraayein has garnered over 9 million views.
India
Dispute erupted in the Cantonment police station area over playing of DJ music by kanwar pilgrims. It is alleged that people of other community threw dirty water on the kanwariyas from their roof, following which the pilgrims staged protests