The Government appointed Thorat committee report, which was formed to look into the political cartoons in the 9th, 10th, 11th, 12th NCERT text books, has submitted its recommendation. It has suggested removal of 36 political cartoons which have negative references to politicians and bureaucrats. According to historian Pushpesh Pant the committee simply reiterates what the Government wants.
"The committee was in a great haste as it exactly reiterates what the ruling class in this country wants," Pushpesh Pant told CNN IBN.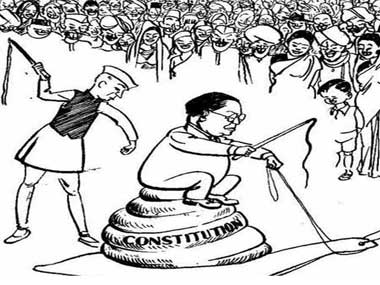 "The committee have been supine, except the dissenting member. When they were asked to bend they started crawling," he added.
The report has observed that there are too many cartoons of Indira Gandhi and has recommended to remove them.
"We are so much in awe of the ruling dynasty in the country that anything which caricatures or lampoons the Nehru-Gandhi clan is sacrilege and you might be stoned in near future for being heretic," Pant said.
"The sooner we get rid of the HRD minister, and his cronies, the better for the country's education system," he added.
The committee was formed last month after an Ambedkar cartoon featured in one of the NCERT textbooks caused an uproar in parliament. The textbook was immediately withdrawn from circulation.
"Rather than sensitise people about Dalit sensibilities or minority sensibilities, we are in a reckless haste to appease people," Pant said.
The report will be submitted to the HRD ministry and if the ministry gives approval, NCERT will have to remove all objectionable cartoons and reprint the textbooks before the next academic session starts.
Updated Date: Jul 03, 2012 14:46 PM