Telangana seeks compensation from Centre for 'losses' due to demonetisation
A TRS leader said that with this panic situation owing to demonetisation, Telangana's revenue has come to a standstill, which is jeopardising the state government's plans.
Hyderabad: Telangana's revenues have taken a severe beating following the demonetisation move, and the state wants the Centre to compensate for this loss, a key leader of the ruling TRS said on Tuesday.
AP Jithender Reddy, TRS (Telangana Rashtra Samiti) floor leader in the Lok Sabha, said Prime Minister Narendra Modi's intention to curb black money (by demonetisation move) is welcome, but the way it was implemented was not correct.
He recalled that high value currencies were made invalid within four hours of the announcement on demonetisation. "With this panic button, all professionals, all the labour class people, employees, everybody have come onto the streets for changing the money (old currency)," Reddy told PTI, adding that the economy of the newly-born state of Telangana has come to a "standstill".
Stating that Telangana Chief Minister K Chandrasekhar Rao has adopted a target-based approach in implementing various Government programmes in a time-bound manner, the Mahabubnagar MP said "with this panic situation, the state's revenue has come to a standstill, which is jeopardising our plans". "So, I have requested the Prime Minister that the revenue loss occured by the state should be compensated by the Centre," Reddy said.
"Whatever taxes supposed to come to the state...for example, registration fees (property) affected, RTA (Regional Transport Authority) money (motor vehicles registrations) has been affected ... commercial taxes, sales taxes, all the revenues, excise has been hampered now," he said.
"Revenue for the state has stopped," he said. TRS is not (not) for rolling back the move, and would not join ranks with some opposition parties demanding its withdrawal, Reddy said, adding, "our demand will be basically compensation (for the loss)".
India
The unmanned aerial vehicles will aid in providing the vaccines in a timely manner to very hard-to-reach areas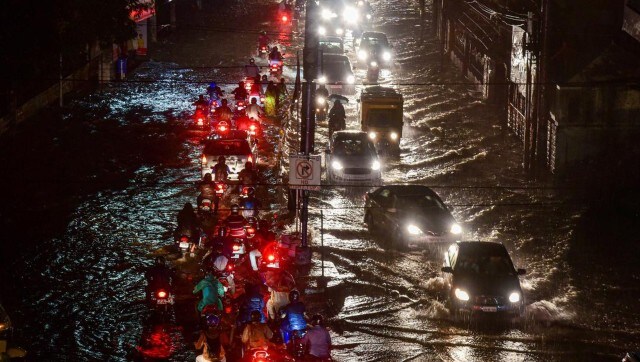 India
Currently, roads and the low-lying areas are inundated with water especially, Kukatpally and Nalas in Vanasthalipuram have overflowed due to heavy rains.
India
Chief Minister K Chandrasekhar Rao, expressing grief over the incident, directed officials to identify dilapidated houses and structures in villages