Tehelka business: Murky deals, profits for Tejpal family, Shoma
Firstpost investigations reveal that many investor companies were 'briefcase' companies, used only for parking funds from unknown destinations.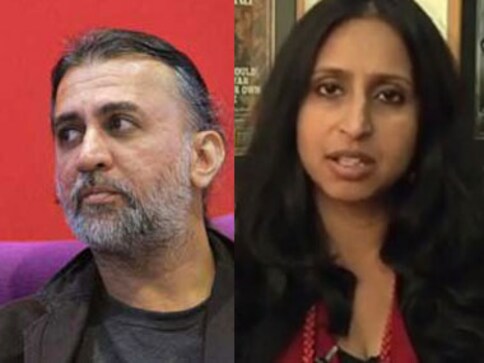 As it becomes increasingly evident that the sexual assault charges against Tarun Tejpal will not be the only woes for the Tehelka management in coming days, it now appears that the Tejpal family and Tehelka's managing editor Shoma Chaudhury made a killing through a series of doubtful transactions. They sold some of their shares in one of their companies at mind-boggling premiums to a nondescript company, pocketing large gains.
On one occasion, a share of Rs 10 was sold at a premium of Rs 13,189. And select  founding members of Tehelka were quick to offload their own shares at this price, even when the net asset value of Tehelka's company, Agni Media Private Limited (now Anant Media Private Limited), was negative.
Meanwhile, those who worked with Tehelka during 2005-06 are clear that the institution was never in robust financial health. "Our salaries were delayed for two months,'' recalls the then bureau chief of Tehelka, Hartosh Singh Bal. But around the same time, the personal fortunes of some of the shareholders was about to improve dramatically.
Shareholders who benefited despite the miserable finances of Anant Media Pvt Ltd include the Tejpal family and Shoma Chaudhary, the managing editor who resigned yesterday (November 27). Other shareholders, like Ram Jethmalini (165 shares), Kapil Sibal (80 shares) and London-based entrepreneur Priyanka Gill (4,242 shares) are sitting on the periphery, their shares more or less dormant.
Sibal told Firstpost: "I don't even know that Tarun issued shares in my name. I had donated Rs 5 lakh to Tehelka in good faith, but I never filled any application for share allotments.''
These 80 shares in Sibal's name have existed on the books since 2005. And so do Ram Jethmalani's shares.
It is strange though that Kapil Sibal is not even aware that Tehelka shares have existed in his name since 2005. But he may be right that he gave the money as a 'donation' and not to buy shares. Before 2005, Tarun Tejpal had struck a chord with many celebrities while he sought donations. He is said to have collected Rs 2 crore with a donation of Rs 1 lakh each from Bollywood stars, including Aamir Khan and Nandita Das. They all contributed in good faith to see Tehelka emerge as an alternative media solely supported by like-minded people.
This idea was shortlived.  Many questionable deals began to surface through many nondescript and non-serious company investors.
In this Tehelka story, there are mainly six investors – Fakhruddin Tahirbhai Khorakiwala, AK Gurtu Holding Pvt Ltd, Enlightened Consultancy Services Pvt Ltd, Weldon Polymers Pvt Ltd, Rajasthan Patrika Pvt Ltd and Trinamool Rajya Sabha MP K D Singh's Royal Building and Infrastructure Private Limited.
Barring Rajasthan Patrika and Khorakiwala, most of them registered huge losses and disappeared from the scene. Firstpost investigations reveal that many of these were 'briefcase' companies, used only for parking funds from unknown destinations. The same was invested in Anant Media Private Limited. The trend in Tehelka's investors is that they exist for a couple of years and then disappear after registering losses.
First, the beneficiaries:
• Shoma Chaudhury was then Editor (Features). Anant Media had allocated 1,500 equity shares to her at a price of Rs 10 each. On 14 June 2006, she sold off 500 shares to AK Gurtu Holdings Private Ltd at a premium of Rs 13,189 per share, thus pocketing Rs 66 lakh (Rs 65,94,500 to be precise). In short, Shoma Chaudhary's Rs 5,000 investment (a third of her full investment of Rs 15,000 in buying 1,500 shares) brought her Rs 66 lakh in less than three years.
• Tarun Tejpal's wife Geetan Batra sold off 2,000 equity shares to AK Gurtu at a premium of Rs 13,189, thus getting Rs 2.64 crore.
• Tejpal's brother Minty Kunwar sold 1,500 shares to AK Gurtu for nearly Rs 2 crore.
• Tejpal's father Inderjit Tejpal offloaded 1,000 shares to AK Gurtu for Rs 1.32 crore
• Tejpal's mother Shakuntla too sold 1,000 shares to the same company for Rs 1.32 crore
• Tejpal's sister and Tehelka's COO Neena T Sharma sold 432 shares for Rs 57 lakh.
Tarun Tejpal did not offload any of his shares. Rather he acquired 4,125 equity shares from two persons, Shankar Sharma and Devina Mehra, at Rs 10 per share on the same day - that is, 14 June 2006. Thus on the same day, Anant Media shares had two different prices – Rs 10 and Rs 13,189 per share!
In fact, the new Finance Act 2012 prohibits private companies from issuing equity shares at more than their net asset value. This has been made a cognisable offence. The net asset value of Anant Media was negative at the time these transactions took place. Thus its share value is not even Rs 10, whereas it sold off equity shares at prices ranging from Rs 2,000 to Rs 13,000-plus a share.
The only non-Tejpal family shareholder, who appears to have made huge money from Tehelka's equity shares, is Mumbai-based businessman and Padmashree award winner Fakhruddin Shaikh Taherbhai Khorakiwala.
In 2005, when Tehelka had done several exposes on Godhra, Khorakiwala came forward to rescue the magazine and invested Rs 4.65 crore in installments by buying 19,326 equity shares at a premium of Rs 2,409.35 a share.
Anant Media's balance-sheets reveal that Khorakiwala offloaded all his shares to AK Gurtu in 2006 at the premium of Rs 13,189 and pocketed Rs 25.49 crore. Khorakiwala passed away in 2011 at the age of 93, but sources close to the family claim he never got Rs 25 crore against his investment in Tehelka. In short, it was a donation.
Firstpost emailed a detailed questionnaire to Tehelka COO Neena Tejpal Sharma and Shoma Chaudhury, but they did not respond.
The investors' companies, however, are a big mystery.
Who owns A K Gurtu Holdings Private Limited, which invested Rs 40 crore in Tehelka in 2006 and just disappeared after a year? The name of AK Gurtu had prominently had figured in Tehelka magazine's masthead, along with an undertaking from Tarun Tejpal that he had verified the antecedents of AK Gurtu before seeking its money.
AK Gurtu Holdings, however, does not figure on the radar of Ministry of Corporate Affairs. Even a Google search throws out only one Arun Kumar Gurtu, Director of a Chennai-based Company called Marg, but he was never part of AK Gurtu Holdings.
On Tehelka's records, the office of AK Gurtu Holdings was initially located in 22 Jangpura A in New Delhi. Tejpal too resides in Jangpura. Later, Gurtu's office shifted to 313, MJ Shopping Centre, 3 Vir Savarkar Block, Shakarpur, Delhi-110092.
Firstpost checked both the addresses. AK Gurtu doesn't exist at the places mentioned.
AK Gurtu suddenly folded its investment in 2007 and its shares were transferred at a loss to two companies – Enlightened Consultancy Services Pvt Ltd and Weldon Polymers Ltd – at a premium of Rs 10,623.
Strangely, Enlightened Consultancy has the same Shakarpur address that AK Gurtu Holding had!
"Areas like Shakarpur and Rohini are 'Mauritius' for us these days. We red mark any investments coming from these areas. Investment companies operating in these areas are briefcase companies. They don't do any manufacturing. They are just used as post offices to convert black into white money," says a senior Income Tax officer.
Two years later in 2009, even Enlightened Consultancy folded up its operations in Tehelka.
Firstpost investigations reveal that Enlightened Consultancy registered huge losses from its Rs 17 crore investment in Tehelka and made an exit.
The company's balance-sheet reveals that Enlightened Consultancy is even funding Weldon Polymers Pvt Ltd, which in turn is making investments in Tehelka. Thus it is a maze of doubtful transactions through which Tehelka got huge sums even when its net asset value is zero and its accumulated losses run into tens of crores of rupees.
In 2009, Rajasthan Patrika Pvt Ltd was lured in to invest Rs 1.75 crore in Tehelka. On 22 June 2009, Rajasthan Patrika bought Tehelka shares at a premium of Rs 4,493.35 per share, while another company bought the same share for Rs 10,623. Such discrepancies are rampant in investments made in Anant Media.
The last saviour for Tehelka is Trinamool Rajya Sabha MP KD Singh. His company Royal Building and Infrastructure Private Limited (RBIPL) has invested nearly Rs 32 crore and has a 66 percent stake in the company. In fact, Anant Media Private Limited is now a 'subsidiary' company of RBIPL. Satish Mehta, Director of RBIPL, is Promoter and Director of Anant Media as well.
KD Singh, who now owns Anant Media by virtue of his majority stake, says he will exit Anant Media. The Tejpal family has less than 22 percent stake. Singh's exit means certain death for Tehelka.
(The author is a former Tehelka journalist who worked with the organisation till mid-2011.)
Politics
Visuals of Rahul Gandhi at a Kathmandu bar have once again put the spotlight on the Congress leader's many vacations. Who can forget his 53-day-long sabbatical in 2015 or the time he 'disappeared' during the anti-CAA protests?
Entertainment
Rashmika Mandanna and Varun Dhawan recently collaborated for an advertisement, which went viral on social media in no time.
Arts & Culture
In a chat with Firstpost, Dayanita Singh speaks about the Award, her relationship with images, her new book 'Let's See' and about Saligao village which holds a special place in her heart