Tamil Nadu farmers call off protest, serving a grim reminder of how far removed state has become from India
Tamil Nadu, Kerala and Karnataka are facing one of the worst droughts in history. Is the Centre waiting for more farmers to commit suicide? Or is it because south India no longer has the political currency to get its voice heard in Delhi?
Mahatma Gandhi failed. Farmers from Tamil Nadu calling off their 100-day protest at Jantar Mantar is proof, if you needed one, that Gandhigiri doesn't work in India anymore.
For the last six weeks, 100-odd farmers from Tamil Nadu, covering themselves with no more than a loincloth, had reduced themselves to a spectacle, compromising their sense of dignity. They tried to drink their own urine, ran naked in front of the prime minister's residence, carried the skulls of their loved ones who had died or committed suicide since October last year, ate food served on the road, clutched live rats and dead snakes in their mouth. But except attracting media attention, and even that was more because of the macabre optics of their protest, their non-violent approach did not achieve anything.
It may sound an extreme reaction to those living north of the Vindhyas, but New Delhi has pushed Tamil Nadu, and to an extent south India, a bit further away with the "I don't care" attitude. No one expected magical solutions to complex issues like farming and drought. But when the government that Indians elected cannot even care to reach out and put an arm around Tamilian farmers and tell them, yes we care and we will do something, it signifies inability to be compassionate.
Farmers wanted to feel the "mann", but they returned to Chennai heartbroken that they did not get to hear any "mann ki baat".
Why were the farmers agitating in Delhi and not in Chennai? Simply because their protests in different districts of Tamil Nadu over the past many months had yielded zilch. Did anyone outside Tamil Nadu even know about them clutching live rats? They wanted a loan waiver from nationalised banks, wanted the Centre to give a significant drought relief package to Tamil Nadu and a Cauvery Management Board that would give them a decent share of the river water even in a bad year. These are issues for the Union government to resolve, not Chennai, and in any case, Fort St George has been in administrative lockdown with the ruling AIADMK party engaged in political firefighting.
Not that the agitators did not occupy the mindspace of the ruling elite. An attempt was made by armchair critics and supporters of the establishment who had not stepped into the parched Cauvery delta, to denigrate the protesters, looking for motives, portraying the leader as a rich man, as if a farmer did not deserve to be moneyed. Short of being called anti-national, every slur was cast. Not surprising, considering from the same tribe comes former BJP MP Tarun Vijay, who articulated that north Indians were doing "dark" south Indians a favour by living with them in the same country.
But this is not just about the farmers. This is about how those in power respond. Which is perhaps why over the past few months, one has been hearing voices that convey a sense of frustration with the way Lutyens Delhi functions.
Right through the Jallikattu protest in January, Chennai was simmering with a similar feeling of being let down by the "India above us". A majority of protesters at the Marina felt that New Delhi did not understand south India. And Tamil Nadu, most definitely not.
On Saturday, Leader of Opposition in the Tamil Nadu Assembly MK Stalin accused the Narendra Modi government of imposing Hindi on non-Hindi citizens. The state is unlikely to have the same resonance for an anti-Hindi agitation like it did in the 1960s, but what Stalin is picking on is the feeling that progressively, Tamil like other non-Hindi languages, is being given a short shrift.
Not that there is anything wrong in learning a new language, but Stalin is connecting the dots. That making Hindi the link language — from schools to Parliament and on highways — while not showing any empathy to a Tamil Nadu reeling under the worst drought in 140 years, symbolises the domination by the Delhi Sultanate.
And Stalin is not the only one who feels so. Actor-turned-politician Pawan Kalyan has been expressing his angst over the North-South divide for some time now. He was upset at the manner in which the NDA government went back on its promise to give special category status to Andhra Pradesh and accused it of having a Delhi mindset.
"To keep Indian integrity intact, National parties #BJP, #Congress should stop their UP, Bihar and Delhi centric politics,'' Pawan Kalyan had tweeted then. "Delhi alone is not India," he tweeted again.
Implicit was his suggestion that Delhi's ignorance of south India and its arrogance is hurting those below the Vindhyas. And how did the BJP react to a former ally? Party spokespersons dismissed Kalyan as a Twitter tiger, forgetting that their own leaders emphasise on social media.
At least those in Andhra should know the political cost of "heaping insult". Over three-and-a-half decades ago, NT Rama Rao rode to power on the plank of Telugu atmagauravam (self-respect). This was after then Congress general secretary Rajiv Gandhi had snubbed Andhra Chief Minister T Anjaiah at Hyderabad airport. It's the same rhetoric of Tamil and Telugu pride that is being raised once again, and if not handled with care and sensitivity, it threatens to rupture the fabric called India.
On Sunday, Kalyan tweeted in response to what is being seen as Hindi chauvinism, saying, "If the Centre doesn't respect the sub-national identity in a country like ours, which is known for its cultural, linguistic and ethnic diversity, then they are creating a fertile breeding ground for separatist movements."
Indeed, the next time anyone wants to protest, he will not look at the Jantar Mantar template. He will ask why not copy the Jat agitation of 2016 when rail tracks were uprooted causing Rs 100 crore loss to the Railway? By turning a blind eye to the apathy of the farmers, New Delhi has conveyed that only disruption can succeed in attracting political attention.
Tamil Nadu, Kerala and Karnataka are facing one of the worst droughts in history. Is the Centre waiting for more farmers to commit suicide? Or for things to get so bad that they have to send water trains, like they did last year to Maharashtra? Is it because Tamil Nadu no longer has the political currency to get its voice heard in Delhi, like it used to under Jayalalithaa?
Last week, when farmers staged a nude protest, it was not a shame-shame moment for them and Tamil Nadu. It is a heartless India that was shamed.
News & Analysis
Pegasus is a spyware suite sold by Israeli company NSO Group to "vetted government clients". It is used to compromise and conduct surveillance on targeted Windows, Mac computers, and also Android and iOS smartphones
India
The typographical error had led the trial court judge to treat the semen found in the genitals of the child as semmann, which was not uncommon on a child playing on the floor outside a house.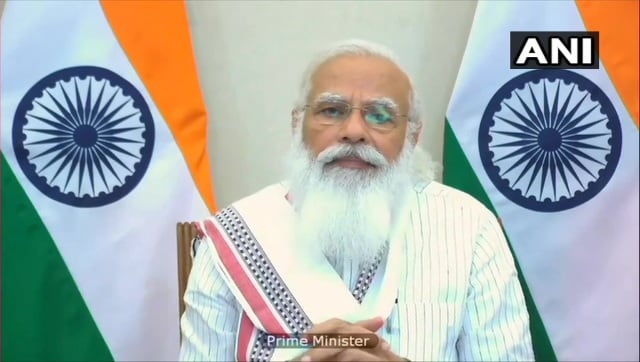 India
During an interaction with CMs of Tamil Nadu, Andhra Pradesh, Karnataka, Odisha, Maharashtra and Kerala, Modi said that 80% of the new COVID cases last week were from these states