Swaraj at 70 Part 7: India needs a more inclusive model of development, says Vijay Mahajan
Vijay Mahajan talks about how three million poor households are looking for Swaraj through microfinance and livelihood promotion services.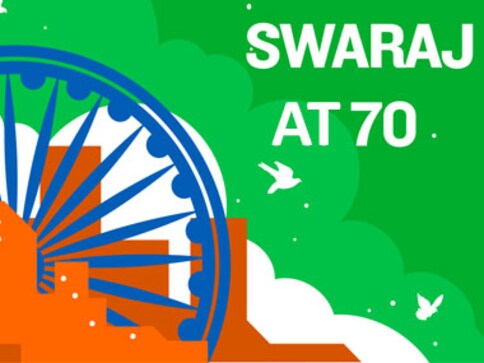 Editor's note: It's ironic that 70 years after India became an Independent country and a democracy, the invocation of aazadi evokes bitter conflicts. Whether it is on university campuses or in the midst of the conflict in the Kashmir Valley – both calling for aazadi and challenging that call as anti-national arouses mighty passions. By comparison, swaraj is hardly ever invoked in the public discourse. It almost seems like a historical artefact, a fragment of fading memories of the Freedom Struggle. This is the seventh part of a series titled Swaraj at 70 that seeks to take a closer look at this dichotomy.
Had Vijay Mahajan not marched to the beat of a different drum, today he might have been the head of a global multi-national company. Instead, the 63-year-old chose to put both his IIT and IIM degrees to work in solving the problems of rural India.
PRADAN, an NGO Mahajan co-founded in the mid-1970s, created mechanisms for young professionals to work at the grassroots level to promote livelihoods for the poor. In 1996, he founded the Basix Social Enterprise Group, which has served three million poor households through microfinance and livelihood promotion services.
Firstpost spoke to Mahajan, who has been a member of the Government of India's Committee on Financial Sector Reforms and on the C Rangarajan Committee on Financial Inclusion. After retiring from Basix earlier this year, Mahajan is now reflecting and writing on how to build an 'Economy of Nurturance'.
Edited excerpts follow:
What does Swaraj mean for you in today's India?
For those of us who are familiar with Gandhiji's book 'Hind Swaraj', it is hard to talk about Swaraj without that influence in the forefront. Even if one can't live by that lofty standard, the standard remains. So, to whatever extent I'm able to practise it, first and foremost, Swaraj means an individual jihad – using here the original meaning of jihad as a fight within yourself for the triumph or raj of your finer humane qualities over your baser instincts. Secondly, in its more common usage, Swaraj still means independence, autonomy so that 'raj' is a process of collective self-governance.
How are we doing in this respect in India today?
These attributes of Swaraj militate against the dominant idea of the 20th century – that it is the responsibility of the state to provide for the welfare of its citizens. We've got some welfare in the process but the state has acquired over-weaning powers. In addition, traditional as well as new elites have benefited enormously from the state. As an example of the former, see who was in the Civil Services till about the 1980s – mostly young men from upper castes with English medium education. There were, of course, some exceptions, but they were few.
As an example of how new elites benefited, take the IT industry as an example, which has been built on resources provided or funded by the government – land at throwaway prices, talent from publicly funded colleges and a 20-year tax holiday. As it earned much needed foreign exchange for India, the industry was supported well beyond the early stage when it deserved that support.
The amount of over three lakh crore rupees that the Government of India has given to the IT industry as a tax break and subsidy could as well have upgraded the entire vocational training system for the nation and created skilled workers by the millions at the base of the pyramid, not just at the top. In a fractured polity which has benefited at most 10 percent of the population, self-reliance and autonomy for the bulk of the people is still a dream.
So, what would change this reality?
We must acknowledge that the current economic model can't even reach the third quartile, let alone the desperately poor in the lowest fourth quartile of the per capita income distribution. We need a new, more inclusive model of development. This means recognising that people who are 30 years or older, who constituted 40.6 percent of the population in 2011, find it difficult to change either their geography or their occupation.
Most of those in that big bulge of our population, those younger than 30 years, don't want to be in agriculture but lack the skills for the urban sector. Even the informal sector cannot absorb all the people in this category. The recent NSS (National Sample Survey) data shows that about 11 crore people work in the informal non-farm sector in about 6.3 crore enterprises.
All of the above is the consequence of a massive macroeconomic investment deficit. To most people, this means lamenting the lack of investment in modern infrastructure and that is an issue. But my focus is more on the fundamental factors of natural resources, such as soil, water, forests, grazing lands; and human resources, such as childhood nutrition, secondary education and vocational skills.
Addressing these two deficits requires about five percent of the GDP (about Rs four lakh crore) to be invested annually in these sectors but we are not even allocating a fraction of that amount. Meanwhile, the drain of resources by the "law and order" sector, and subsidies of all kinds to agriculture – most of which flow to the big farmers – continues to grow.
From IIM to grassroots NGO work and then micro-finance, what has this journey taught you about the challenges of realising Swaraj as a greater individual sense of agency and responsibility?
My whole working life has been an attempt to take lofty ideals and try to bring them into action on the ground and then living with the pain of seeing their flawed implementation. For example, when I worked at the grassroots on a range of people's empowerment projects, I realised that access to capital is the core element of poverty alleviation, even for the smallest endeavour in the economic ladder.
So, in PRADAN, an NGO promoting livelihoods of rural poor communities, we thought we will provide technical assistance and organising support while banks will provide loans to the poor. This worked well as small-scale pilot projects but did not work on any substantial scale.
So, I left the NGO sector and founded a microfinance company that did succeed in creating this scale. Over twenty years, this whole sector grew and today over Rs 1.2 trillion go into micro-finance every year. This is a huge success which has altered people's lives by giving them a greater sense of their own problem-solving abilities.
But microfinance has gone very far from what it was originally intended to be – it got subverted by the incentive systems of investors to MFIs (microfinance institutions) and from MFIs to their employees, who then moved away from prudent practices in order to grow their client base and the number of loans disbursed. But the ultimate subversion was that the system then incentivised many borrowers to take more than they could viably repay.
While borrowing, they were happy. But when the time came for repayment, many of them were in difficulty and some were driven towards extreme measures. This became a classic example of what happens if you seek to focus on the sustainability of the MFI rather than its original purpose, which was to help poor people build livelihoods.
Did the flaws in the expansion of microfinance teach you that this experience undermines the very idea of Swaraj, as command over one's self?
No, all it meant was that the sector required better regulation, including self-regulation. We took several steps towards this – by establishing MFIN (Micro Finance Institutions Network) as a self-regulatory organisation recognised by the Reserve Bank of India (RBI), as well by putting all microfinance borrowers' names in credit information bureaus and imposing the requirement of a compulsory credit check before an MFI can lend. RBI Guidelines as well the MFIN code-of-conduct since 2012 bar any MFI from giving a third loan to a borrower who has two outstanding loans already. So, Swaraj is setting in, though it is not yet perfect.
In fact, I don't think the system can ever be perfect. We are imperfect beings capable of enhancement. Once upon a time, people thought it was impossible for humans to fly but it became possible. The whole purpose, the telos, of society is to enable individuals and institutions to rise to the next level of proximity to perfection. I can't believe that something as complex and beautiful as human existence is doomed to poor performance or chaos.
In the immediate context, what gives you hope in this respect?
Many people look at the down side. The welfare state has undermined initiatives and fostered an entitlement mentality. The perverse effect of the 73rd amendment is that local governance got politicised on party lines. So, Panchayats have become the lowest rung of elective democracy rather than a form of local self-governance. But on the positive side, a million people have got elected, one-third of them women, and have served a public office in their community and have allocated budgets, spent funds and achieved some improvements.
Likewise, in the 85 lakh Self-Help Groups (SHG) of about 10 crore women, which together have disbursed loans of over Rs 2.4 trillion in 20 years, at least a crore women have played a leadership role at their SHG, village federation of SHGs or cluster/block/district level federations. Even in urban areas, resident welfare associations are now increasingly active and demanding services and accountability from municipalities and utility companies.
So, I am enthused by the can-do spirit at many levels of society. This extends from thousands of social enterprises trying to address issues all the way from school teaching quality improvement to widening access to emergency care for the poor to rights based campaigns like Right to Information, the National Rural Employment Guarantee, the Right to Education and the struggles to save the environment. These do foster a collective sense of agency, even though the 'collective' is being redefined.
Are these positive trends significant enough to make a difference to the society as a whole?
Not unless we create alternative narratives which don't hark back to the dreams of the 1950s or even earlier. The 21st-century version of Swaraj has to be dynamic and this cannot be done without a balance between the lifestyle aspirations of the majority and conservation of the environment and natural resources.
Technology can help, such as solar for energy and IT plus telecom for minimising movement for small transactions. But technology must be made a tool of human progress, rather than a means of control and hegemony. People as consumers must find mechanisms of organising to exert a counter-veiling power that checks corporate power. The fourth sector now is the consumer sector, just as the citizen sector is the third.
Are you saying that the sense of Swaraj now depends more on people-as-consumers rather than as citizens? If so why?
Well, the abiding reality is that a vast majority of human beings are aspiring for a higher lifestyle. And this is highly justified for those living at the fourth quartile, at the base of the pyramid and perhaps even for those in the next or third quartile. But thereafter, we need to establish voluntary curbs on aspirations and consumption. Interestingly, this is what was the ancient wisdom of India and this is what Gandhiji said in Hind Swaraj, that if we see progress as material progress and not inner spiritual progress, Swaraj will have no meaning.
So yes, consumers should organise to curb corporate power, just as citizens organise to curb untrammelled state power. But that is perhaps valid for the consumers at the lower end of purchasing power. Those at the top can become a self-regulatory organisation, to educate members about voluntary curbs on aspirations and consumption
You are now focusing on an 'economy of nurturance'. What does this mean and how do you see the concept being put into action?
I began writing a monograph, which now looks like it might become a book on – Building and Economy of Nurturance (BEN) – inspired by Elaben Bhatt. It was only in the 20th century that the economic worldview became so dominant that we now speak of 'the economy' as if it exists independent of the society or of the polity.
To restore the balance, this book begins with a critique of the current economic worldview and its negative impact on the social and political system, and then makes suggestions for corrective action, which, though mainly aimed at the economic framework, also promote social and political improvements.
The term we use for the alternative economic worldview is the "economy of nurturance".  Nurturance is the opposite of exploitation, which is the underlying paradigm of the present economic system, based as it is on the exploitation of human beings and the exploitation of natural resources.
Swaraj at 70: The concept of aazadi is no longer enough
Part 1: Past 25 years are a matter of pride, but there's a long way to go, says Baijayant 'Jay' Panda
Part 2: Not being able to disagree without causing upheaval is dangerous, says Sushobha Barve
Part 3: Alternative brand of politics has disappeared from India, says Piyush Mishra
Part 4: Youth can play a significant role in solving farm crisis, says Kavitha Kuruganti
Part 5: For true freedom, we need to end oppression of handouts and subsidies, says Arun Maira
Part 6: People's aspirations are no longer limited by age and class, says Ashni Biyani
Part 8: Politicising of human rights issues has pushed liberal discourse into corner, says Kalyani Menon-Sen
Part 9: Technology has the potential to redefine social fabric of India, says Siddharth Sthalekar
Part 10: Food sovereignty should be ultimate goal of democracy, says Jean Dreze

also read
Explainers
The monetary policy committee of the Reserve Bank of India voted unanimously to keep the repo rate unchanged at 6.50 per cent. Experts say this means those with existing home loans should see no change in EMIs. However, the question of whether a borrower should choose a floating or fixed rate going
India
The RBI said that it aims at expanding the ongoing pilots in the CBDC (central bank digital currency) -Retail and CBDC-Wholesale by incorporating various use cases and features during the current fiscal.
Business
RuPay Debit and Credit cards issued by banks in India have gained international acceptance through bilateral arrangements with international partners and co-badging arrangements with international card schemes.