Perpetrating an injustice on humanity in the name of tradition is the ideal of a selfish society. Those upset with the Supreme Court's decision to ban sale of firecrackers in the National Capital Region (NCR) are arguing in favour of a temporary pleasure that is causing irreversible long-term damage to their own future and posing a threat to the life of thousands of people.
The argument that people be allowed to burst crackers on Diwali even if the fumes pollute the Delhi air is, in essence, a specious demand for the right to slow poison people to illness and death. Though the intent could be noble, the effect could be nothing short of turning Delhi into a gas chamber and asphyxiating its people to a slow, painful life of torture.
Calling crackers an essential ingredient of Diwali culture is flawed. Firecrackers were first invented in China, sometime in the 7th century. After years of use in Chinese festivals, they spread to other cultures and societies.
Deepavali, on the other hand, dates back to several centuries before the invention of firecrackers. It is mentioned in some of the ancient Hindu scriptures and is narrated in great detail as a festival of lights in literature from the 7th century. In its original form, it was considered a festival of lights -- a Sanskrit play from King Harsha's era (590-647) refers to it as Deepapratipadutsav. In many other places, it is talked about as a festival on which lamps are lit, houses are whitewashed and gifts are exchanged.
Arguing that bursting of crackers is part of the Deepavali culture is just hokum. Crackers became part of festivities several centuries later, inspired by some Chinese traditions. Naturally, if a custom can be added to a festival, it can be proscribed too depending on the prevailing socio-cultural environment.
In fact, bursting crackers to the detriment of the environment is against the Indian philosophy that considers air as one of the five essential elements of Nature. Polluting it, turning it toxic with poisonous fumes is, thus, an act of impiety, an act of violence against Nature.
It is interesting to note how cavalier people are towards air when they take millions of precautions while dealing with water. In every household that can afford it, there are water purifiers and filters. Those who do not have access to clean water, try to buy packaged water. And nobody in their right mind drink from a source that is polluted with chemicals and waste. Yet, when it comes to air, there is serious lack of concern about the quality we inhale. It is difficult to understand how humans who worry about their gastrointestinal health could be so blase about their respiratory health.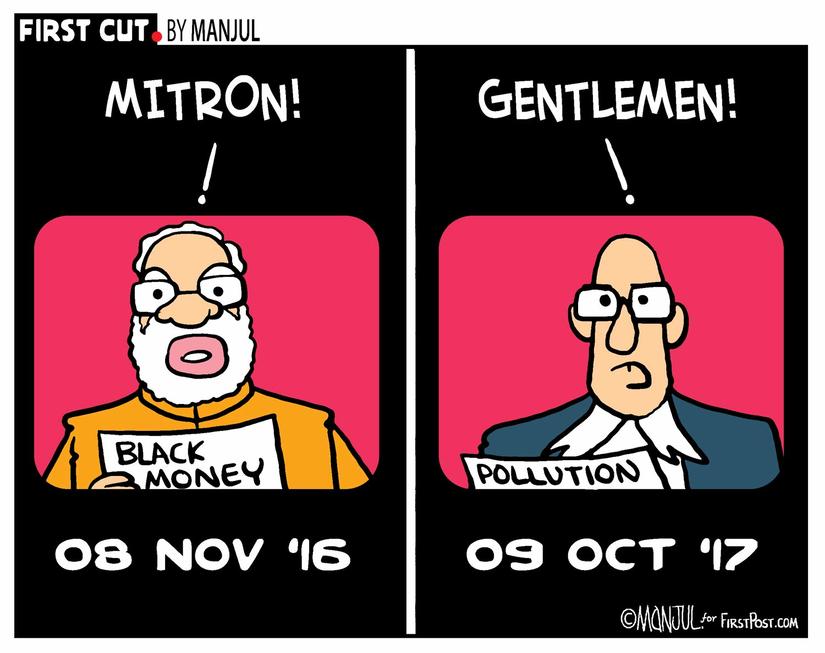 It has been clearly established that fumes from crackers turn the Delhi air toxic the day after Diwali celebrations. In 2016, according to a report in Hindustan Times, the air quality index had peaked — touching the maximum limit of 500 — in almost all monitoring spots in the city. Air pollution level is classified as severe if it is between 401 and 500.
The newspaper reported that Delhi Pollution Control Committee's real-time ambient air quality data said the PM10 and PM 2.5 readings went up alarmingly. PM10 was recorded at 4,273 µg/m³. PM2.5 touched an alarming high at 748µg/m³ at 2.30am. The permissible level of PM 2.5 is 60µg/m³ while PM10 is 100 µg/m³.
Health experts have warned that the respiratory health of Delhi's residents is failing because of the ambient air quality. Half of its children have impaired lung functions. During winters, its air becomes the most polluted in the world by a huge distance, beating other cities by a huge margin. Such is the suffocating environment in the city that many now call the Indian capital New Deadly.
It is, thus, the collective responsibility of every citizen to save the city, its residents, its environment from deterioration. This can be done only by avoiding activities that add to the respiratory burden -- controlling industrial fumes, vehicular pollution and abstaining from recreational activities that lead to further deterioration of air.
The problem with cribbers and cynics in Delhi is that they believe controlling pollution is the responsibility of everyone except their own. So, they will blame it on stubble burning, industrial units, vehicles that do not follow emission norms and inefficiency of governments. But, they will resist almost every effort to clean Delhi's air if it causes them any discomfort, imagined or real.
Seeking the right to pollute air, make people ill and push children towards long-term respiratory distress in the name of culture and tradition is the basest of all arguments. Those who are proffering it should know that if Delhi continues to mimic a Nazi gas chamber — Inhale, Hitler being its collective death cry — there may be nobody left to preserve the culture they seek to protect through their irrational arguments.
Updated Date: Oct 11, 2017 06:46 AM