Sukma naxal attack: Rebels used villagers as shields, says survivor
Maoist rebels who killed 25 paramilitary troops in an ambush in central India used local villagers as human shields, a survivor said Tuesday.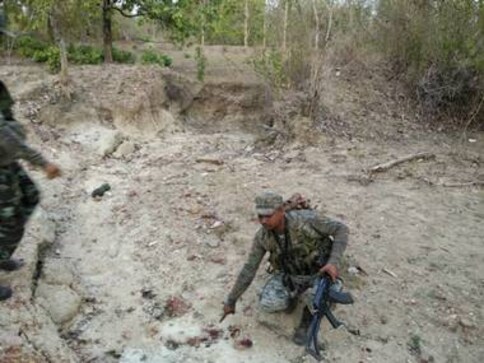 Raipur: Maoist rebels who killed 25 paramilitary troops in an ambush in central India used local villagers as human shields, a survivor said Tuesday.
Sher Mohammed, a paramilitary soldier injured in Monday's attack in Sukma district of Chhattisgarh state, said around 300 fighters attacked the troops as they provided security for the construction of a new road opposed by the Maoists.
"The Naxalites (Maoists) first sent villagers to track our location. Then we saw 100-150 villagers approaching us. They were not armed. How could we fire at them?" said Mohammed, who was part of the 99-member commando team.
"There must have been 300 Naxalites, all in black uniform. They started firing indiscriminately at us. They had rocket launchers, AK-47s," he told reporters from his hospital bed.
India's Home Minister Rajnath Singh called the attack an "act of desperation" by the Maoists, who have long dominated thousands of square miles of central and eastern India.
However conflict expert Ajit Kumar Singh said the attack, which came just a month after a deadly ambush in the same location, was the result of a military intelligence failure.
"How come the movement of some 300 heavily armed people in a densely forested area went unnoticed? What are your intelligence operatives doing?" said Singh, a research fellow with the Delhi-based Institute of Conflict Management.
"Everyone knows there is danger all the time but the specific input was missing."
India's Maoists claim to be fighting for the land rights of marginalised tribal communities.
Their insurgency has claimed around 10,000 lives since it started in the 1960s, and is considered India's most serious internal security threat.
While operating from their jungle bases, the Maoists often descend on villages to demand protection money and recruit young men and women to their ranks.
They also oppose efforts to build new roads and infrastructure in remote areas because it undermines their long-running campaign against India's security forces.
Since his election in 2014, Prime Minister Narendra Modi has been seeking to stem the insurgency by earmarking development funds for revolt-hit areas and improving policing.
Singh said the movement had been weakened considerably by the government's initiatives.
"They have been feeling cornered," he said.
"When any militant outfit is in a desperate situation, they try to stage spectacular attacks to gain back prominence. And this is exactly what the Maoists have done this time."
India
It was yet again a botched up operation with tactical faults and judgment errors that ended the lives of 14 CRPF personnel in a Maoist attack in Sukma.
India
Twelve jawans of the Central Reserve Police Force (CRPF) were killed in an ambush by Maoists at Kottacheru in the Bhejji area of Sukma
India
Within a month of the Sukma attack in which Maoists killed 25 CRPF troopers, the paramilitary force claimed a huge success in its anti-Maoist operations — with 105 Left-Wing rebels caught and 25 surrendering — thanks to better intelligence gathering in a new "aggressive" strategy.