Sri Lanka president Maithripala Sirisena arrives in New Delhi, will attend International solar alliance
Sri Lanka president Maithripala Sirisena arrived in India on Saturday to attend the first conference of the founding members of the International Solar Alliance in New Delhi. He will head to Japan afterwards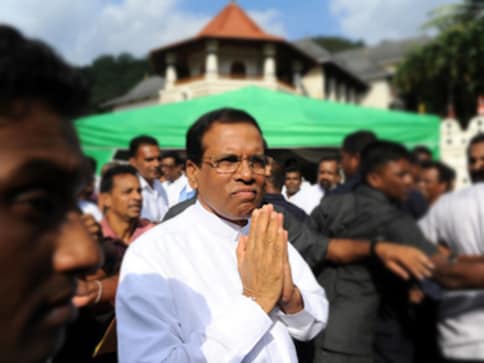 Sri Lankan president Maithripala Sirisena arrived India on Saturday to attend the first conference of the founding members of the International Solar Alliance in New Delhi. The Sri Lankan President will also be visiting Japan as part of his foreign tour.
Sirisena's foreign trip has come after four days of anti-Muslim riots hit the central hilly district of Kandy in Sri Lanka. The communal violence that has killed at least two people.
The president had proclaimed a state of emergency to quell the riots and Kandy was under curfew for five days.
The government also blocked social media in another desperate attempt to curb rumours and violence.
Sinhala mobs went on a rampage after a Sinhalese man died in a traffic accident. The incident was reportedly used to fan communal passions.
Sirisena's government has come under fire for its inability to take timely action to curb the tensions.
Sinhalese Buddhists make up about 75 percent of Sri Lanka's 21 million population while Muslims are 10 percent.
Tensions between Muslim groups and the majority Sinhalese Buddhist community in the country have escalated since the end of the civil war in May, 2009.
With inputs from PTI
also read
World
Every year, Israel marks the 1967 capture of East Jerusalem and the event ends with a Flag March, where thousands of nationalist Jews parade through the Old City's Muslim quarters. Palestinians call it a provocative parade that undermines their ties to the city
World
In a 10-minute video, activist Shakeel Afsar can be seen entering the cinema along with a group of demonstrators and causing the film to be paused
Entertainment
Haesoo, a 29-year-old Korean trot singer, has died by suicide recently, leaving behind a suicide note. The star- world is not so 'starry' as you think it to be. It has its own set of hurdles