South India's Drought Part 6: Parched rural Karnataka sees mass migration but officials stay in denial
It is not lack of work, but shortage of water that is pushing rural Karnataka dwellers to head to towns and cities.
Editor's note: Firstpost will cover various aspects of the near-calamitous situation in Karnataka, Kerala, Tamil Nadu, Andhra Pradesh and Telangana. This is the sixth article from a nine-part series of ground reports on the ongoing water crisis in south India. In this piece, the author writes about how the shortage of water is pushing people from rural Karnataka towards towns and cities for work. 
Ratnavva Rathod, around 60 years old, dressed in her traditional Lambani attire at her home in Bairapur tanda (hamlet) of Gajendragad taluk, Gadag district is feeling distressed and lonely. "Five members of my family including my husband and children migrated to Maharashtra for work a few months back since they don't have any work in our village," she said. "The condition is terrible in many tandas as we don't have proper drinking water, no jobs and have to trek at least 3-4 kilometres to fetch a pot of water," she said.
Rathod's plight is not uncommon in these parts of Karnataka. Another woman in Bairapur said that she is taking care of her two grandchildren at home while their parents have migrated to Miraj in search of work. "I went to Ichalkaranji to work in a bamboo unit as a daily wage labourer and I returned to my tanda to attend a village fair. I will migrate to Maharashtra next week with my wife and children. There is no point in staying in villages," said another villager indicating the miseries of rural life in drought-hit Karnataka.
Houses in tandas such as Bairapur, Nagarashikoppa, Nellur, Sarjapur, Vageri, Mataraggi, Amargatti, Nakalkacchi are locked as most of the families have left for Chikamagaluru, Miraj, Pune, Mangaluru, Bengaluru and other cities in search of jobs. Usually, such migration takes place in the months of August and September, but severe drought has forced them to leave their tandas in January itself.
Migration of villagers is a common phenomenon in the districts of north Karnataka. This year though, the situation has aggravated due to severe drought conditions. Drinking water shortage and not lack of work is forcing people to desert their villages and head to towns and cities, where water is more easily available. While people from the six districts of the Hyderabad-Karnataka region are migrating to Bengaluru, Mumbai and Pune, those from the six districts of the Mumbai-Karnataka region are migrating to Goa, Kolhapur, Ichalkaranji, Pune and Mumbai.
Gajendragad in Gadag district is only the tip of the iceberg. Most villages which are habitats of the Lambani community are either deserted or only the aged remain. Those who remain allege that the state government has failed to take up works under MGNREGS (Mahatma Gandhi National Rural Employment Guarantee Scheme) to help them stay back.
Officials In Denial
Officials of the Karnataka Rural Development and Panchayat Raj (RDPR) Department though deny that such migrations are taking place. MV Challageri, Ron taluk executive officer claimed that he had not come across any case of migration from tandas. "I will visit at least two to three tandas soon to review the situation. If tanda people have migrated, then, I will definitely create job opportunities for tanda people under MGNREGS. We have already created several job facilities under this scheme in several villages," he told Firstpost.
But the Ganjendragad bus stand is evidence enough. It teems with villagers awaiting buses for their journey to Goa and Mangaluru. Hundreds of people from various villages of Gajendragad, Ron and Gadag taluk are migrating.
Almost all buses bound for Mangaluru, even from Raichur, Sindhanur, Kustagi, Ron, Kalaburgi, which pass through Gajendragad, are packed with people migrating to cities.
ML Patil, a bus conductor on the Gajendragad-Panaji route said that every day there is a rush of people heading to Goa. "Earlier it was just 20-25 people daily but now as many as 50-60 people are migrating from here," he observed. "Almost all Mangaluru-bound buses are full and we are operating more than 16 buses. In addition to this, private buses are also doing business on this score," concurred T Basavaraj, conductor of a Mangaluru-bound bus.
"Water crisis is so severe that it has even taken off daily bathing from our list of daily chores. Many of us, particularly menfolk skip daily bathing due to water shortage and in summer, bathing everyday is a luxury," said Shantkumar, a youth working in the fields of Ron town. "It has become tough to meet the drinking water demands of livestock, particularly bullocks, which they have not sent to cattle camps as they are needed to till the lands on a daily basis. Water shortage has badly affected the health of lactating mothers and newborn babies who need daily bath after oil massage," he added.
All the borewells dug by the RDPR department in many villages in the region have either gone dry due to depletion of water table or not yielded any water. Three to four tankers daily sent by the department, along with another one or two tankers of filtered water supplied by an NGO to each of the bigger village in Gadag district, the native town of RDPR minister HK Patil, have only slightly eased the situation, say villagers. "But it is not at all enough to meet our daily requirements," said Ramappa, a villager in Gadag taluk.
Kalaburagi zilla parishad CEO and deputy commissioner in-charge of the Zilla Parishad Hipshiba Rani Korlapati told Firstpost that as far as her district is concerned, drinking water situation is being managed and all measures have been taken to supply water to villages where water sources have either dried up or become scarce. "With regard to migration, there may be instances of people migrating to bigger cities and towns in search of work, but district administration has ensured that there is no shortage of work in villages by making it compulsory for the gram panchayats to take up at least one community work in a week or month to provide work to people under MGNREGS," she said. She also added that at present there is no shortage of funds with the district administration to meet the drinking water or work demand of the people.
Part 1: Five states face severe water crisis made worse by the onset of summer
Part 2: Chennai slum dwellers forced to beg for water, authorities remain helpless
Part 3: Parched lands in Nagapattinam lead to distress migration
Part 4: Water crisis in Tamil Nadu is a manifestation of climate change, say experts
Part 5: As Karnataka reels under severe water crisis, residents brace unofficial rationing
Find latest and upcoming tech gadgets online on Tech2 Gadgets. Get technology news, gadgets reviews & ratings. Popular gadgets including laptop, tablet and mobile specifications, features, prices, comparison.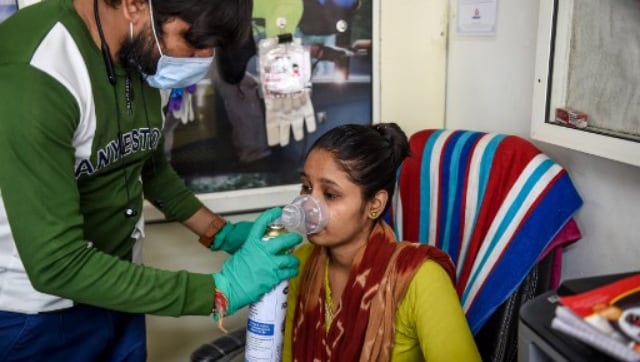 India
With India consistently reporting over 90,000 daily cases of COVID-19 in the past few days, shortages of oxygen are becoming increasingly apparent
World
The Chinese Communist Party has rejected international criticism of the internment camps in Xinjiang and has described them as job-training centres that are necessary to fight Islamic extremism
India
The idea that Parliament was a creature of the Constitution and draws its powers from it, is now well-established