Sonia Gandhi 'supressed' information given by NIA and FBI in Ishrat Jahan case: BJP
In fresh firing against the Congress, BJP on Tuesday suggested that theSonia Gandhi had asked P Chidambaram to file a second affidavit in the case.
New Delhi: Firing a fresh salvo at Sonia Gandhi over the Ishrat Jahan issue, BJP on Tuesday suggested that the Congress chief had asked the then Home Minister P Chidambaram to file a second affidavit in the case as UPA could "tolerate terrorists but not Narendra Modi as Prime Minister".
Party spokesperson Sambit Patra asked Chidambaram to name the "culprit" who asked him to change the affidavit in which references to Ishrat being an LeT operative and a threat to the life of Modi, then Gujarat's Chief Minister, were made.
"Mr P Chidambram let the nation know. Who is she who wrote the conspiracy? Because we all know that in the Congress party diktats come from a singular address. You know the address. The remote control lies with her," he told a press conference, making a clear reference to the Congress chief.
He alleged Sonia Gandhi, the then Prime Minister Manmohan Singh and Chidambaram "suppressed" information provided by the NIA and the FBI, the US probe agency, about Ishrat being a terrorist and a threat to Modi's life.
"Why did you suppress it? What was the need? Because you could not tolerate these two persons (Modi and Amit Shah). You could not tolerate him as you feared him becoming the Prime Minister. You tolerated terrorists. "
"P Chidambaram's conspiracy has been blown off. The conspiracy to eliminate important leaders from India, conspiracy to eliminate Narendra Modi, conspiracy to fail Amit Shah. The lid has been blown off and you today have been caught red handed," Patra said.
The UPA government's action hit at the root of democracy, he alleged, saying it knew that Ishrat was a suicide bomber deputed by the LeT to eliminate Modi.
"Not only did they keep quiet but they conspired to stand with terrorists," he said. Asked of the government would take any action, he said law will take its own course and conspirators will be in the dock.
Ishrat was killed in an encounter by Gujarat police in 2004. A court-monitored CBI probe had found the encounter fake and a major row erupted after the UPA government filed in September 2009 a second affidavit which, unlike the first, did not make any reference to her suspected LeT links.
Politics
On the socio-political front, the historic step of abrogating Article 370, which came into effect in 1950, and Article 35A, which came into effect in 1954, figures high on the list of achievements
India
Hinduism has long been under the assault by western academia since the dawn of the colonial era of European supremacism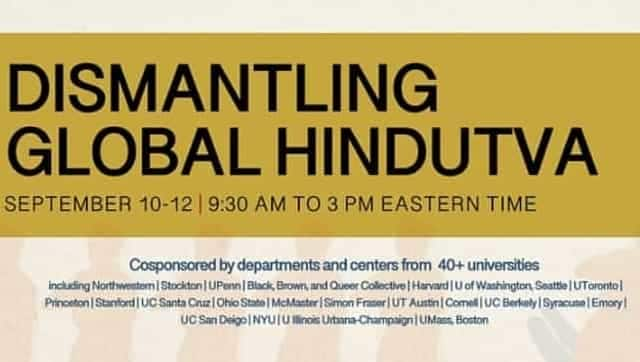 India
The ground was being laid for a while, as Hindus in the US have campaigned against representation of their faith in school textbooks in California a little more than a decade ago, and against various scurrilous academic references