Sohrabuddin's brother claims he wrote to Bombay HC requesting probe into sudden death of CBI judge, got no response
Rubabuddin Sheikh, brother of Sohrabuddin, who was allegedly shot in a fake encounter by the Gujarat Police in November 2005, had reportedly written to then Bombay High Court judge Mohit Shah in 2014 asking for a probe into the sudden death of judge BH Loya, who was presiding over the Soharabuddin 'fake encounter' case
Rubabuddin Sheikh, brother of Sohrabuddin, who was allegedly shot in a fake encounter by the Gujarat Police in November 2005, had reportedly written to then Bombay High Court judge Mohit Shah in 2014 asking for a probe into the sudden death of judge BH Loya, who was presiding over the Soharabuddin "fake encounter" case. However, he received no response from Mohit Shah, said a report in Mumbai Mirror on Wednesday.
Special CBI judge Loya, who was hearing the fake encounters case, died in Nagpur on 30 November, 2014, where he was visiting to attend a colleague's daughter's wedding. He was said to have suffered a heart attack.
At the time the incident occurred, Loya had been hearing the discharge petition filed by key accused in the case, BJP party president Amit Shah. Within a month of Loya's death, Judge MB Gosavi cleared Shah of all charges, saying the BJP chief was "implicated" due to "political reasons".
Following this, the Mumbai Mirror report said, Rubabuddin wrote to Mohit Shah asking if the death was entirely due to natural causes, and if there was any pressure on Loya and his family.
"Sir, as you are aware, this is an extremely sensitive matter and many of the accused are police officers and high-level politicians... I would sincerely request you to institute an inquiry into the matter of the death of Judge BH Loya, to find out whether it was a natural death. Also, whether he was under any kind of pressure from anyone. Hence it is extremely important to conduct an impartial and fair inquiry. I hope and pray that an independent and time- bound inquiry under the monitoring of this court is conducted," the letter said.
Firstpost rang Justice Shah's son Sahil, to see if the retired judge wished to issue a statement. "He does not interact with the media," we were told.
This comes a day after a report on The Caravan had said Loya's sister Anuradha Biyani and father Harkishan claimed that the CBI judge was offered a Rs 100 crore bribe by Mohit Shah in return for a "favourable judgment". Loya was appointed to the special CBI court in June 2014 after his predecessor, JT Utpat was transferred within weeks of reprimanding Amit Shah for seeking an exemption from appearing in court.
According to her, Mohit Shah "would call him late at night to meet in civil dress and pressure him to issue the judgment as soon as possible and to ensure that it is a positive judgment". According to Biyani, "My brother was offered a bribe of 100 crore in return for a favourable judgment. Mohit Shah, the chief justice, made the offer himself."
Sohrabuddin and his wife Kausar Bi were allegedly abducted by the Gujarat Anti-Terrorism Squad from Hyderabad on their way to Sangli in Maharashtra. He was killed in an alleged fake encounter near Gandhinagar in November 2005, after which his wife disappeared.
Tulsiram Prajapati, an aide of Sheikh and an eyewitness to the encounter, was allegedly killed by police at Chapri village in Gujarats Banaskantha district in December 2006.
The Sohrabuddin killing case was transferred to Mumbai in September 2012 on the request of CBI for a fair trial.
With inputs from PTI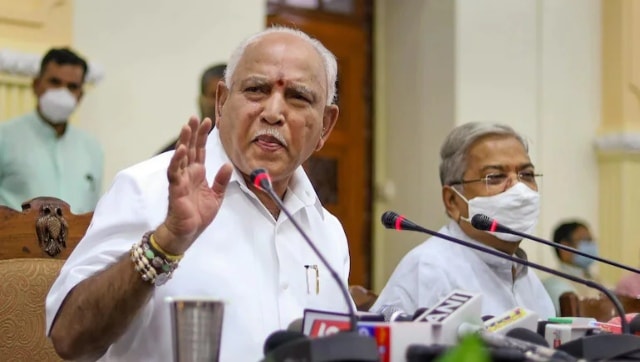 Politics
The BJP high command, with one eye on the upcoming 2023 Assembly polls in the state, has shortlisted a few notable names as possible replacements as chief minister
India
The heart of the conflict is an unresolved border issue — a 164.6-kilometre long inter-state border, which separates Assam and Mizoram. This border is shared by three districts of South Assam — Cachar, Hailakandi and Karimganj — and three districts of Mizoram — Kolasib, Mamit and Aizawl
World
US president Joe Biden has been facing tremendous pressure from lawmakers in both parties to come up with a plan to help evacuate Afghan military helpers before the US troop withdrawal on 31 August